The Digital Day London 2022 opened with fast, energising speed networking. It was pretty high velocity as I arrived at the event with our CEO Sophie Devonshire promising stimulating conversations with the opportunity to pause and connect. As this was my first The Marketing Society event it proved to be not your average day out of the office. 
---
Authentic Genuine Communities
Michael Omoniyi opened the sessions of the day with his vision for the future.  At the heart of The Digital Day was the concept of storytelling so we are rather pleased that Michael said "Storytelling is the future".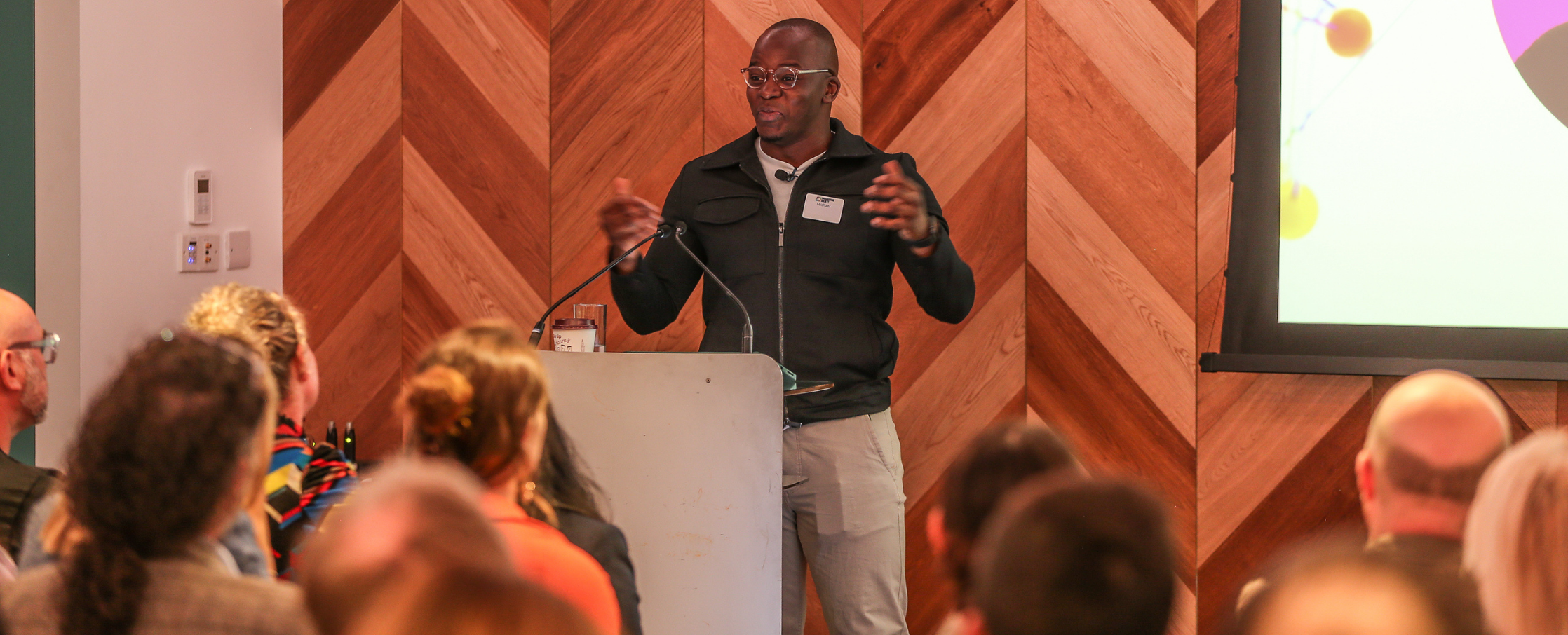 "Every company must learn to tell the story of why they exist, why their products matter and what their services are important.  The businesses and brands who genuinely create living communities are the ones who will win"
Michael talked about investing in authentic, genuine communities. What is the capacity for the people who consume your product/service for them to hover around your campfire and make meaningful connections with each other?
Part of the discussion was that young people will demand more from their companies, they want to understand their values, the mission. They see it as investing in the way the world can change. Michael said that every company if they want to attract the right people "needs to think about how to attract a diverse pool - companies will need to be a lot more forthcoming about why they exist".  
So are we ready to make the decision that purpose is at the heart of everything we do? It was certainly a thread that weaved throughout the event. 
 
Exceptional presentation by @gilesrhysjones from @what3words at the brilliantly thought-provoking @TheMarketingSoc Digital Day today in London - summed up well in, well, 3 words: community.purpose.profit #tddfeels pic.twitter.com/npMrnqUbwQ

— Wayne Merris (@WayneMerris) June 28, 2022
It was fabulous to hear from Head of Play Propositions at The Lego Group, Aimée Bryan on "designing for the edge" including braille bricks and making play portable, to meeting both real-life Damian Ferrar and his meta verse version on screen and to learning from Sophie Raptis of The Ozone Project about creating the trusted, premium web. 
Key insights from those sessions included:
Aimée Bryan on Designing for the edge
Average and norm sits in the centre.  We collectively design better for the edge - this is a rich, exciting territory
We should be excited about the dynamism at the edge that is where we should be playing. We are not creating niche, we are creating more value by being more relevant. We should be bringing the edge much closer into the design work principles. She asked how can we do this better. There is no downside to this - only upside to this if we get it right 
Sophie Raptis - Creating the trusted, premium web
Sophie talked about how do we together make this brighter future for the open web? The secret lies in relationships, a concept often overlooked in our digital world in favour of technical capability.
Ultimately we are all trying to do the same thing, closer relationships are at the heart of making digital better
Brands and publishers in control of the advertising ecosystem. Working only with those partners who care as much about your customer's privacy and precision as you do.
Damian Ferrar on The Future of Work - Meta
"Metaverse is not a thing yet, in its infancy, but we've got to jump in, we've got to adopt it - the early adopters generally lay the foundation for success"
This is a challenge when it comes to the future of work  - shared beliefs from the past are clouding our judgement on the future >> We need to unlearn, deal with and embrace uncertainty and uncover new ways of working and real business challenges to solve. 
Doing Good, Doing Good Business
Giles Rhys Jones, CMO of What3Words, telling of his journey from Adman to Mapman and the amazing work that his company do to connect people together and also help save lives across the world. He told the story of how a business can impact society in a powerful way, have you found out your What3words for your address yet? I know it's going to make deliveries a lot easier from now on! Giles talked about how the business weaves purpose through all of its elements, saving 28% of time using What3words rather than a street address, reducing congestion, reducing emissions, reducing time spent searching which is imperative when it comes to crisis response too.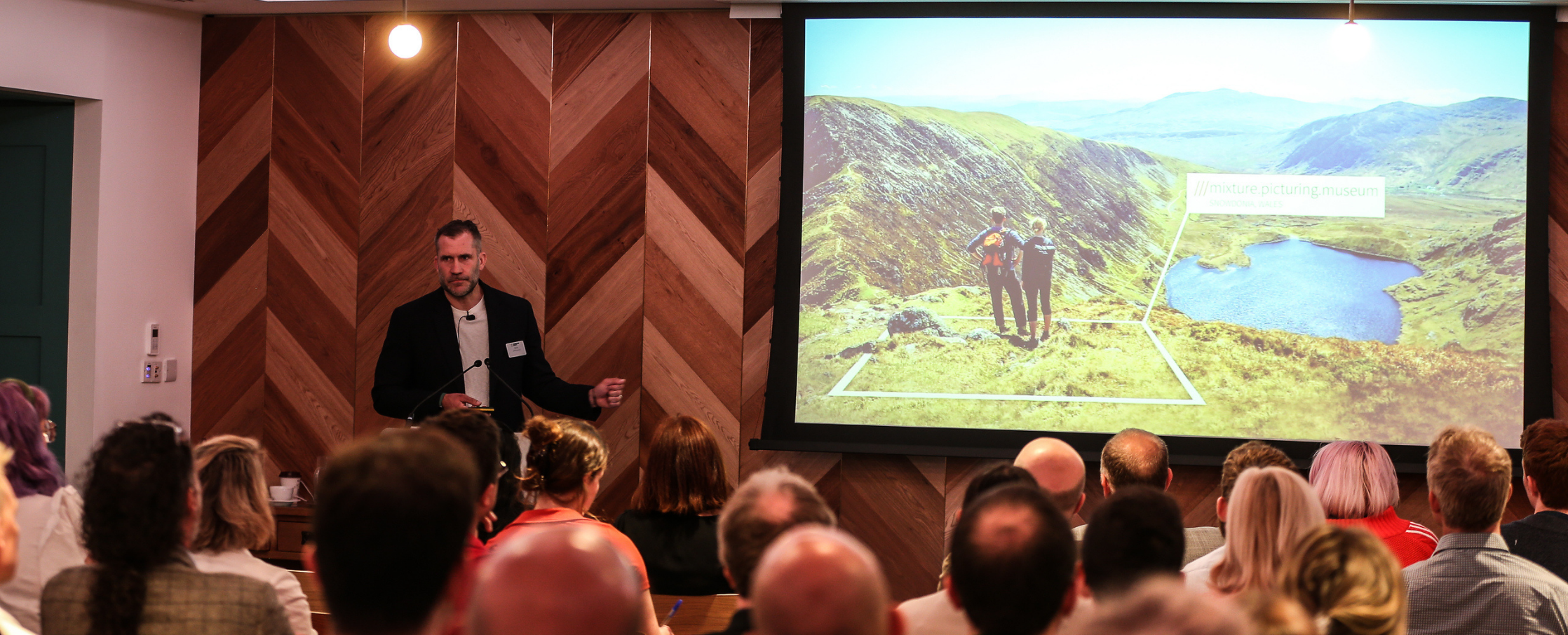 There were so many good talks throughout the day connecting the dots in our industry that I can't possibly do them all justice in one review.  We met Frank the Zombie when we saw how Pringles took an ambitious idea into the gaming space playing with real world and virtual world. How the camera has become our keyboard through the guise of Snapchat and the power of augmented reality - "It is bringing people together. If we can dream it - we can create it" It's all about diving into new trends" including the rising popularity of virtual try on experiences. Plus Dr T brought out the "intrapreneur" in all of us with his captivating talk on his own journey with PTG - Post Traumatic Growth.  We loved hearing from him as to how to keep our energy level strong and put it to good use. But also about leaning into those who maybe don't see things in the same light. 
Bringing the conversation into the audience 
It was fantastic to see the Den's go into action towards the end of the day. Given a tight brief a short amount of time the need to allocate an Orator and Creative Director the work that went into the 2 minute pitches was amazing. I watched from behind the scenes as teams came together with an explosion of ideas but "The Digital Bakers" with their Trust Cake were worthy winners in the end.  A great recipe to always create trust and consistency to trust for a brand. They spoke of a layer of consistency to their cake, with cherries on top - trust, consistency and advocacy.
Summarising the day were our Rapporteurs of the moment David Savage and Supriya Dev-Purkaystha and they brought a great conclusion to the event. The themes weaved back round for a final loop, it's clear that we do need storytellers in our industry, taking risks, sharing stories and building communities to believe in what we are doing. It was truly powerful to hear that we need to work as a community to reach out and make an impact on the society around us, mentorships and apprenticeships and digital training were discussed as part of the quick-fire pitches.
Ultimately it's about resonating with relevance and as David described, the event was "too much fun to be work, the connections made are a gift for the future".
"What an inspirational - fast paced day yesterday with The Marketing Society! Loved every second. Words of the day: Connect. Dare to innovate. Purpose. Trust." Joanne Merecido
Thank you to The Ozone Project for making this event happen.
---
You can view all the photos from the day here. 
Enjoy this? Get more.
Our monthly newsletter, The Edit, curates the very best of our latest content including articles, podcasts, video.
Not a member yet?
Now it's time for you and your team to get involved. Get access to world-class events, exclusive publications, professional development, partner discounts and the chance to grow your network.