A day of inspiration, learning, and illumination.
A review of The Marketing Society UAE 2023 Conference: Changemakers Illuminate from UAE Board Member Marwa Kaabour.
Every year, The Marketing Society puts together a one-day event for its members – chock-full of stimulating discussions and sessions that are certainly designed to inspire any marketer to be a trailblazer. Why, you may ask? Because marketing wields the power of change.
Held at the Marketing Mania stage in the scenic Dubai Harbour, this year's conference welcomed over 200 members and scholars who recently joined the society in the region.
Here is what went down…
Asmaa Quorrich & Alex Oberberg from KSA Tourism and the Kingdom's Public Investment Fund (PIF) spoke about how marketers can elevate brands that are set to transform and diversify an entire economy. Asmaa demonstrated how mainstream marketing may never be the answer, by showcasing a new innovative initiative in Saudi that was launched to redefine the power of tourism for people across the globe. The marketing approach behind this initiative challenges the clichéd perspective that having a significant budget is the only way to build powerful brands.
Annie Arsane, Regional Head of Business Marketing at TikTok spoke on leadership as a basic skill for changemakers and how anyone can be a leader, regardless of their position in a company.
Prerna Mehra, Creative Director at MullenLowe MENA discussed how AI can perpetuate gender bias and the UAE's efforts in addressing these biases for better gender representation.
Anja Petrovski, Marketing & PR Director, Volkswagen and Ula Bieganska, Head of Marketing, Lego conversed that at the heart of driving local change for global brands is empowering teams and taking an 'always-on' communication approach. Ula underlined the importance of brands defining or redefining their identity, using Lego – who shifted from being just a toy brand to a lifestyle brand – as the perfect example. She also stressed upon the importance of 'psychological safety' for marketers and leaving no room for shame and guilt around unsuccessful campaigns.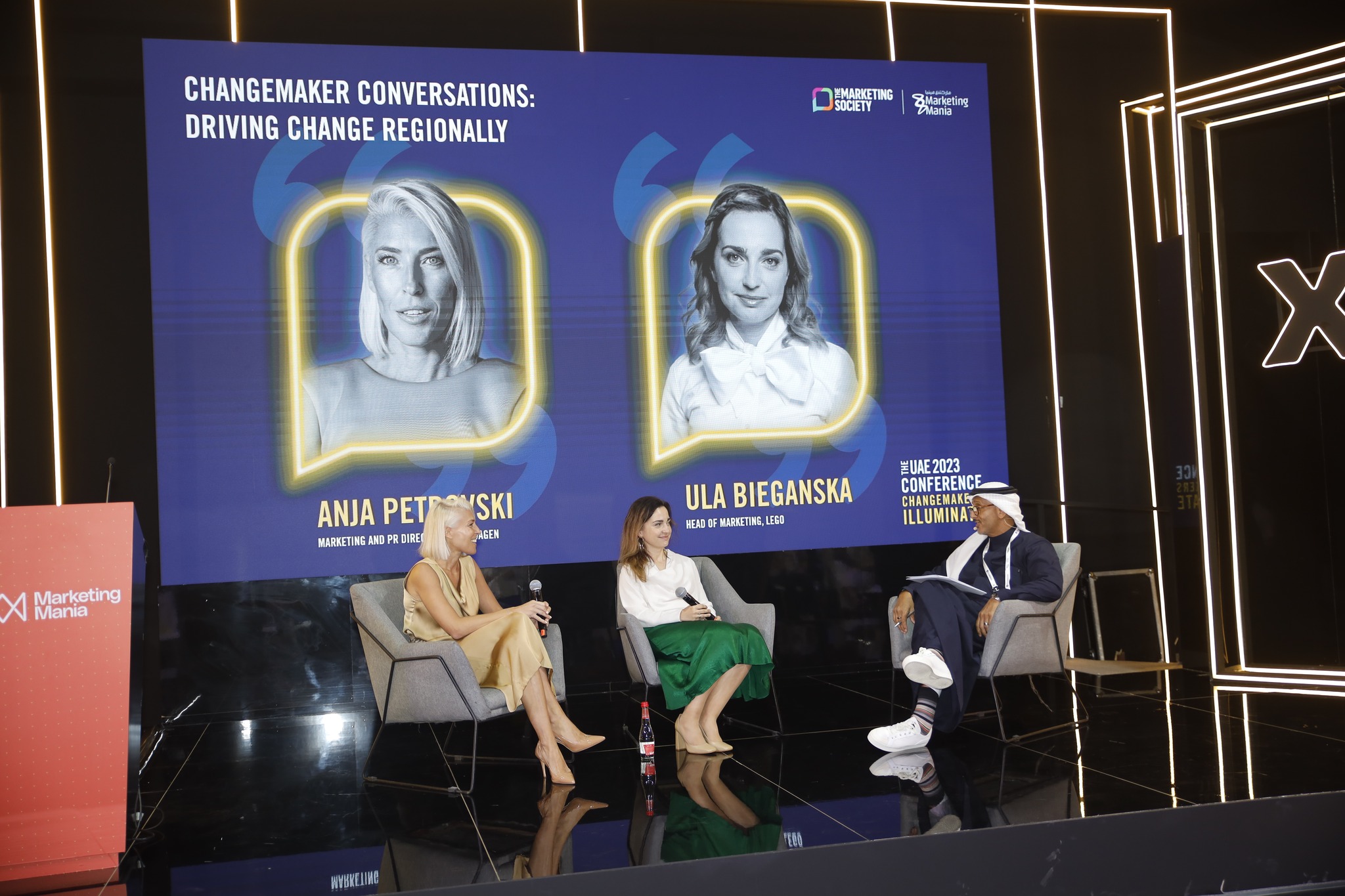 Dena Al Mansoori, Group Chief Human Resources Officer at e&, spoke of change as the only way forward, emphasizing the importance of people in facilitating this change. She highlighted e&'s success and evolution from  a homegrown UAE brand to one that now boasts global recognition, driving home her opinion that innovation stems from the merger of heritage and technology.
The next time you want to buy a present, why not gift a friend or loved one a sacred grove? Vikram Krishna, Co-Founder of Sacred Groves shared his story as a marketer who gave up a glamourous corporate career to establish to a start-up aimed at protecting shrinking natural habitats. In response to a calling, Vikram created a new product – the Sacred Grove.
Mimi Nicklin, CEO of Freedom, Malaysia, spoke on the power of changing how people connect. The 4th Industrial Revolution brought about a wave of loneliness and depression among over 400 million people because increased connectivity has resulted in an empathy deficiency. She argued that marketers can be the catalysts who reduce this pain and make a difference by embracing empathy.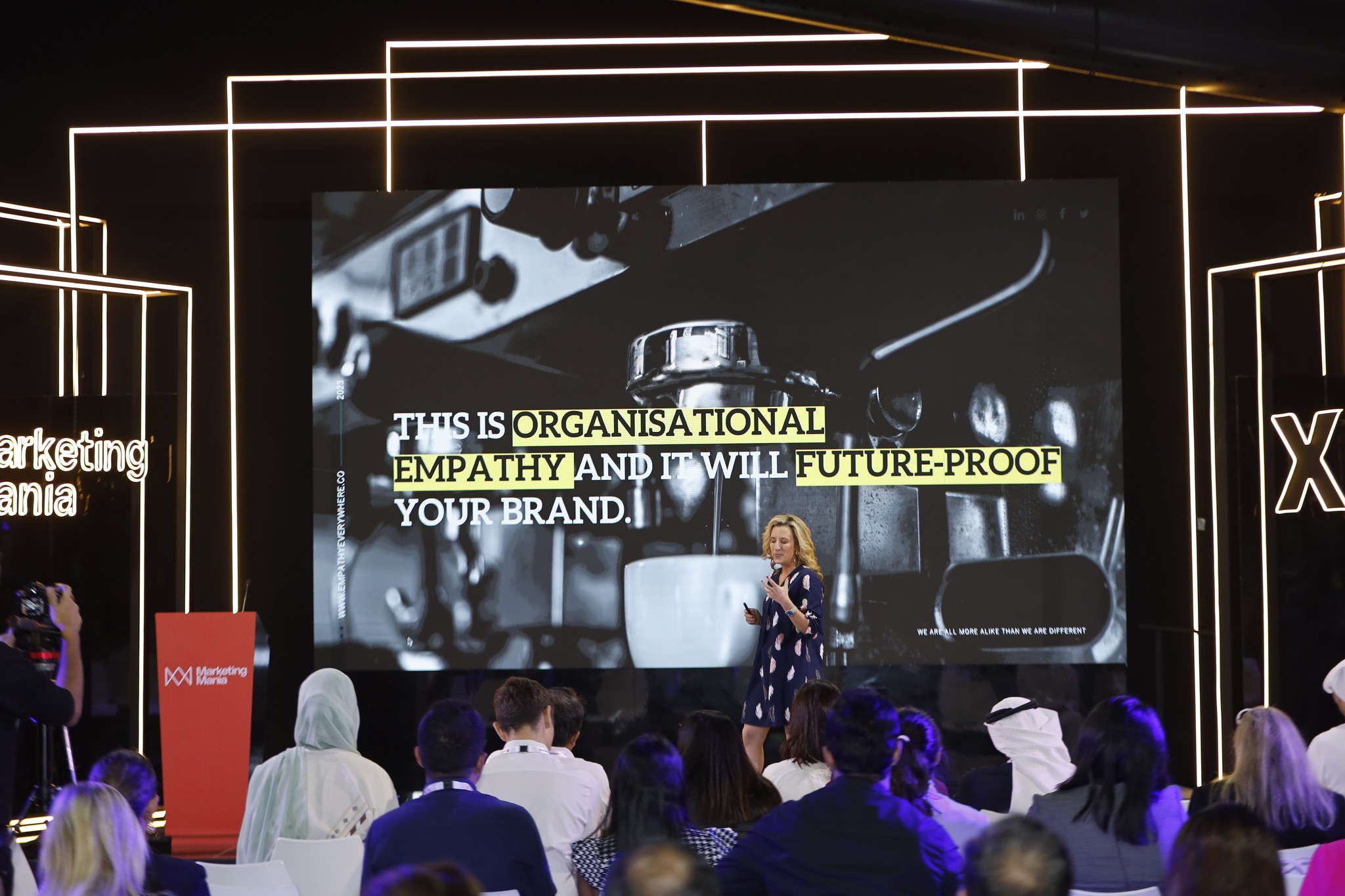 Commander Abhilash Tomy spoke of his quest to sail the world alone and technology-free – a human's quest that transcends fame and money.
Faheem Ahamed, CMO of Abu Dhabi's G42, spoke on why Bayanat, an AI and Technology company decided to sponsor Abhilash's quest. Bayanat was able to collect data on the conditions of the race with great accuracy that will redefine sailing in the future. Abhilash's quest proves that humans can come face-to-face with fear and uncertainty, and triumph over them. Which is why marketers can achieve the impossible if they believe they can.
Leyla Keramat from Prophet spoke on how marketers today are at the epicentre of innovation in the age of AI and that they can build lasting brand experiences by embracing speed and exploration.
Jason Foo, CEO of BBD challenged traditional perceptions of masculinity and how brands are part of the problem and can be part of the solution. He believes that masculinity today can be defined by motivation, inspiration, and contentment.
Jamie Wills, Co-founder of the House of Comms – discussed the importance of passion in a marketer's career and how that drive can lead them to conquer the seven summits and more.
Rasna Al Kharis from the WWF Emirates Foundation explored ways marketers can use to maximize brand impact and drive positive change. According to her, going back to connecting with nature is key.
Hanan Eissa ended the event on a grand note with the launch of Atlantis The Royale. Beyond the  glitz and glam of the launch, Hanan told the story of courage and faith when faced with adversity. She urged every marketer to be ready for their "Everest" moment – by assembling the right team, preparing to fail, and to pivot with faith and belief.
My favourite quotes from the day
There were several, but here are a few:
One certainty for marketers is change.

The future of marketing should not turn into mere performance.

Purpose coupled with storytelling can break any stereotype.

Marketers are the ones that can future-proof brands – only with empathy.

Be imperfect, be relatable and perhaps not too inspirational – and be empowering

We don't inherit the Earth from our ancestors, we borrow it from our children! 
---
Marwa is Group Head of Marketing & Corporate Communication, Al Masaood Group as well as a board member for the UAE. Read her full bio here and see photos from the day here.
Enjoy this? Get more.
Our monthly newsletter, The Edit, curates the very best of our latest content including articles, podcasts, video.
Not a member yet?
Now it's time for you and your team to get involved. Get access to world-class events, exclusive publications, professional development, partner discounts and the chance to grow your network.