Back in the early 2000s, when I was studying economics as part of my Business Masters I learnt about the dominance of the linear economy – and when I challenged my lecturers as to whether there was truly no alternative, I was told a firm 'no'. I was astonished people were surprised at my question, and I'm still taken aback when people see a linear economy as the 'obvious' approach. 
---
So, I was overjoyed to learn a little after 2013 of the Ellen MacArthur Foundation report Towards the Circular Economy: Economic and Business Rationale for an Accelerated Transition, developed in partnership with McKinsey. This work, partnering with global brands to rethink how the world designs, makes, and uses, is pioneering and mind-blowingly important. 
And applying a circular economy – an economy system, or approach, consciously designed to tackle environmental challenges such as climate change, biodiversity loss, waste and pollution – is where the future of our high street lies. Too much emphasis is still being put on where people are buying and not enough on how and what people are now demanding.
If the approach of the linear economy could be summarised as 'take, make, waste' (in the constant pursuit of growth) then the circular economy is more about 'reuse, repurpose, recycle' – with the aim of keeping products, materials, equipment and infrastructure in use for longer.
So why is an approach that is primarily focused on manufacturing relevant to the high street (the end of the linear 'chain')? For me, it's about brands taking the principles of that approach and considering the impact they're likely to have throughout the chain.
The debate around the future of shopping continues to rage – but in 2021, it feels as if 'the high street' is missing the point. Whether the high street is dead or not is the wrong conversation, it's not about the format, it's about the longevity of the strategy and the future will be – has to be – circular.
I'm optimistic that embracing the circular economy, adapting brands and improving business models, could be the high street's saving grace. We've already seen several brands adopting this approach – turning to a reuse and recycle model to help draw back the crowds (be they virtual or in person).
For instance, IKEA's furniture recycling service has been running for a few years, while John Lewis' furniture rental trial was so successful it extended it. John Lewis has also signed up to the new platform, Fat Llama. Launched in July 2021, it allows people to rent products from big retail brands, so reducing waste and offering a cheaper and more sustainable option for products only needed for a short time.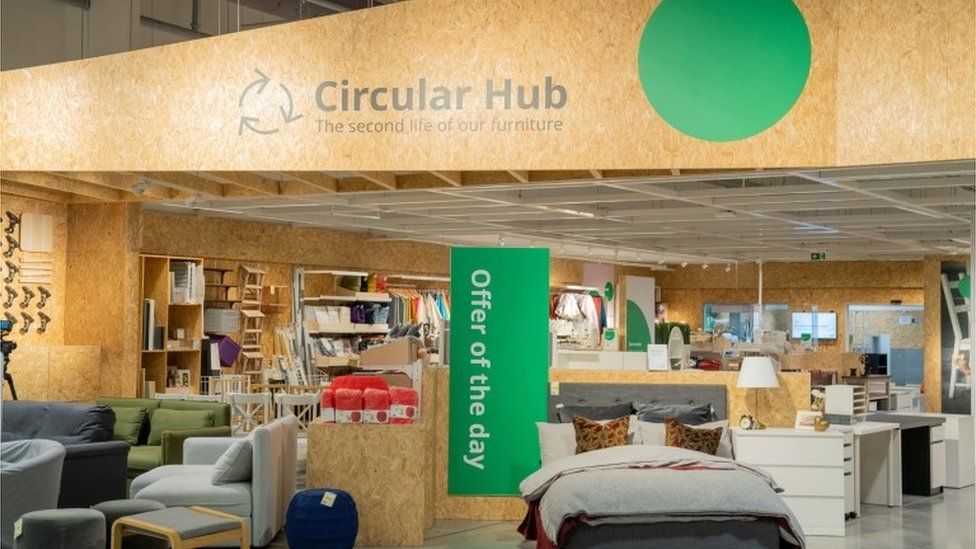 Fat Llama is a brilliant example of focusing on how and what people are now demanding rather than where they might buy. CEO Chaz Englander, who considers the circular economy fundamental to Fat Llama's marketing strategy, said: "The pandemic has forced companies to re-evaluate what is important to their customers. Increasingly young consumers are looking to reduce their carbon footprint, and they expect retailers to follow suit. Rental as a service is a step in the right direction."
And as fast fashion is becoming a dirty word – with greater awareness of the environmental cost of cheap, throwaway clothing – high street clothing brands have moved swiftly to reduce their environmental footprint. I've always loved kitting my sons out in H&M's bright and cool clothes, so it's wonderful to hear how committed it is to working with the Ellen MacArthur Foundation. 
Its circular strategy covers all parts of the business including: products made to last, created from safe, recycled and sustainably sourced materials that can be repaired and reused; supply chains that keep products in circulation and support circular production processes; non-commercial goods such as packaging and items used in stores; and circular customer journeys to make it easy for customers to engage in a circular fashion. In addition, new brands are emerging such as Pangaia which has put purposeful design at its core.
The circular economy – or at the least the concepts on which it's based – have taken off rapidly, driven by the huge influence of Gen Z. I love Gen Z. But I'm also intrigued by their sway – my theory is that this is because they are the children of Gen X, the get-up and go cousins of Millennials, and the beloved grandchildren of Baby Boomers. I think the world has benefited from them being born at a time, and among generations, who are more disposed to listening to younger people and from their logical, well-articulated arguments.
For the circular economy isn't hippy dippy economic madness. A recent report by the Green Alliance predicts that transforming the UK's approach to repair, reuse and recycling could create more than 450k jobs across the country. And as industry-wide initiatives such as the hairdressers' Green Salon Collective show, finding sustainable solutions is possible in any market as long as people are willing to invest the time and effort to address our environmental challenges going forward. 
Enjoy this? Get more.
Our monthly newsletter, The Edit, curates the very best of our latest content including articles, podcasts, video.
Not a member yet?
Now it's time for you and your team to get involved. Get access to world-class events, exclusive publications, professional development, partner discounts and the chance to grow your network.