What is your digital marketing skills gap?
The Marketing Society has partnered with Andragogy to bring you Digital IQ, a digital marketing skills assessment. It provides marketers the insights they need to perform better and fuels an innovative, data-informed approach to learning and development.
Digital IQ makes it easy to measure your skills.
Benchmark your digital marketing strengths against recognised industry standards including the Institute of Data and Marketing (IDM) and the Digital Marketing Institute (DMI) Professional Diplomas in Digital Marketing. 
Digital IQ will help you quantify your digital marketing strengths as well as identify key skills gaps to develop.
Clear and accurate individual skills profile reports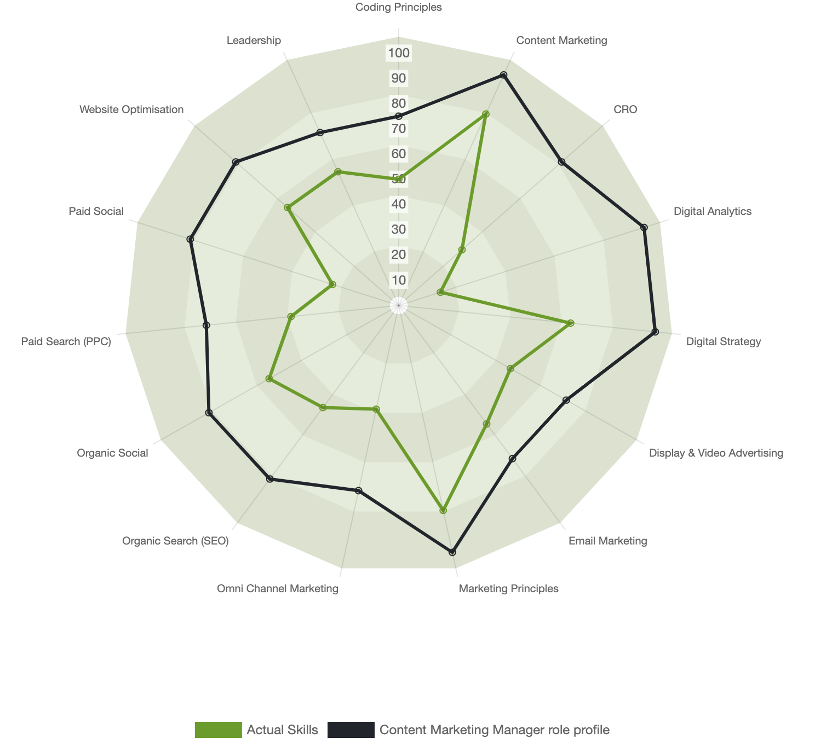 Skills data visualisation
Visualise skill levels, strengths, and areas for improvement across key skills categories.
Benchmark your knowledge
Compare knowledge against industry-approved accreditations and standards.
Learning options
Suggestions to effectively close your skills gaps. 
A helicopter view of team digital skills and capabilities for employers
We can provide aggregate data to provide a rolled-up view of the digital marketing skills that exist in your across the team assessed to illustrate the insights that can be provided.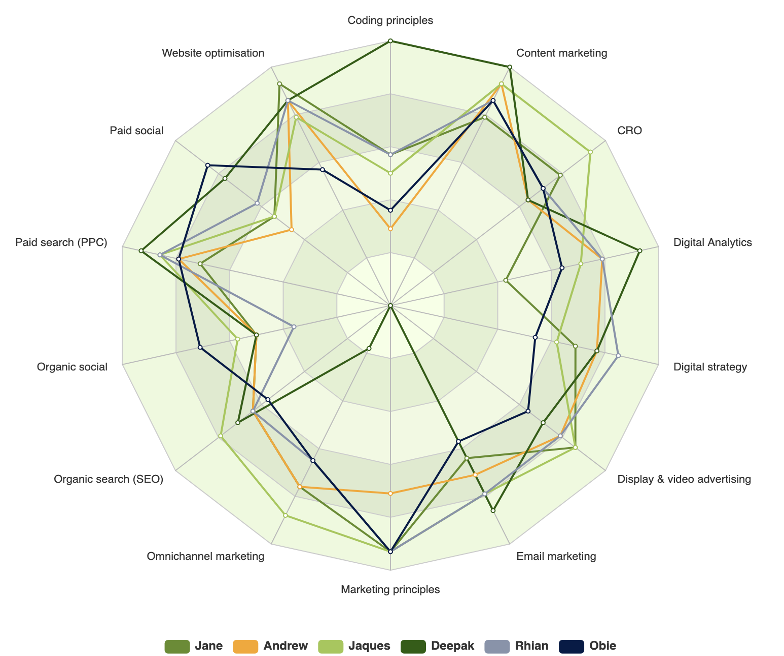 The actionable MI can help:
- Inform upskilling needs and recruitment to ensure you have the right skills to execute your digital strategy.
- Identify any digital skills gaps or over-reliance on individuals which may pose a risk to your business. 
---
Member offer
Price for Marketing Society Members: £129 (standard rate £154)
All you need to do is use the Marketing Society's exclusive discount code MMS2021-129 at checkout.
Go to Digital IQ to take the assessment https://digital-iq.squarespace.com
Employer offer
£99 per assessment for 10 licenses including one overview team report. This offer can be purchased as multiples e.g. 20 licenses and 2 team reports. For teams over 25 people we can provide a bespoke proposal with an additional discount applied. 
Email Anneli Ritari-Stewart, MD of Andragogy on [email protected] if you are a company that wants to learn more or to receive your exclusive Marketing Society discount code.
Learn more about Andragogy at www.andragogy.co, and Digital IQ skills assessments at digital-iq.squarespace.com.
Enjoy this? Get more.
Our monthly newsletter, The Edit, curates the very best of our latest content including articles, podcasts, video.
Not a member yet?
Now it's time for you and your team to get involved. Get access to world-class events, exclusive publications, professional development, partner discounts and the chance to grow your network.