Editor, The Marketing Society
Michael has been a Digital Content Manager for The Marketing Society since 2013, managing writers, digital development, content and social media. In 2018 he launched a new website for the Society's awards programme, the Brave Awards.
At the start of 2019 he became Editor, launching the Society's new website in June, along with their new digital publication EMPOWER, which he is solely responsible for the design, content and layout. In late 2019 he also designed and launched a new website for the Marketing Leaders Programme, a joint initiative between the Society and Brand Learning.
In his spare time he writes and performs spoken word poetry around London and is halfway through writing his first screenplay. He also once came second in a Creative Review competition to rewrite the famous Trainspotting 'choose life' speech.
---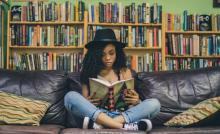 It's been an interesting year in terms of content. Our network has written about culture, leadership styles, challenger brands, toxic