International Women's Day comes but once a year. But as is true for 50% of the population, I'm a woman all year round.
And very happy about it. 
I love being a woman. Physically, mentally. Philosophically, metamorphically. And a bag of chips.
But. Oh, here comes the but.
Separate to, yet inextricably linked to being a woman are a few things that impact on all women's experience of being (a woman).
I love being a woman. But I'm less in love with the casual, everyday sexism women across the globe face every day. And the not-so-casual sexism that's evident in the very real, very serious gender pay gap. A 2020 survey by Marketing Week revealed that the mean gender pay gap in in the marketing industry is 28%. The UK's national mean gender pay gap is 8.9%. In the aftermath of COVID that gap shows little sign of closing. A spate of recent studies have suggested the coronavirus crisis is exacerbating gender inequality - with a report by the University of Exeter finding women are almost twice as likely as men to have lost their job during the pandemic.
Pre COVID it was estimated it would take 50 years to close the gender pay gap (I'll probably be dead), post COVID it's estimated it will take 90 years (I'll definitely be dead). Even pre-pandemic a McKinsey survey concluded that "biases and low promotion rates keep women from joining the C suite". It's not from lack of talent or ambition either, two separate studies found women do actually ask for raises as often as men do — it's just that they're more likely to be told "no."
I love being a woman but I don't love the relentless crusade to legally remove women's rights, even in supposedly developed countries. Few people realise but behind the cloud of chaos the Trump administration stealthily and silently rolled back women's rights. Trump's unpublicised decisions in 2019 to change definitions of domestic violence and sexual assault rolled back women's rights by half a century, campaigners warned.
I love being a woman but I'm heartbroken by the rising incidents of violent crime against women. A campaign I recently created proactively for the National Centre for Domestic Abuse (NCDV), 'Abusers Always Work From Home' was in direct response to the fact that domestic violence incidents surged by 49% during lockdown, with the vast majority of victims being female. Staggeringly, during lockdown the police received one call every minute regarding domestic abuse.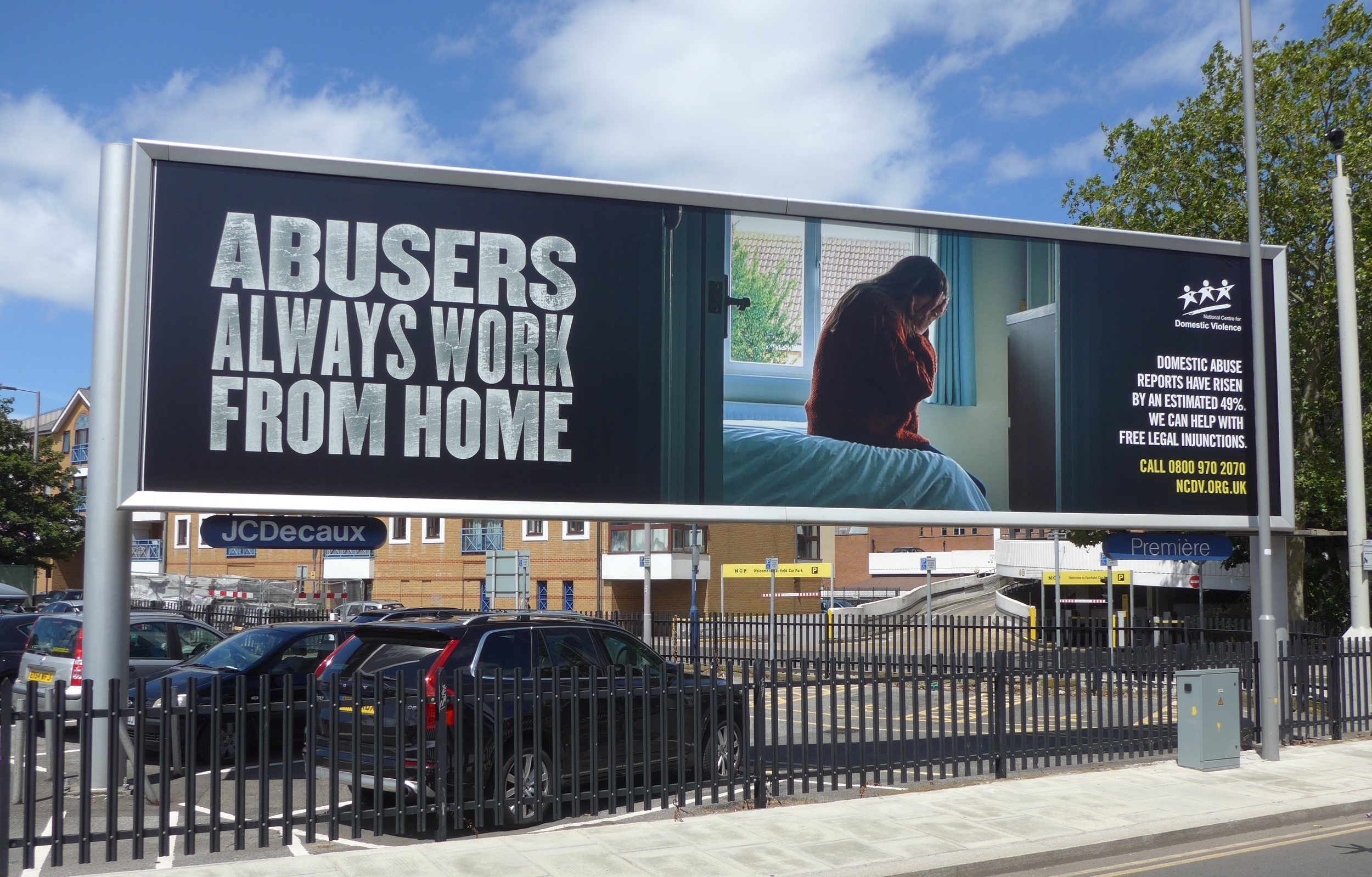 I love being a woman but I don't love the fact that only 3% of business investment goes to female founded businesses - even less to black female founded businesses. Morgan Stanley concluded "the issue is systemic" and estimates that in the US alone investors are missing out on businesses worth $4 trillion in revenue annually by not investing in more female and minority-led enterprises. In light of this how can anyone argue against investment in women led ventures?
Where's the logic behind only 12% of creative directors in the UK being female given that women make over 80% of purchasing decisions? In Hollywood only 7% of films are directed by women, when it comes to commercials, only 9% of commercials are directed by women. Is it any wonder that 70% of women feel like adverts don't represent them? Aside from the glaring gender bias at play, how does this make business sense?
I love being a woman. But does the world we live in love women?
The small handful of examples I touched upon above are the tip of a very old iceberg. I'm aware I've not touched on what happens when motherhood and a career meet, I'm aware there are many intersectional issues (race, class, sexuality and disability) that I sadly don't have the word count to explore.
At a macro level, it's no secret that we live in a world with ingrained societal norms that historically render women less powerful, less safe, less wealthy, less in control of their destiny… Less…
Lesser than? 
In 2017 a questionnaire found that 56% of men thought 'sexism was over'. 
If only they were right. If you're in doubt as to whether sexism is done and dusted this Stylist questionnaire is very revealing. As are these findings from a Global Attitude Survey which show that more people across the world now say men have a better life than women in their country. Eg. In 2010 39% of people felt men have a better life than women in the UK, 9 years later in 2019 it rose 22%, with 61% of people saying that men have a better life than women in the UK.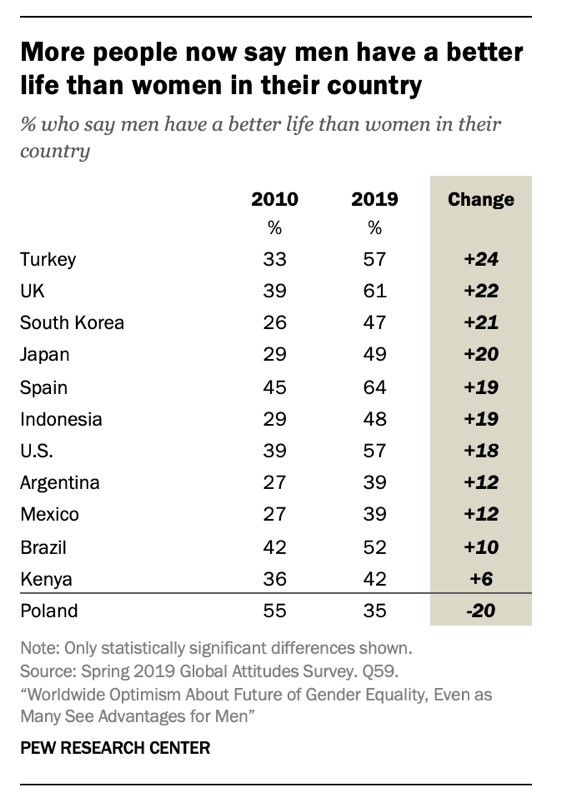 In truth, don't a lot of businesses rely on women feeling a little lesser than? Or not quite good enough?  "If tomorrow, women woke up and decided they really liked their bodies, just think how many industries would go out of business." Dr. Gail Dines.
 
I love being a woman. But do I love International Women's Day? Well, Rome wasn't built in a day and I think it's safe to say that equality can't be built in a day either. Whilst I don't disagree with the original intent of International Women's Day at all, I do question whether it's become a commercialised tick box in order for a brand to pat themselves on the back. I question whether it's become a convenient plaster to momentarily patch over the bigger issues and pretend it's all ok.
Shall we be real?
If a brand doesn't - quietly or loudly - support women all year round then who's really benefitting from a superficial social post come March 8th? This (below) from Hershey's is just one of many examples of the kind of IWD campaigns that some would be forgiven as seeing as a little superficial and self-serving. Aisha's tongue-in-cheek comment in response to a chocolate bar pulling out the HER says it all (the wider campaign doesn't go much deeper).
we did it folks, we solved sexism pic.twitter.com/bIpfdQBsIx

— Aisha Hakim (ae-sha hay-kim) (@AishaAnnHakim) March 6, 2021
I can hear the response to this now: "Well, we're damned if we do and we're damned if we don't!"
I'm not trying to be negative. I know from many years of experience that brands want to do better but feel paralysed. Tormented by the worry that they might be called out for not having their own house in order. Terrified of being publicly trolled. 
However, the simple truth is that brands are generally only damned if they offer tokenistic, inconsistent gestures.
Many brands, (notably Gen Z brands) have a clear, proud stance on gender issues, racial issues, environmental issues – all issues. Their position is baked into their brand. Either in direct relation to the product or less directly related to the product but as part of a company ethos (Ben & Jerry's, Nike, Air BnB are just 3 quick examples of big brands with a clear stance on world issues).
All of us can evolve. We just lived through a global Pandemic, we can do anything.
There is no shame in learning from mistakes, fostering an educated opinion and changing for the better. 89% of people say a brand can regain their trust if it admits it made a mistake and outlines how it will resolve the issue (Sprout Social, 2019).
We'd all do well to remember: a call out isn't a threat, it's an invitation to improve.
People - and brands - can change. There's no need to be paralysed by fear. You can change a logo? Then you can change a tone of voice to be more inclusive / educated / supportive / aware. All year round. 62% of consumers want companies to stand up for the issues they are passionate about (Accenture, 2018).
Today's successful brands don't hide behind silence for the other 364 days in between 'International Women's Day' (or in between 'LGBTQ+ History Month' or 'Black History Month' or 'World Earth Day') but instead demonstrate an educated humanity and empathy all year round. 
I refer to an article I wrote following the murder of George Floyd, when so many brands flailed and failed to have an appropriate response. Ben & Jerry's reacted with an educated relevant article, as did many other brands who reacted in line with their existing stance on anti-racism. Brands who already understood the injustice and their stance on it reacted as you'd expect an educated friend to react. Other brands exposed their lack of awareness and / or compassion.
The article was called: Is a brand that stands for nothing a thing of the past?
To this I would simply add a (rhyming) question: Is a brand that stands for something on just one day a brand that will last?
---
Jo Wallace is a multi-award winning creative director in advertising, working in London. She is also the founder and host of Good Girls Eat Dinner and the co-founder of La Norme.
Twitter: @jowallacetweets, @goodgirlseatdinner
Instagram: @wearelarnorme