Thinkbox has launched major new research by Gain Theory, MediaCom and Wavemaker, together with a new cross-media optimisation tool based on its findings.
The 'Demand Generation' study is an econometric analysis of £1.4 billion of media spend by 50 brands across 10 forms of advertising over 3 years. It offers wide-ranging advice to marketers on how to maximise short-term advertising return without sacrificing sustained base growth.
The study has also isolated the principle variables that impact advertising effectiveness, and these have been used to create 'The Demand Generator', a new tool that enables marketers to determine the optimal advertising media mix specific to their business and its objectives.
The Demand Generator
The new tool offers practical advice on optimal media mixes based on the key variables that influence advertising effectiveness uncovered in the research. These were identified as the following for a brand:
Category

Budget

Brand size (annual revenue)

Appeal (e.g. mass market or niche)

% of sales that take place online

Desire to minimise risk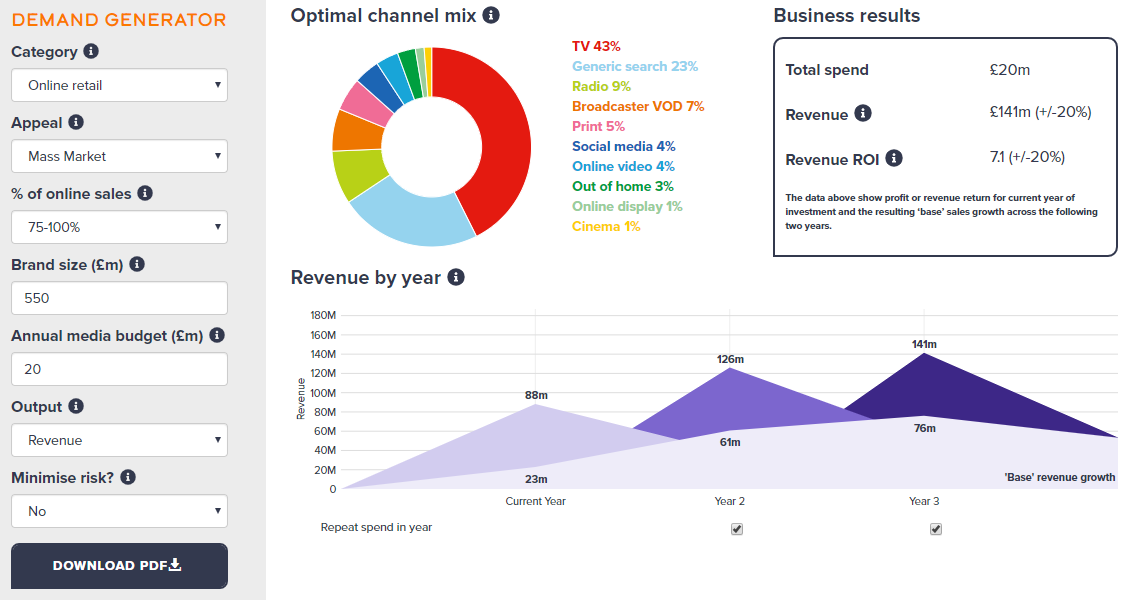 The Demand Generator also forecasts the likely business results of following its guidance, both in terms of incremental revenue/profit per year and revenue/profit return on investment (ROI).
For more information on the research and to try the tool visit: www.thinkbox.tv/demandgenerator