Kevin McQuillan is Head of Marketing at the R&A. Prior to joining the R&A Kevin has enjoyed an 18-year marketing career spanning during which time, by his own admission, he's been lucky to work on brands that he was a fan of before marketing was even a career aspiration!  Prestigious brands including Tennent's Lager, Stella Artois, Bank of Scotland, Whyte & MacKay, the Scottish FA and Celtic FC have all played a part in landing his latest role at the R&A based in St Andrews.  Three and a half years developing marketing strategies and capability to drive commercial growth for The Open has ensured an exciting role on paper has delivered in every sense.  Kevin continues to have a passion for marketing, Scottish sport and spends his spare time between his young family and fighting against the onset of time at 5-a sides and on the golf course.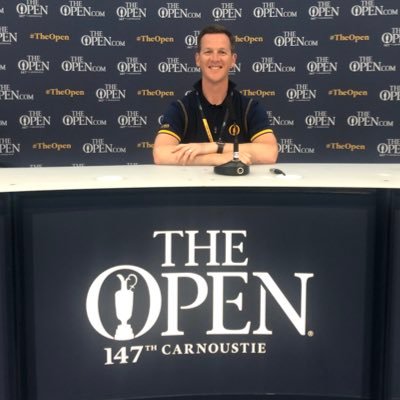 You've got some fantastic companies on your CV R&A, Celtic FC, Material MC and InBev. What have been the highlights for you? 
So many! I've been very fortunate to work with so many great brands, people and events over the years. Tennent's was just the best place to learn and start a career in marketing, Celtic was a labour of love and a real wrench to leave. But I've said openly in the last few weeks that The 148th Open at Royal Portrush is the best end to end experience I've had in my career in respect of a single brand platform that exceeded all expectations.  
We put in a lot of hard work over the last three years to step change the R&A's approach to marketing The Open and it was nice to see our aims come to fruition with the first ever completely sold out Championship and achieving it in just 8 weeks.  It was amazing to be part of a team breaking new ground in taking The Open back to Northern Ireland for the first time in 68 years. 
What brands are you most impressed by at the moment? Any campaigns which have particularly caught your eye?
Unsurprisingly, many of my favourite brands are sports brands. I love Nike. I have been fortunate to work with the brand while at Celtic and at the R&A and I love that they continue to innovate with great products and cutting-edge marketing. Crucially, they are not afraid to take risks and I think this helps keep the Nike brand relevant in a very competitive sector. In recent years, the 'Just Do It' campaign featuring Colin Kaepernick and Serena Williams have been unbelievably compelling, transcending a host of audience segments beyond sport. 
Similarly, I've been a fan of Red Bull's diversity and creativity for some time. They just seem to up the ante time and again. Their adrenaline-fueled marketing platform span sport, music, the arts and produces the most incredible level of audience participation. The resulting content is rich and original, such a vital component to building relationships through engagement and there are few who do it better.
And I still like brands that make me laugh. Few have done it better in recent years that Paddy Power. Their mastery of the PR stunt knows no bounds and I think the recent campaign of 'Un-sponsoring' top flight football teams was pure genius.
Who are your biggest inspirations in the industry?
Having grown up in tandem with the growth of the Apple brand, it would be hard not to have been hugely inspired by Steve Jobs. Irrespective of the complex innovation in the products Apple have delivered over the last 40 years, Steve Jobs ability to connect with his audience on a personal level to create a level of awestruck excitement and loyalty in so many is genuinely inspiring and to some degree proves that people still buy from people they have a good relationship with. 
I've been fortunate to work with and learn from some amazingly talented people but the ones that have inspired me most are those that put people first.  Almost always, those people led great teams to create great campaigns and results. That has always stayed with me.
But in an everyday sense, I'm inspired by the talented young people who I've recruited and who contribute to our marketing operations at the R&A. Surrounding yourself with bright and energetic people will ensure you are never standing still.
How is the field likely to develop in future – what trends and developments do you see on the horizon?
Data analysis is here to stay. Informing marketing campaigns with insights on our customers / fans likes and preferences is key to success. What I've read about how data insights are informing the programming Netflix produces is fascinating.  We can learn so much from how brands such as Netflix and Google utilize online platforms to learn more about the behavior of people and how to make our brands relevant.
However, I also believe that we should be data-informed, not data enforced and that the key to strong brands remains talented and creative people. The ability to connect on a human level tends to be what separates great brands from the rest as that's where trust is found. Richard Branson, Steve Jobs and Elon Musk evidence this. Even when I look back at my experience in the sports industry, I see millions of pounds being invested in sports brands on the basis of personal relationships be that Sponsorship, Hospitality sales or broadcast deals. The data will take you so far but good people who act with integrity will make great brands.
What was the appeal in working with The R&A? 
There were a few opportunities that appealed. The R&A itself has a great reputation within the sports industry so it was an honour to be offered the chance to work at such a prestigious governing body.
My career had given me the chance to work on so many great and varied sports properties but never golf, so this was also the chance to add one of very few sports I had never work on to the CV.
But crucially, The Open was the brand I'd have responsibility for.  Golf's original Championship, a truly global brand with an incredible roster of Patron's (sponsors) and a following of millions of fans. With a commitment to invest in growing The Open brand in International markets and support the objective of building an inhouse marketing capability, all the ingredients were there for a great challenge and it's been a great ride for three and a half years to date.
If you could look back at your career and remake one of your biggest decisions, what would it be?
I've been extremely lucky that most of the big calls I've had to make, be those career-driven or specific to individual campaign, have come good. I've no regrets so wouldn't change any of the big decisions.
In what ways do you think the industry can change for the better?
I think the marketing industry is now more complex and varied than ever before so there are probably a number of ways in which the industry can be better in various sectors.
But universally, I think we have a duty of care to respect people's privacy and utilize customer data with the most integrity possible. If trust is breached, a customer should rightfully expect to be recompensed but if trust is maintained and that trust is not abused through irresponsible marketing practices, brands can create lasting relationships that lead to the most positive affirmation of them all – personal endorsement.  Who doesn't want to hear people tell their friends and family that they 'love' their brand?
How do you see the media landscape unfolding in the next five years?
In the sports industry, this is a fascinating area. With the likes of Amazon, Facebook, Twitter and Discovery all entering into the market for Sports broadcast rights within the last 24 months, it points to an even more competitive market place. I think digital rights for content could possibly take precedence over linear TV rights in the coming years and that is one development that all rights owners will be tracking with interest.
Increasingly right owners are also looking to build an owned and addressable audience and the ability to command an engaged community of fans will be vital to commanding a strong negotiating position in a media landscape that continues to fragment with the proliferation of OTT and direct to consumer channels.