"We are nothing without incredible Marketing leaders"
With these words, our fabulous CEO Sophie Devonshire opened the UAE 2022 Conference – Changemakers: Ignite to a sold-out auditorium at the Coca-Cola Arena, Dubai. 
This year was bigger and bolder than ever before. Did it deliver? We tend to think it did…..
Philip Blanchard, Founder of Futurous, opened the day introducing the Futurous Games, with the mission to bring humanity, sport and the latest AI and VR technology together to create an Olympic format global event that would connect with the world. An ambitious and inspirational project, kicking off our ambitious day…
Elias Bassil the head of strategy at TikTok and one of our premium partners, with much bravery having injured an ankle playing basketball, took us on a journey exploring the economy of creators, communities, and collaboration. Elias has a disarming style and can present complex concepts in very relevant terms effortlessly. He helped remind us all that being a creator is not limited to the polished few, but to the authentic many and that a brand's answer to relevance is always with people. The history of the watch industry was an analogy that will stay with us all! 
Following Elisas, our partners at the W Group helped remind us that there was still a marketing 'mix' out there, taking us on a journey across Dubai's Out of Home creativity and technology.
And then it was time to welcome back Sophie, who had members speed meeting with a 60-second introduction to a stranger session helping new people connect – a fun and interactive break in the day, building on our central promise as a Society to help our members build networks.  
Lunch heralded in our afternoon themed around purpose and inclusion. 
Who could not be inspired by the first session of the afternoon; Wemmy de Maaker founder of Mawahab (Arabic for Talent) the center for people of determination in Dubai that does so much to support this community. After introducing her foundation, Wemmy, a trained nurse and carer, was joined by one of our longest serving members Matt Horobin (now Strategy Director at Bond) who took the audience through the Mawahab x Dubai Airports partnership, that demonstrated just how much impact brands can make when working with foundations and social causes in meaningful ways.
Our first panel was a spirited and honest conversation around unlocking sustainable growth through ESG led by our Abu Dhabi board member, Neda Shelton of Mubadala, who was joined by Tosson El Noshokaty (Prophet), Erica Kerner (SailGP) and Leyal Eskin (Unilever). We enjoyed the panel's perspectives on several topics including COP27, Unilever's 2039 net zero commitment, greenwashing, and the need for all brands to do more. We were challenged to go back to our businesses and do more to build sustainability into our policies, partnerships, programmes, values and ethics.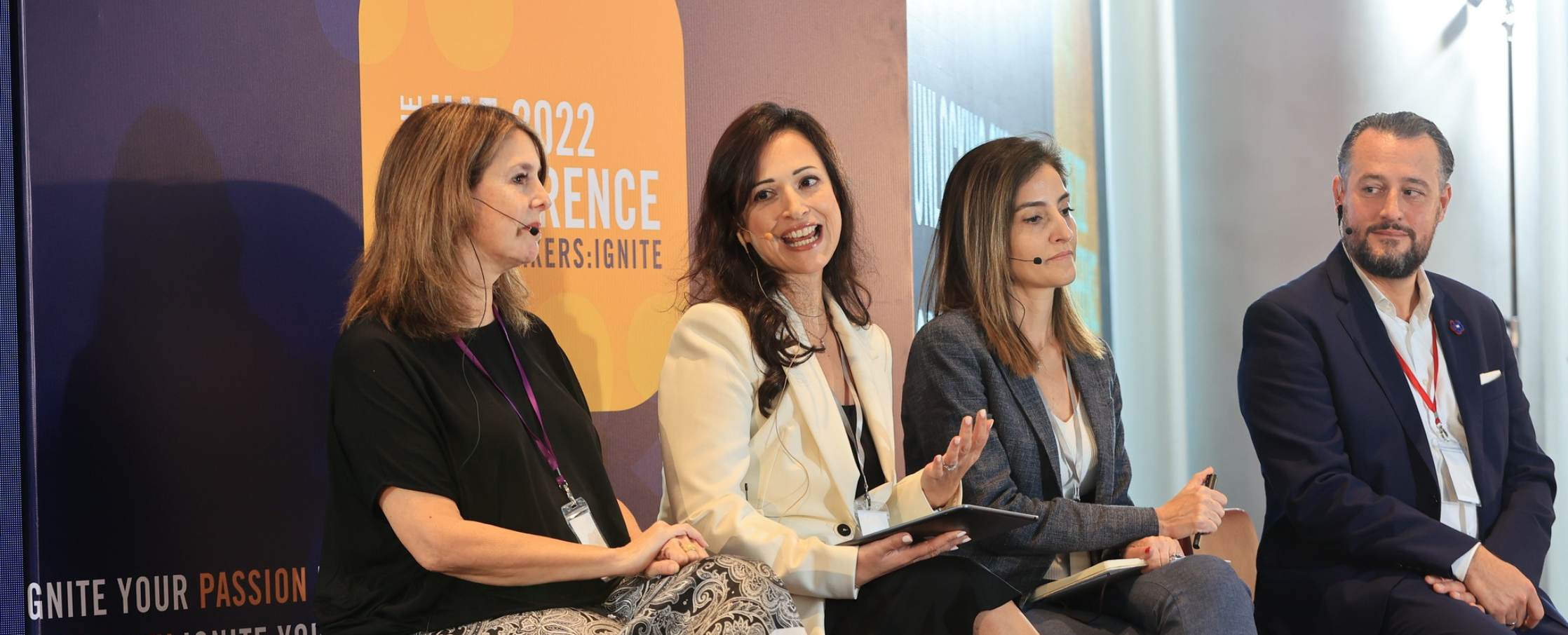 Described as an 'incredible Human' by our MC for the day - and Chair – Mohammed Ismael Hameedaldin, Maria Conceicao stands apart for her fortitude, commitment, resilience and example of what we can truly achieve for our fellow humans. Maria moved members, with her story of struggling from a mother-less childhood, moving across Europe as a cleaner, before landing with Emirates in the UAE and going on to give her adult life to the children of the slums of Bangladesh. Over 15 years, Maria has raised thousands to benefit the lives of over 600 children and in the process has broken 8 world records (including the first Portuguese woman to reach the North Pole and Everest Summit). There wasn't a dry eye in the house as Maria introduced some of her Bangladeshi children – now young adults and graduating from schools across the world and entering employment. A truly inspirational women, who needs the support of our members to continue her great work helping disadvantaged communities in Bangladesh.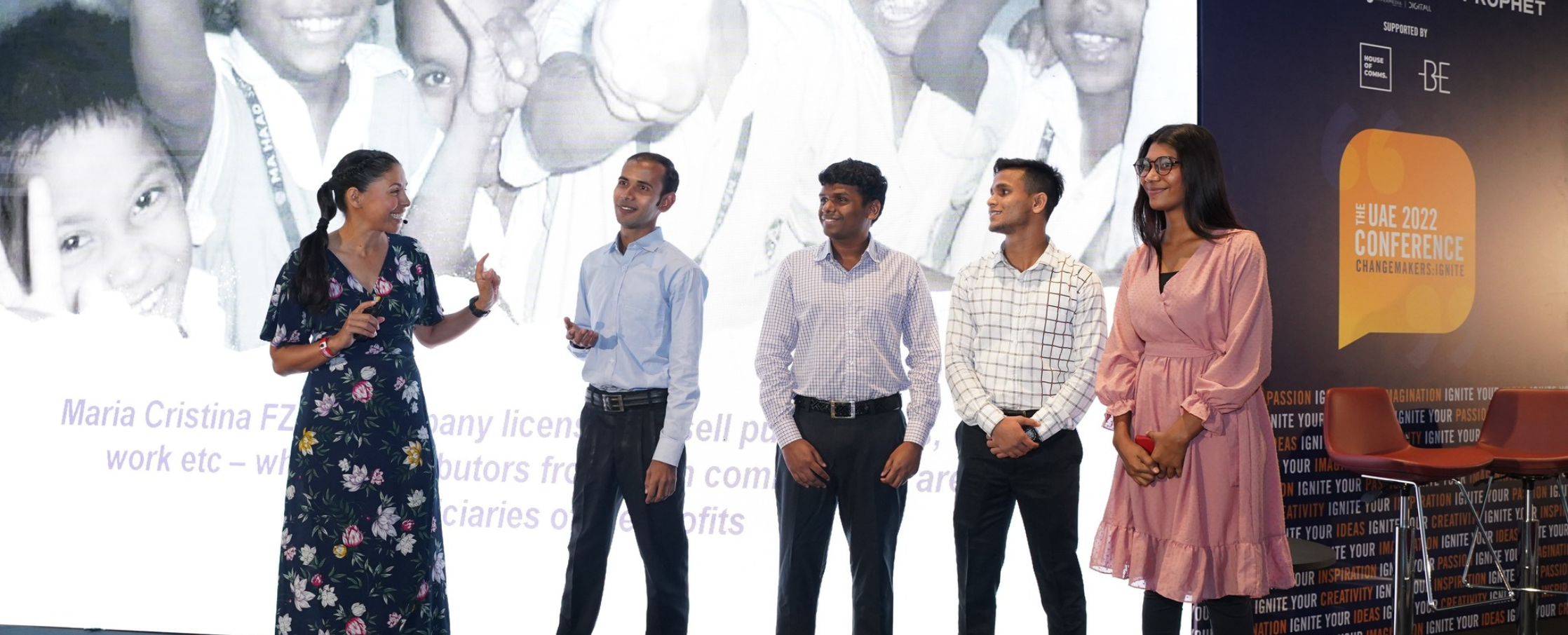 From Maria to Zennie, David Zennie, the Web 3.0 visionary who brought to us a vision of how brands can work with purpose and values through the metaverse. Members were treated to a live metaverse demonstration, where David helped us plant a tree to raise funds for an imagined local charity, and we were introduced to Joy, part of the Disruptive team speaking to us from Texas. In a surprise for us all, David introduced Jurgis, a motivational performer who had members up on stage, creating a safe, inclusive and connected network in the auditorium – a smart analogy of a purpose-driven, trusting metaverse!
Next up we heard how much Etihad has achieved in becoming a green company, as our Abu Dhabi Society Chair Amina Taher (VP Marketing, Etihad) welcomed Tony Douglas former CEO of Etihad to share the company's journey as a purposeful brand and business. A seasoned, natural speaker, Tony entertained, informed and inspired the members, and provided insights and positives perspectives on a post-covid travel and tourism world. 
Closing the day, we enjoyed the Charismatic Mark Adams who took us through a journey of the luckiest brand on planet earth, sharing a few realities and home truths to remind members that marketing effectiveness is in decline. Marketeers must get back to speaking to personalities, hobbyist, tastes and networks, vs age, gender, and profile! Labour Under Correct Knowledge landed with all in attendance! 
After such an exciting day of learning and innovation, it was left for our UAE Chair Khaled Ismail to bring his infectious energy to the close wrapping up the many topics, themes and insights we had learned that day, and we all headed off into the sunset a lot closer, wiser, informed and inspired! 
Enjoy this? Get more.
Our monthly newsletter, The Edit, curates the very best of our latest content including articles, podcasts, video.
Not a member yet?
Now it's time for you and your team to get involved. Get access to world-class events, exclusive publications, professional development, partner discounts and the chance to grow your network.