Three extraordinary individuals shared their inspirational tales and left an audience of hardened marketers in awe and tears, at the society's 'Uncomfortable Breakfast' at the Dubai Lynx.
Roha Moharrak is the first Saudi women to climb Mount Everest and, in just eight minutes, she regaled us with how her rebellious fear of having to conform to Saudi social norms led her to challenge her family and herself.
Her first conquest was Killimanjaro in Tanzania and she described the sense of 'belonging at the top of the mountain' as the catalyst to then go on to prove her doubters wrong from the 'top of the world'.
Her journey has taken her from being a 'walking-talking taboo' to an iconic role model to Saudi women (and a 'girl crush' for The Marketing Society's chief executive, Gemma Greaves).
Nick Watson's journey is very different and equally amazing.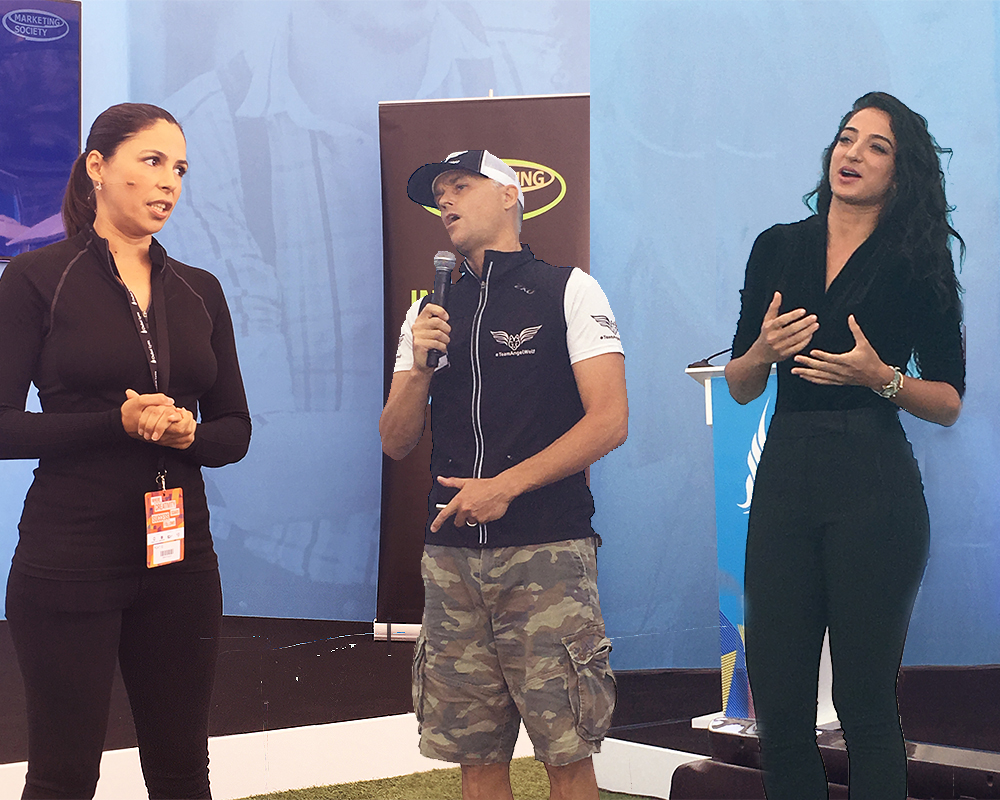 A triathlete, a Royal Marine and a sports therapist, he arrived in Dubai 20 years ago to open a health club, but his life was changed forever when his son Rio was born in 2003 with severe learning and physical difficulties.
Nick wanted Rio to be able to experience the thrill of his sport, and in 2014 they started racing together and so far, they have swum, run and cycled an astonishing 3500kms competitively.
This led to the creation of TeamAngelWolf, the not for profit organisation which Nick created to ''encourage, awareness, acceptance, inclusion, integration and equality of people with disabilities within our community'' and which is determined to assist the UAE to become one of the world's most disabled friendly regions.
---
Dubai's early morning Marketers where already struggling to hold back the tears, when hurricane Maria hit the stage in the form of the pocket sized Portuguese powerhouse that is 40-year-old Maria Conceicao.
---
She left school at 12 to look after her siblings and qualified 'only to be a cleaner …but the Ronaldo of cleaning', she found her way to Dubai where she was recruited by Emirates.
In 2005, on a layover in Bangladesh, Maria visited a slum in Dhaka and decided there and then to devote herself to improving the lives of those she met.
Since then she has tirelessly raised funds and awareness through ever more daring feats which make mere mortals weep.
In 2013, she became the first Portuguese woman to summit Mount Everest and since then has ran 7 ultra-marathons on 7 continents in 6 weeks, 7 ultra-marathons in 7 days and 7 marathons on 7 continents in 11 days.
Today she holds 8 Guinness World Records and through her Maria Cristina foundation (named after the woman who raised her) she has provided education to over 600 children.
Not a dry eye in the house!
These three inspirational stories are very different but had a simple common message for the brands represented in the audience.
Have a clear purpose, challenge convention and above all, be brave.
---
By Nick Clements, CEO, Ampersand