From researcher at NASA, to piloting the skies in New Zealand, to digital and interactive experience pioneer, Calvin Hart has more insights to share then could ever be covered in a single leadership session.
Sharing cross-industry examples ranging from innovation hubs in healthcare, to aviation experiences as marketplaces, and from truly 'social' banking to building destination-centric brands, a room full of experienced marketers were given much to ponder long after Calvin's insightful session.
Here are some of the key takeaways from the session, particularly in relation to engagement models:
"We don't start with Tech. We talk to the 'storyline' and anchor stakeholders around it"
How often have we seen a client looking to acquire or deploy a new technology because it's the latest in tech-buzz or simply because it's "cool"?
How often have we seen sellers trying to box client requirements into a product or service that they are measured on selling?
Calvin shared examples of how he and the iX team are focused on peeling back the layers and uncovering a deeper understanding of the client's current situation, pain points and needs. The stakeholders are then all aligned to the established storyline, which is often not what the client originally perceived.
Technology is not the starting point nor the end goal, it is simply the enabler, or driver, of the desired experience and is used to successfully deliver the agreed narrative.
An effective illustration of how tech is used to deliver the desired underlying experience is the 'abcde' shown below: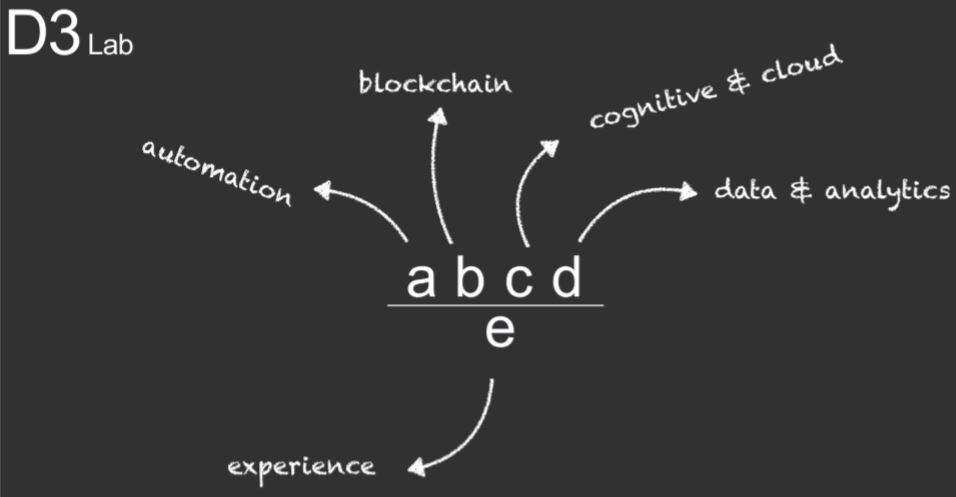 This approach is driven through a methodology of "design-thinking" which as a discipline is not new, and has evolved into multiple frameworks. If you're interested in learning more about IBM's framework of Enterprise Design Thinking, visit: https://www.ibm.com/design/thinking/
Being a design thinking practitioner myself, I have found that design thinking truly enables one to put the client at the center of thought, and helps avoid the trap of prematurely solutioning without truly stepping into the shoes of the personas at play.
"Love it. Hate it. Break it"
Calvin emphasized that by engaging clients, and subject matter experts (SMEs), together through the co-creation experience driven by Design Thinking, the goal is to move from the agreed problem statement to the delivery of quick, tangible prototypes or proof-of-concepts (POCs) into the hands of the clients… and then it's about "breaking stuff", which may sound a little bit daunting to some of us.
However, the road to success is agile and focused on iterations, with each iteration bringing the team closer to success.
Many of us may view being 'agile' as a flexibility and adaptability of mindset. But it's much more than that.
It is a discipline or methodology in itself, born in the world of code and now adapted and employed in design, marketing and many other functions.
"Big thinking comes from startups"
Given the vibrant and growing startup scene, especially in the Middle East, it was almost inevitable that there would be a question from the audience during the session on the role or opportunities available for startups in such engagements.
It was encouraging to hear that startups have a powerful role to play in bringing ideas, skills, and a mindset to the table that, together with larger clients and teams such as iX, can help design impactful experiences.
To conclude... Regardless of our roles, we've all come to accept that we live in a client-centric world, whether the clients are internal or external.
As we look to push the boundaries, as Calvin has emphasized, we need to look at going beyond just delivering experiences to clients, to co-creating experiences with them.
Experiences that matter.
Experiences that are memorable.
---
By Syed Zahidi, Performance Marketing Leader, Middle East and Africa , IBM 
Enjoy this? Get more.
Our monthly newsletter, The Edit, curates the very best of our latest content including articles, podcasts, video.
Not a member yet?
Now it's time for you and your team to get involved. Get access to world-class events, exclusive publications, professional development, partner discounts and the chance to grow your network.