A Brand and Marketing Communications professional with rich and varied experience across markets and categories, in Agency and Client organizations. 

Pete is an employee number 13 of a core startup team of 44 professionals that have launched flyadeal, a new low-cost airline in Saudi Arabia. Over 11 months of intensive work leading to the first commercial flight he has contributed to the concept of the new airline, to the definition of its purpose and the set-up of its culture.  He took responsibility for the brand and marketing execution, from livery and aircraft interior to the launch concept. flyadeal became the first airline launched exclusively through digital channels, resulting in 10k seats sold in the first 24 hours, 3M seats within the first 16 months of operations, load factors of 90%+ and 97% of sales through direct online channels. In November 2018 flyadeal won prestigious CAPA Asia Pacific Start-Up of the Year.

Previously, Pete led the marketing communications function of a digital startup spinning out of Saudi Telecommunications Company (STC), the largest telco in the Middle East. This next-gen telco is the first of its kind in the eastern hemisphere, with an app-based service, targeting digitally savvy Saudi youth via digital and social media. This ambitious project has been realized with an ecosystem of the best global partners in ethnography, brand strategy and design, UI/UX design, technology, management consulting, e-commerce, community-based customer support and digital/social media.  

Prior to that, he led the Brand & Marketing function for Wizz Air, the largest and most profitable airline in Central and South Eastern Europe. With twin HQs in Geneva and Budapest, Wizz Air is one of the largest e-Commerce companies in the region, operating a disruptive low-cost model with 93% of sales via direct online channel. He delivered a full relaunch of the brand to reshape the company's culture and positively impact all internal and external touch-points. He also set up an effectiveness-driven, KPI-centered marketing function, delivering on ambitious goals in 36 markets in Europe and the Middle East and winning EFFIEs and innovation awards.

On the Agency side he has a track record of insight-driven Integrated Marketing Communications, brand building, business development, business management and Agency P&L responsibility, established over a 16-year international career with McCann, delivering great marketplace results for clients. He served as VP-EMEA Area Director for Coke across Africa from Johannesburg and ran 50-90-person agency offices as a Managing Director for McCann in Poland, Ukraine, Serbia & Montenegro and Romania.  
He earned an MBA from the University of Calgary and a BA in Psychology and Drama from the University of Edmonton.  Further education includes a Certificate in Marketing and Advertising from New York University and a Diploma in Leadership in Professional Service Firms from Harvard University. He is an alumnus of McCann Worldgroup Executive Leadership Program.

Piotr Lysak is a Canadian and a Polish citizen.  He is married with two grown children and his personal passions include sailing and photography.
---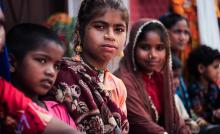 The second in our Brand Conversations series with Landor, this time exploring culture.