We sent a small contingency of The Marketing Society team to French Riviera to truly embrace all that the Cannes Lions International Festival of Creativity 2023 offers and they were not disappointed.  Despite the mammoth schedules of the week, they returned weary yet energised by the amazing array of content, connections and conversations that were truly inspirational and we want to share some of that magic with you in this round-up of content.
We hosted our own member meet-ups and a fabulous "Love Lunch" in partnership with Accenture Song as well as joining MediaLink in a secret garden lunch and a panel discussion with the French Riviera as a backdrop with our knowledge partner WARC.
As Sophie, our CEO said, "I felt so energised and inspired by the stories shared of great customer experience, leadership and the potential ahead (and by spending time with some brilliant people in the sunshine)". 

Thank you to our members who came together to share your connections with our global community, to spark conversation and to awaken inspiration.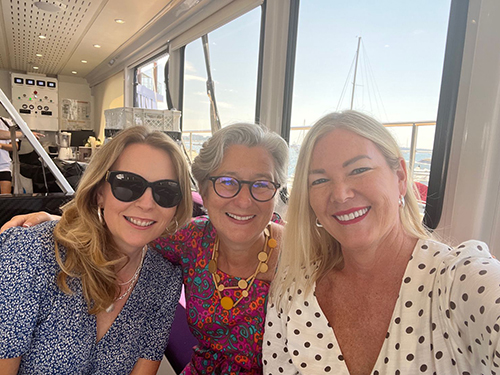 For those who couldn't be there, we have our fantastic as-ever round-up from Julian Boulding, insight from our partner events and some fantastic podcasts and video content to bring alive the week of creativity and changemakers conversations.
THINK PIECES
The Cannes Review 2023: Insights, Winners, and the Rise of Purpose-Driven Advertising
Julian Boulding, Fellow of The Marketing Society and Founder and President of thenetworkone is back with his annual review of Cannes Lions  - this is the short version (!) There will be more to come, we hope you enjoy this dive into the deep waters of the French Riviera and all that Cannes has to offer. (8 mins) Read
The Power of Love, Creativity and Technology
Mark Evans and the team at Accenture Song share insight from a roundtable event that focused on the role of love, creativity, and technology in reinventing businesses for the future. Highlighting the importance of personalised experiences, the integration of technology and creativity, and the potential for revolutionary customer experiences.
(4 mins) Read
AI, Unity and Inspiring Moments
Tim Anderson from BBC Studios takes us behind the scenes of his week at Cannes Lions 2023, sharing his key takeaways and inspiring moments including our Secret Garden lunch with MediaLink. AI takes centre stage, unity and positivity prevail, featuring the power of effective communication. From impactful work to diverse leadership, the festival leaves attendees hot, tired, and inspired.
(3 mins) Read
PODCASTS
Our Knowledge Partner WARC have a series of podcasts coming out of Cannes Lions 2023, you can find them all in their podcast platform here.
WARC x Cannes Lions: The third age of Effectiveness
As part of WARC's daily podcasts from Cannes Lions 2023, Anna Hamill hosts as we hear about a major new presentation from Les Binet, Dr Grace Kite and Tom Roach. Jocelyn Tse, Chief Strategy Officer for UM Worldwide in China, offers insights from the Creative Data Lions judging room. And WARC's Sam Pena-Taylor reports on ChatGPT making a splash at the Festival. (28 mins) Listen
Cannes Conversation: with Wendy Walker
Our Head of Content and Communications, Rachel Letham talked to Wendy Walker in this inaugural new format podcast show. Wendy is The Marketing Society Singapore Chair and Vice President of Marketing at Salesforce and she shares all about her time at Cannes Lions. Covering about creativity, connection, content, experience and inspiration coming out of this unforgettable week. (10 mins) Listen
WARC X Cannes Lions: Culture of creative effectiveness
In another of WARC's daily Cannes Lions podcasts, host Alex Brownsell hears about a brand new whitepaper on 'Culture of Creative Effectiveness' from WARC Insight Director Adi Kishore. R/GA's Yael Cesarkas shares her perspective on the AI debate raging up and down the Croisette, and McCann Worldgroup Global CSO Harjot Singh drops in to talk about purpose and sustainability. (36 mins) Listen
CANNES CONVERSATIONS
The Marketing Society Cannes Conversations caught on the Croisette or filmed at our events.
Accenture Song Vox Pops from Cannes:
Connection, Conversation and Inspiration from Cannes.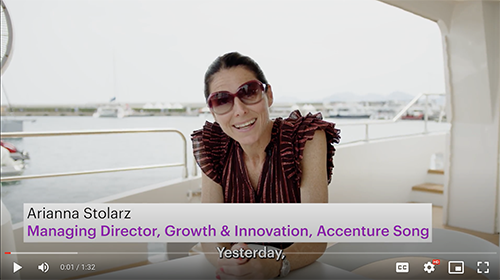 Head to our Google Drive to see them all or click on the names above to watch.
Special Thanks
Heartfelt thanks go out to our partners Accenture Song and MediaLink for collaborating with us during our time in Cannes and also to WARC. 
Enjoy this? Get more.
Our monthly newsletter, The Edit, curates the very best of our latest content including articles, podcasts, video.
Not a member yet?
Now it's time for you and your team to get involved. Get access to world-class events, exclusive publications, professional development, partner discounts and the chance to grow your network.