Brand and Communications Strategic Consulting and Training
Neil's a brand and strategic expert; with 37 years'
experience in agencies and consultancies, working with
some of the world's top consumer brands.
He runs NQIQ, his own strategic brand consultancy.
His approach is based on how to set up brands to win –
in the most practical possible way – by making the
complex simple.
For the last 12 years, Neil has been running the IPA
Fundamentals of Planning Training.
---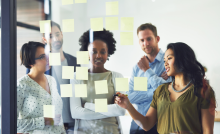 We'll make brand strategy real and practical, using simple techniques, exercises and tangible examples.