Kameel leads Advanced Experience Planning for Dell displays and peripherals, where he is responsible for delivering innovative technology strategies & customer experiences for next generation products.
Prior to marketing for Dell, he's run his own hotel, business center, product distribution and fintech businesses. He mentors students at the European Innovation Academy and regularly speaks at marketing events.
Kameel is a business leader and marketer that's passionate about technology, solving problems driving growth and challenging the norm.
---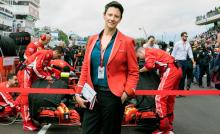 The Marketing Society Singapore welcomed Ellie Norman, Director Marketing & Communications, Formula 1 to come Under the Spotlight on 19th