Jane is co-founder and Managing Partner of creative agency PUNK.
She began her advertising career at M&C Saatchi, returning to Scotland and Leith Agency, followed two years later by Newhaven. During this time she completed two secondments to Scottish Government, the latter as Head of Smarter, Wealthier and Fairer Marketing.
After 18 years in agencies and client-side, she fancied a change and opened consultancy business Blackbird Pie working with charities and NGOs. Two years in and an out-of -the-blue phone call from ex-Newhaven colleague Paul resulted in the birth of PUNK where she has been at the helm since 2016.
She loves working in the creative industry and balances the demands of a young business and young family with her other love, yoga. She has a 'what's the worst that could happen?' attitude and will generally have a go at most things. Apart from 'Go Ape'. That was a mistake.
---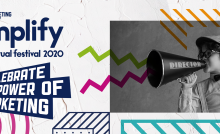 Whilst most of the festivals due to take place in Edinburgh this August have sadly been cancelled we are delighted