Fadi Ghandour is Founder & CEO of Aramex International, a position he has held for the past 26 years. Aramex, one of the leading logistics & transportation companies in the Middle East and South Asia, was the first company from the Arab world to go public on the Nasdaq stock exchange. After five years of successful trading on it, Aramex returned to private ownership and, in June 2005, went public again on the Dubai Financial Market (DFM).
Ghandour is a Founding Partner in Maktoob.com, the world's largest Arab On-Line community, is a member of the Board of Abraaj Capital, and serves on the Advisory Board of the Suliman S. Olayan School of Business at the American University of Beirut. Between 2003 and 2005, he was the Middle East and North Africa Area Chairman of the Young Presidents Organization (YPO).
Ghandour is actively involved with community and NGO work. He is Vice Chairman of the Board of Trustees of the Jordan River Foundation, Chairman of "National Microfinance Bank" in Jordan, and founder of Ruwwad Development, a region-wide corporate social responsibility initiative.
---
---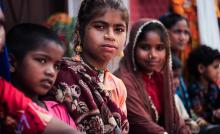 The second in our Brand Conversations series with Landor, this time exploring culture.