The Marketing Society, together with Accenture Song, has developed the Marketing Leaders Programme (MLP) as a unique development experience for high potential marketers who are preparing for senior leadership roles. To support the development of great marketing leaders.
---
The programme blends both marketing and people leadership skill development. It is delivered by eminent industry leaders and leadership experts and is designed to help shape the great global marketing leaders of tomorrow.
The strength of the programme lies in the way it brings together today's marketing leaders with those of tomorrow, in an open environment, enabling frank and honest discussions between participants and globally renowned speakers.
---
2023 programme
The 2023 programme is fully residential and located in Greater London (UK) for 6 days over March, April and June, followed by one day in September for a 'Reconnect'. MLP brings marketing leaders together to prepare for their next leadership role. Leading in uncertain times is challenging, the essence of the programme remains to nurture great talent and enable them to be at their best more of the time.

You will have the opportunity to work in pairs, in challenge and support groups as well as experience group coaching and 1:1 coaching with our facilitators. Delegates will leave with a ready-made support network of marketing leaders who they can learn from long after the programme has ended.
Modules
Module 1: Future
In a marketing world where the past is no longer a predictor of the future, this module is all about equipping participants with the ability to lead for a future which is immensely exciting and unpredictable in equal measure. (9-10 March)
Module 2: Engage
In an era of distraction where engagement can be temporary, we focus on bringing others on the journey with you; how to lead not only for marketing but on behalf of marketing across the business. (20-21 April)
Module 3: Deliver
Indecision and failure to act at pace often leads to competitors winning, we therefore focus on the critical skills and behaviours that you can build, giving you the confidence to lead and deliver outstanding results. (15-16 June)
Reconnect and share
Reconnect and share session. In the last couple of years we've run a reconnect session for delegates, and they've given us great feedback, saying it helps refresh them on the learnings from the course after some time away. During this session you will be matched with a mentor from the marketing industry. (15 September)
Speakers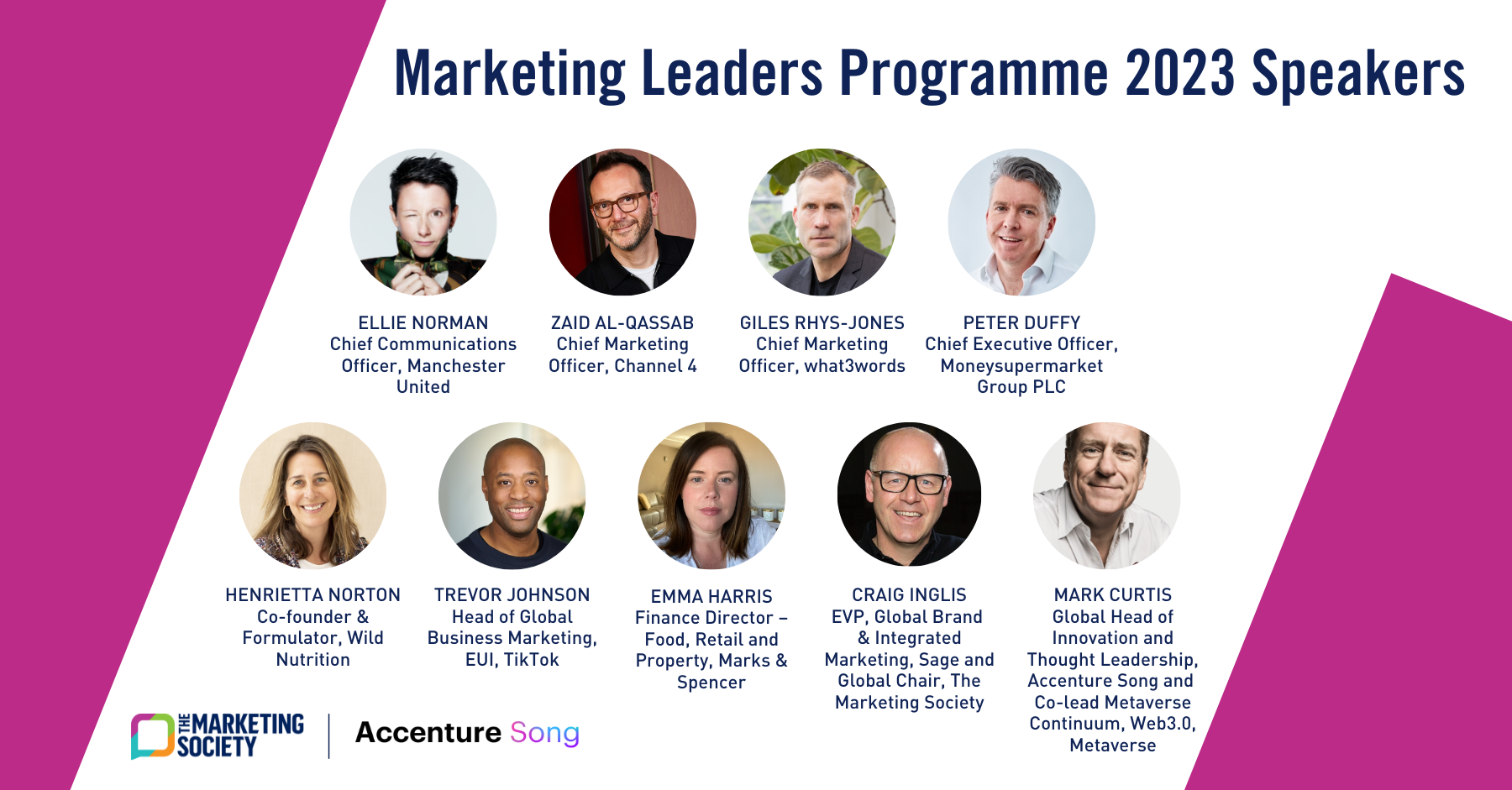 ---
Alumni
We have coached hundreds of promising senior marketers over the last 18 years from Aviva, Bacardi, Barclays, Costa Coffee, Weetabix, British Gas, Paddy Power, Tesco, McDonald's, Heineken, Unilever and so many more.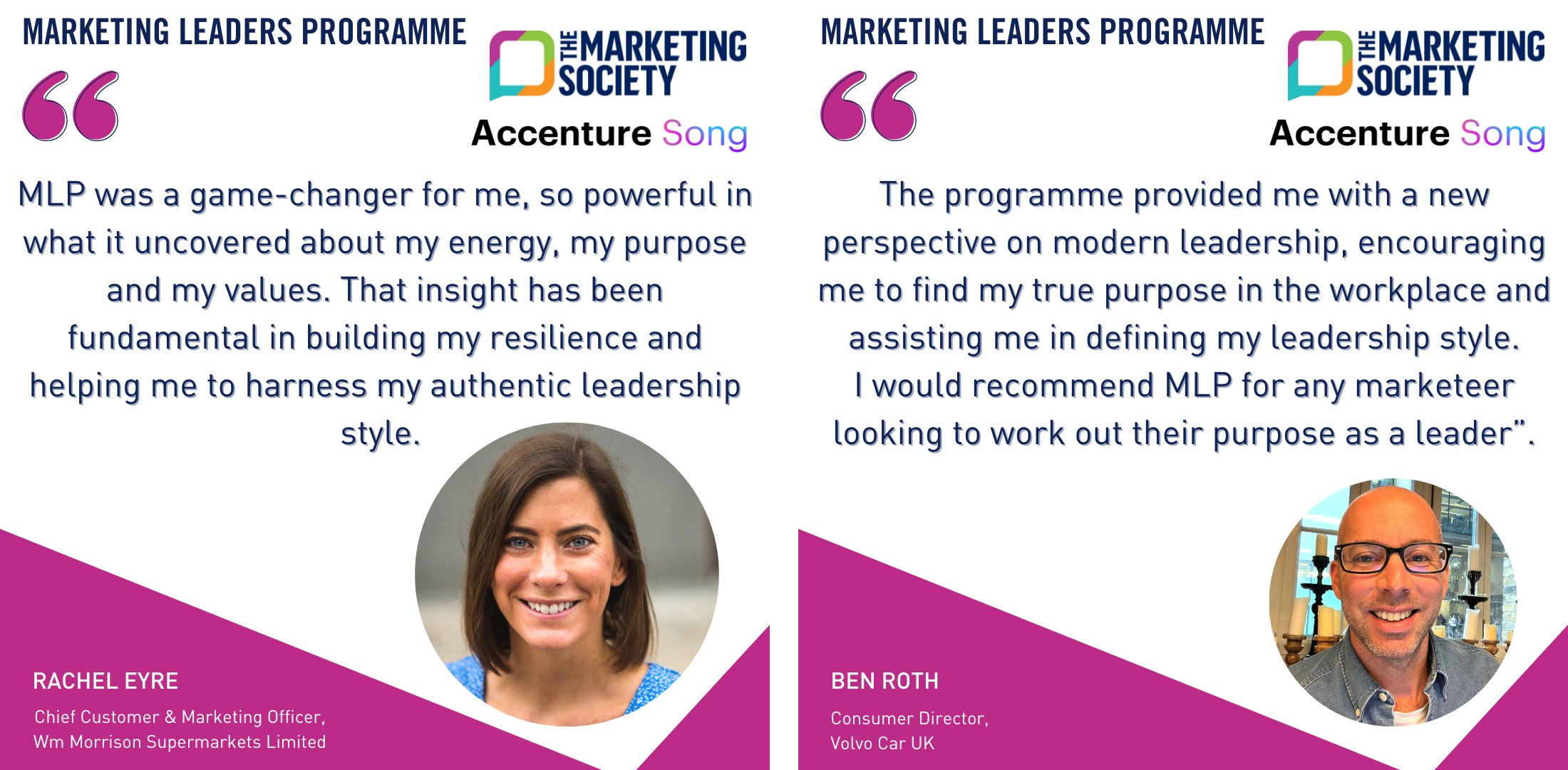 ---
Apply
Application deadline: January 31st, 2022 
Criteria: Applicants must have at least seven years' marketing experience, or can demonstrate leading change in a marketing role
Programme price: £9,950 +VAT
MLP is founded on the belief that personal growth is achieved through shared experience – it helps us appreciate what is possible, what we are capable of and to work out what we need to do about it. This is why MLP shares perspectives from great marketing leaders who join as guests, expert guest contributors, leadership coaches who are with you all the way and of course you as part of the MLP community.
It's you and the mindset you bring that can make all the difference. You can expect to be inspired, stretched and challenged on MLP and you get out of it what you put in.
Find out more and fill in the application form on our website.