'Connecting The Dots' Between a Challenging Present and a Bright Future
As if Digital Day 2023 wasn't exciting enough, to have it in my home city of Glasgow, a place rooted in history but always looking forward, felt even more fitting. In true Glaswegian spirit, the drizzle didn't dampen the excitement and the connections sparking throughout the day matched perfectly with the 'Connect The Dots' visuals created by Bright Signals. Four themes stuck out from the day, with all of the brilliant speakers touching on at least one of: challenges both present and future, authenticity, sustainability, and the idea that doing good really matters.
Challenges Right Now and In the Future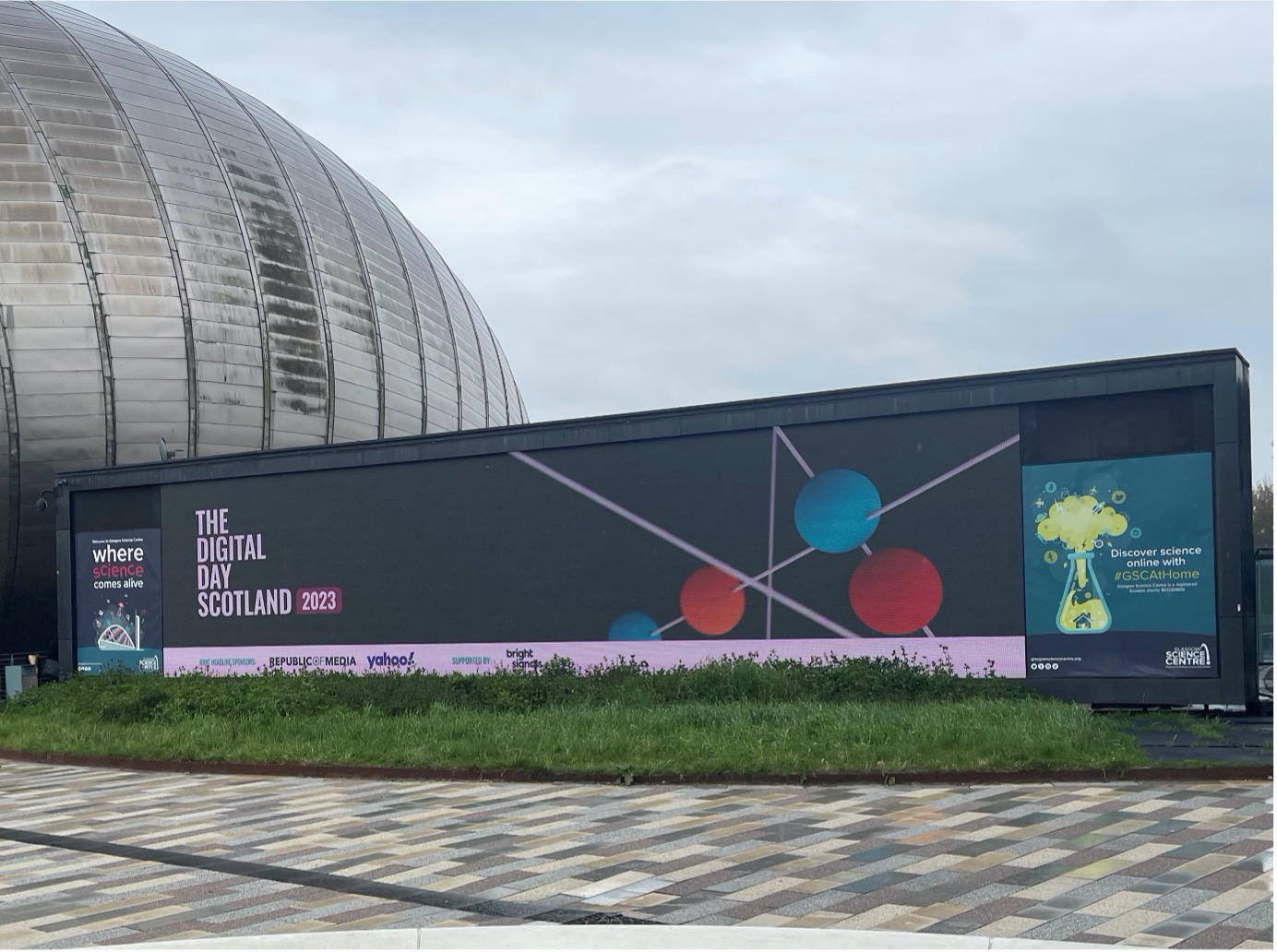 The day started with Aditya Kishore, Insight Direct at WARC, talking about major trends for 2023: firstly marketing in a cost-of-living crisis, and the knock-on effect this has on sustainability and the balance of maintaining profitability in a low-growth period. Supply-chain disruption from global conflict and economic challenges. Next, a reckoning for big-tech seeing a drop in shares, profits and major layoffs. Finally, bubble-up culture  with more trends driven by niche groups and content creators, which, as Kishore says, "further fragments an already fragmented environment".
While the scale of the challenges was daunting, Aditya was keen to stress that in previous periods of low-growth and global challenges, the fundamentals of marketing didn't change. With this in mind, we should protect pillars like share-of-voice, as short-term cuts exacerbate long-term negative impacts. We were also reminded that, in challenging times for consumers and brands, "tone is crucial – empathy is a vital tool in reaching consumers".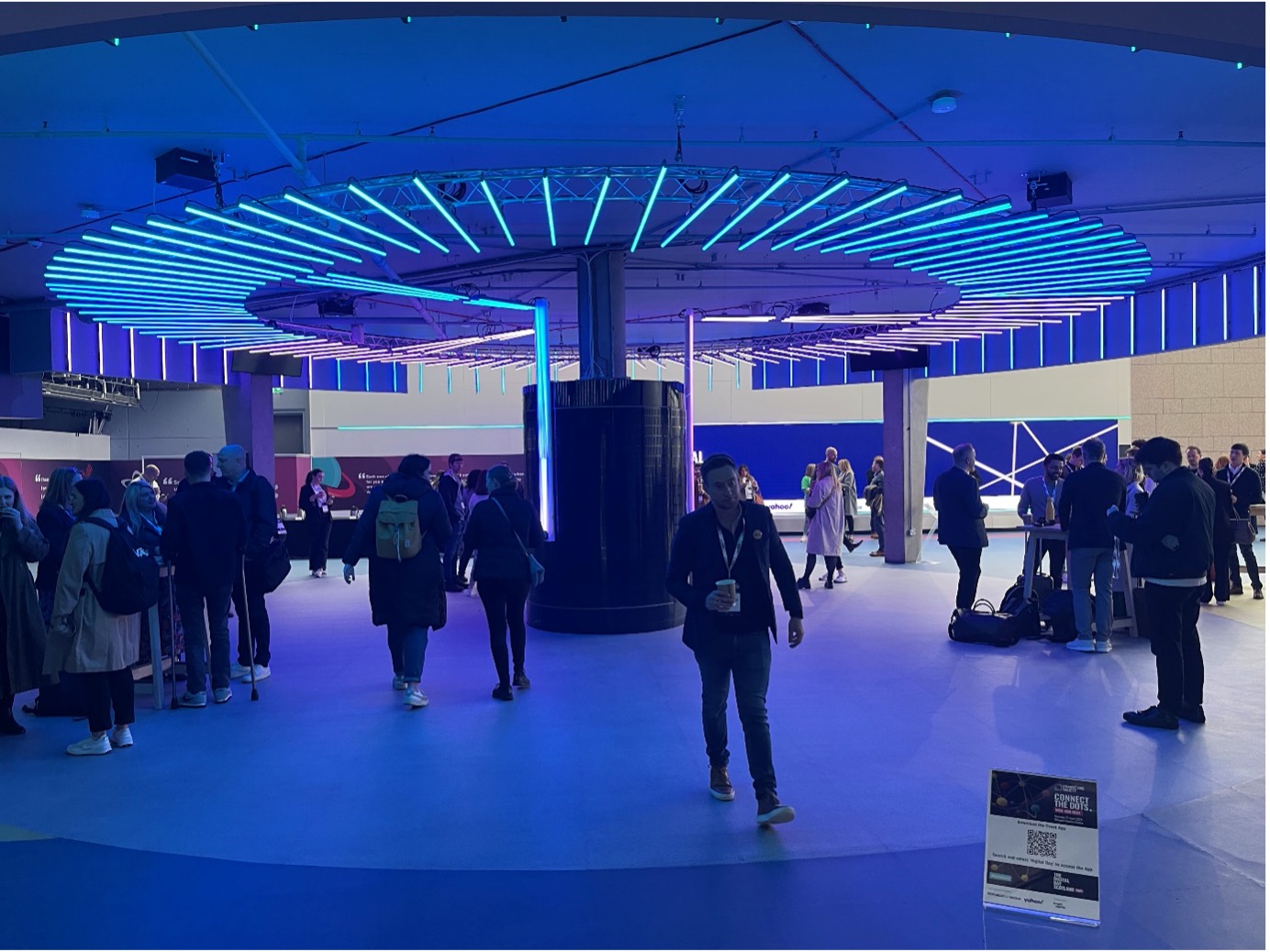 Authenticity Is Key for Success
The ever-changing media landscape is always a hot topic, and this year the spotlight was shone on the gaming industry, which, as Chris Royle, Sales Lead for Xbox Advertising in EMEA, informs us, "drove $200bn of ad spend in the last year".
Royle, joined on stage by content creator Andruwu, challenged the antiquated image of 'gamers', and revealed that the average age of a gamer is in fact 34, to the surprise of many in the room, including myself. Andruwu also touched on the theme of authenticity, urging marketeers to place more trust in content creators to use their expertise, authenticity and connection with their audience to align a campaign with the target audience.
This was further argued in the 'fireside chat' with Amy Kelly, Head of Marketing at StartUp Grind Scotland, and Natalie Reine, Lead for Consumer Marketing in Connected TV and Partnerships at YouTube. The pair described authenticity from the perspective of "how are you in the room, speaking to that person?" Reine says that one of the keys to this is to "know your consumer inside out, consume the content they consume, read the good and bad comments".
Reine also empowers the audience with tips for overcoming challenges in the industry by being bold in our ideas and decisions, reconnecting us with long-standing values such as:
"Don't be afraid to fail.  Be that disruptor at all levels, try to be three steps ahead and take control of your marketing budget, because in marketing, nothing is set in stone".
Sustainability Is No Longer a Future Goal, But a Current Necessity
On the theme of sustainability, the 'Positive Purpose' workshop explored this, and the steps media companies are making towards our common goal. WeAre8 showed how an algorithm-free and hate-free social media platform can do good and give back to the user and to charities through donating a portion of revenue gain through ads. Perhaps the most enticing part of this (with a marketing hat on), is the exceptional engagement metrics driven by carbon-neutral activity and entirely opt-in ads, leaving me to wonder just how much sustainability can connect companies to users.
MIQ provided a sustainability update from a programmatic perspective, giving valuable insight into their work in reducing, not just offsetting carbon emissions through efforts such as 'Green Scores' for campaigns, 'Green PMPs' and more.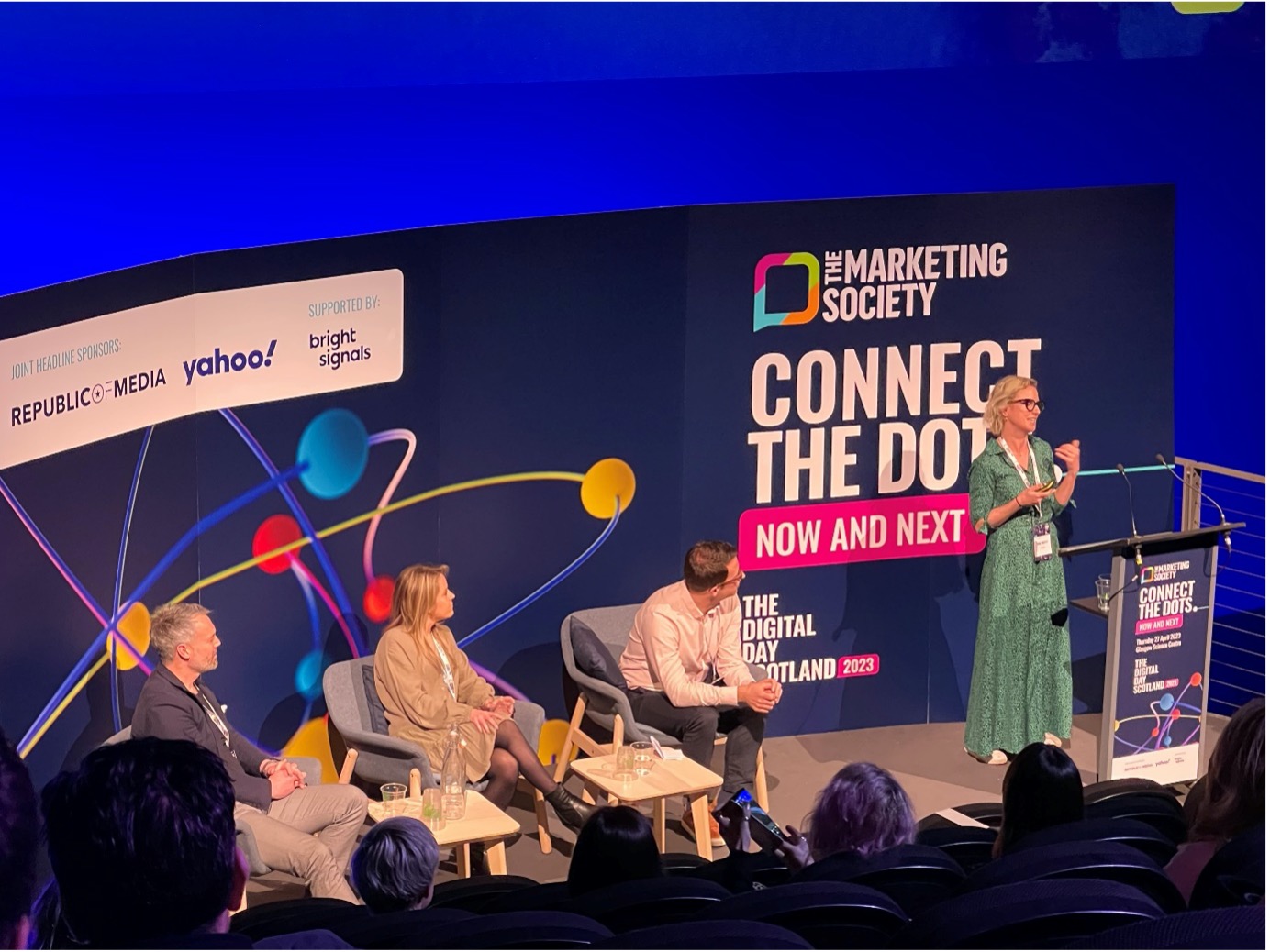 Legacy Media, addressed the suggestion that companies who prioritise doing good, whether ecologically or socially, leads to higher operating costs. Instead, Legacy Media say that companies who change their behaviour or structure to improve their ESG (Environmental, Social and Governance) score, not just improve their sustainability and social good, but also boost profitability through these changes.
One of the most powerful sessions of the day, and perhaps of any event in memory, was delivered by Paddy Loughman, Co-founder of Stories For Life and the Reset Narratives Community. Loughman poignantly expressed the climate situation we find ourselves in, describing the global coping mechanisms for the climate crisis that are plunging us further into danger, such as the 'narrative of separation', and a stark warning about our planet's present and future.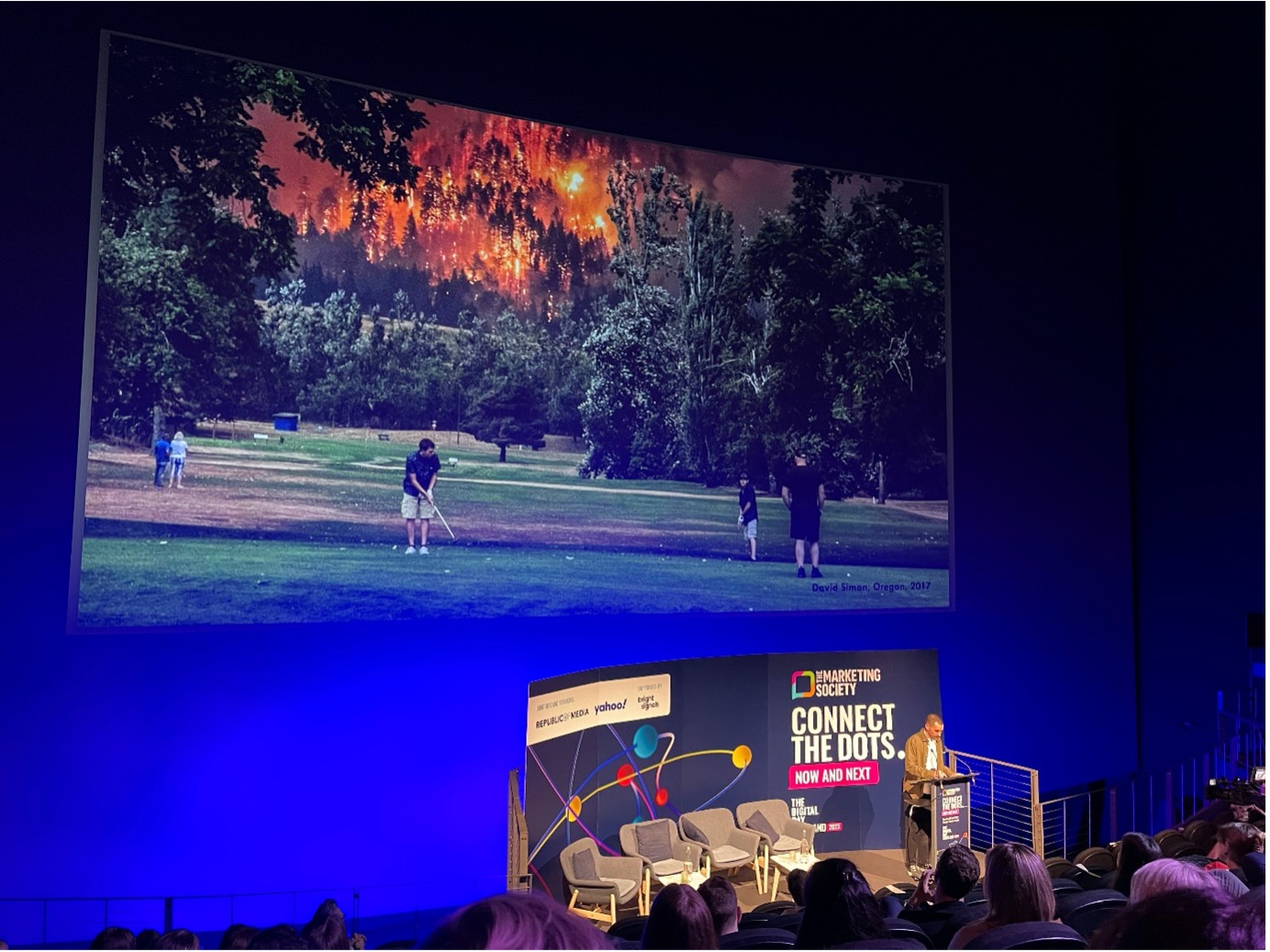 "For a long time we have been in denial about this level of loss, and in many cases still are." – Paddy Loughman
The session emphasised the importance of working together as an industry to achieve our sustainability goals, and the dire consequences of inaction:
"These, tipping, cascading, converging crises are not a problem to be solved or managed, but a complex predicament we must navigate together".
"Micro Actions Result in Macro Changes" – How Doing Good Really Matters
Charlotte Williams, multi-award-winning entrepreneur and founder of SevenSix agency, explored the importance of Diversity and Inclusion in her session; "What is inclusive marketing and how do you create an inclusive environment?"
Williams reminded us all of the importance of taking lessons learned, understanding the nuances, and applying what we learn to create a fairer, more equitable industry. One example of this being the difference between Diversity and Inclusion as practices, as Williams puts it; "diversity is inviting all kinds of people to the party. Inclusion is getting them involved in the party-planning process" and "diversity without inclusion, is just tokenism".
This drilled home to me how vital it is to keep the DE&I conversation alive, and continuously work towards a more inclusive workplace, including self-reflection and challenging biases, whether it be our own or others'. Williams' quote, "Micro actions result in macro changes" perfectly summarised the hope and encouragement we should all take from days like Digital Day 2023, that we can, individually and collectively, inspire and action real change through our work across all the themes the day touched on, and that doing good really matters.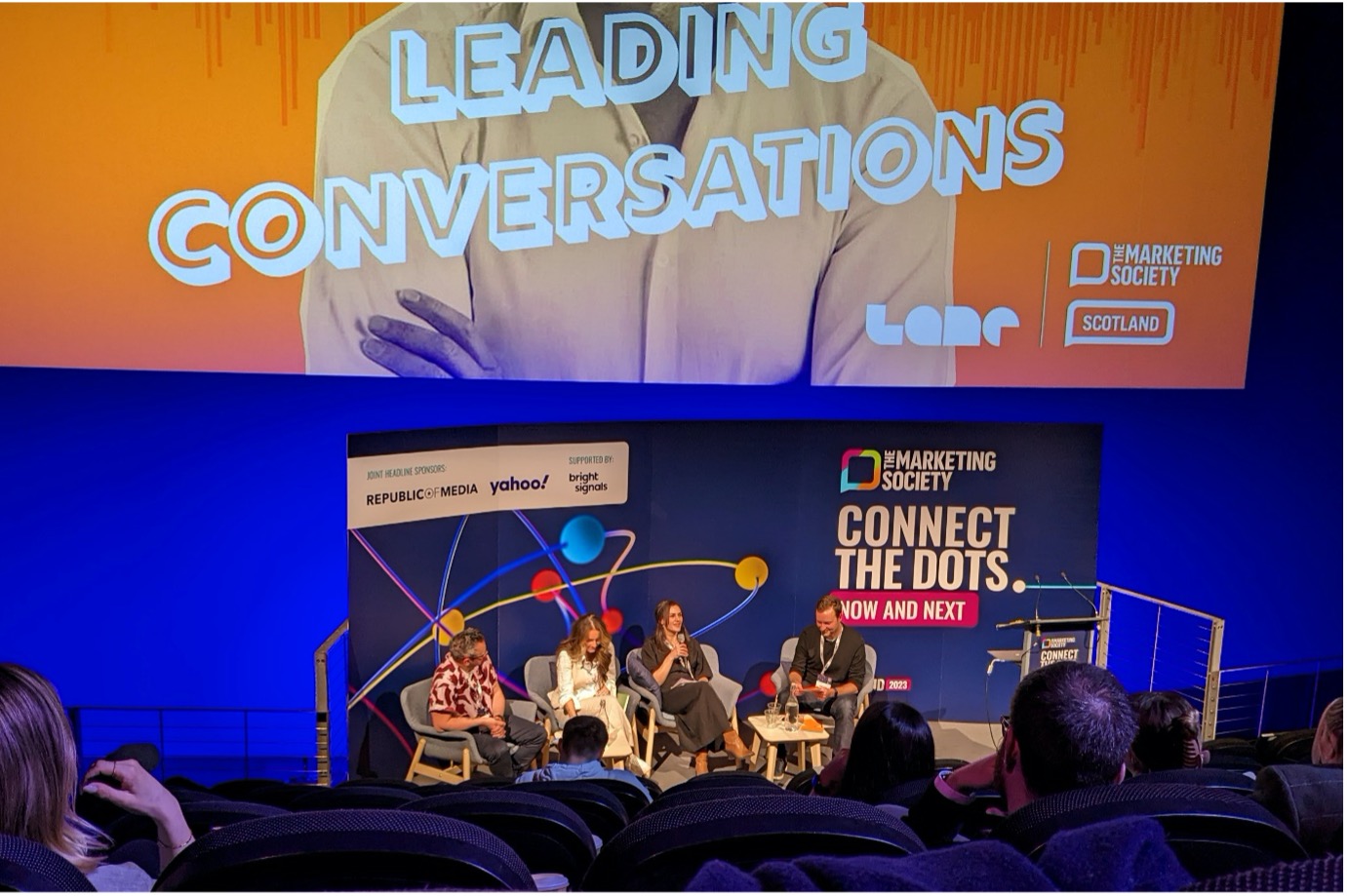 The final session of the day included a live podcast recording of 'Leading Conversations', with a panel including Republic of Media's own Anya Subberwal. Check out the latest episode which will be released here soon, recorded at Digital Day 2023, which brilliantly recaps the day and key takeaways.
---
Review by Peter Rancati, Digital Media Executive, Republic of Media
Enjoy this? Get more.
Our monthly newsletter, The Edit, curates the very best of our latest content including articles, podcasts, video.
Not a member yet?
Now it's time for you and your team to get involved. Get access to world-class events, exclusive publications, professional development, partner discounts and the chance to grow your network.