Eric Cheng – Vice President, APAC & EMEA
Eric is currently the Vice President, APAC & EMEA of iClick Interactive Asia Group Limited, a veteran in the media industry with over 15 years of experience in marketing and digital advertising. He manages all the strategic accounts in the APAC and EMEA regions and leads the business operations with a leading strategic role where he executes outreach strategies by prospecting new businesses in all responsible markets. He further spearheads the pitching of marketing and enterprise solutions to new prospects and the generation of new leads across the region.
Eric is currently based in Shanghai and has extensive experience working in China for more than a decade now. Prior to joining iClick, Eric held senior leadership positions in various leading international corporates such as British American Tobacco, Hang Seng Bank and HSBC.
---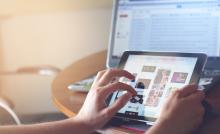 Hear the latest trends and digital media evolution of this market including; spending power and consumption habits, reaching travellers &