Starcom's Head of Strategic Innovation explores brand apologies and how best to win the public over after a crisis
---
Dear reader: I am writing this on a train whilst drinking a can of M&S G&T. I'm normally a clandestine en-route-boozehound, but thanks to a stranger (illegally) taking and selling a photograph of Diane Abbott sipping a tinny on the tube, a new lease of life has been breathed into London's respectable public drinking culture. Now, for those of us with hearts and common sense, the non-stop bullying of Diane Abbott by Murdoch tabloids and racist Brits means we've developed a blindness to these stories. However, the grace with which Abbott apologised turned an unpleasant tale into a trending topic:
"A photo of me drinking from a can of M&S mojito on the Overground has been circulated. I'm sincerely sorry for drinking on TFL" stated the tweet dated 19th April, 2019.
Drinking alcohol on the tube was banned in 2008 by BoJo during his tenure as London mayor, so technically Abbott was breaking the law. However, whilst Tory MPs and journalists attempted to disgrace the Shadow Home Secretary, thousands of Twitter users including members of her constituency and This Morning host Rylan Clark broadcast their support, with some saying they'd never felt more represented by a politician, and others urging her to try the Porn Star Martini.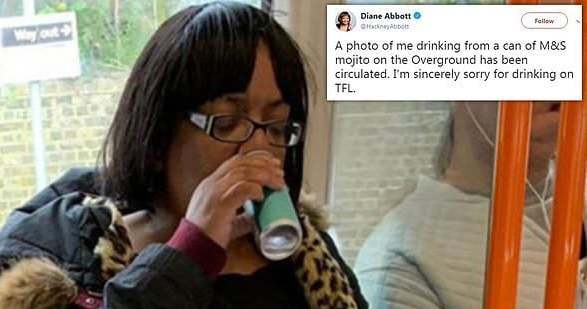 This year another prominent Brit, radio DJ Danny Baker, also had some explaining to do. On the morning of the birth of Meghan Markle and Harry's son Archie Harrison Mountbatten-Windsor, Baker tweeted a black and white photo of a monkey dressed in glad rags being escorted from a building by two posh adults with the caption "Royal Baby leaves hospital." After a justifiably confused and outraged response (mostly: what the hell?) Danny Baker deleted the image and tweeted the following as an apology: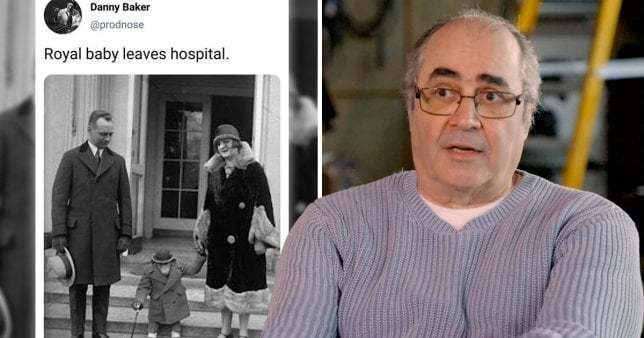 "Sorry my gag pic of the little fella in the posh outfit has whipped some up. Never occurred to me because, well, mind not diseased. Soon as those good enough to point out its possible connotations got in touch, down it came. And that's it. Now stand by for sweary football tweets."
But rather than the public rushing to his defense, they became even angrier: Baker was subsequently fired from the BBC and what followed was, in his words, "the worst day of my life."
What's the difference?
Well, putting aside the size of the crime (comparing a young child born to a mixed-race mother to a monkey is vile at best; sipping a 4% alcopop as a commuter is quite harmless) the tone, content and dynamic of these apologies differed greatly. For today's angry social mob, how you apologise is the single most important factor in winning the public over once you've sparked an outrage, whether for brand or celebrity. This is because relationships thrive on repentance; there are strict psychological requirements for an efficient apology, which only become more pronounced in intense social spaces. It's a formula. A series of technicalities. It's not widely known, but the perfect apology involves an exchange of power between the offender and the offended. Allowing the recipient to gain power within a situation calms them and enhances their mood; failure to do so will mean they continue to seek it, until – like a famished pack of 30 to 50 feral hogs – they persist until that power and pound of flesh is won, supported by their like-minded peers. A well-constructed apology that tickles the right brain cells can make people like you more.

Diane Abbott quickly admitted guilt and offered herself up for forgiveness. Danny Baker, on the other hand, belittled the public and suggested that those he'd upset had diseased minds. He was not sorry. He refused to relinquish his power and as such, was unsuccessful. As the saying goes, the apology is an art to be mastered, but it must be mastered from a psychological perspective, as well as with excellent copy. Simply shoving your CEO in the limelight isn't enough.
So how can brands give back the power and win the public over?
1. Go big or go home
Carlsberg turned an apology into entire ad campaign. This is risky territory because it could have appeared manipulative and money-grabbing, but to convey humility they used tweets from real people complaining about the taste and quality of the old product. They conceded that due to their obsession with "quantity over quality" the product had begun to taste like "bathwater your nan died in." They detailed all the things they'd changed to achieve a more premium quality, with a new self-aware strapline: 'Probably not the best beer in the world. So we've changed it.'
They let the public decide, and this year Carlsberg's sales jumped 9%.
2. Change your business
Two black men were arrested in a Philadelphia Starbucks last year because they waited for their friend to turn up before buying drinks, so the manager of Starbucks called the police. A video of the incident went viral, and was followed by protests and calls to boycott the international coffee brand. It was clear a video statement from the CEO would not be enough, and so Starbucks involved the entire business in its apology. Not only was the manager responsible for the police call fired, but 8000 stores were closed for an entire day to deliver 175,000 employees racial bias training. Business leaders also agreed to fund $200k worth of training for young entrepreneurs, on behalf of the victims, Rashon Nelson and Donte Robinson. Starbucks later openly changed its house policy to "welcome everyone, including non-paying guests, to sit in its stores and use its restrooms." What was originally a case of baked-in cultural racism became a positive, and (hopefully) authentic message of inclusivity.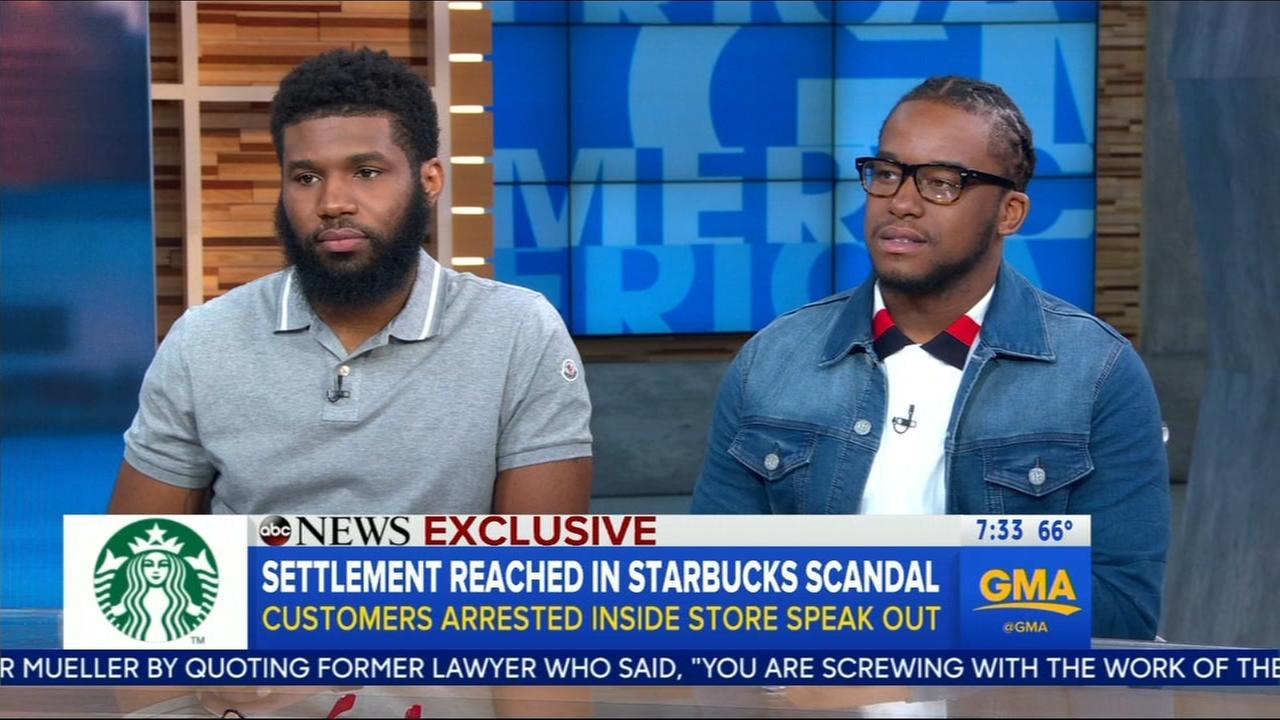 3. Don't be "sorry not sorry"
Sometimes companies get it wrong, of course. Campaign Magazine's recent statement regarding its (some might say extremely positive) article and front cover on Nigel Farage, said sorry for "mistakes in our approach" but for the most part used the response to reinforce why the article was needed, and to suggest that those backlashing had misunderstood the intention. It was a statement that for many – particularly individuals from minority backgrounds who have been directly targeted by Farage - fell flat. It's why those immortal lines: "I'm sorry if I upset you..." will never work.
They further enrage and disappoint because no power has changed hands, and the words imply a weakness in the receiver in not being able to handle the situation. That my ex-boyfriend used to do this all the time is neither here nor there *takes a moment to whack another needle in the voodoo doll*.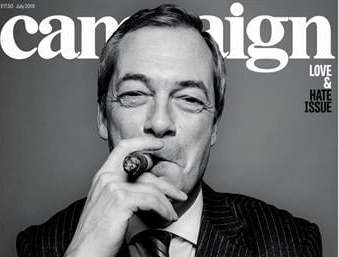 4. Admit defeat and humiliation
But when media and creative collide, an apology can pack an almighty punch. By far the world's favourite sorry of last year was from KFC, who ran out of chicken across the UK. Whilst many (me included) thought the whole thing was a PR stunt, apparently they did actually run out of chicken, and the brand's swift, open press ad apology stating simply "FCK" (via Mother and Blue 449) won the hearts of fried food lovers everywhere. There was no spin, no justification, no blaming the intern, just a simple, paid-for sorry. Let's be honest, most brands lean towards narcissism: slick, loud, charming, fake and in desperate need of love. A lot of the time that's OK but when it comes to the public apology, we need think about someone else for a change.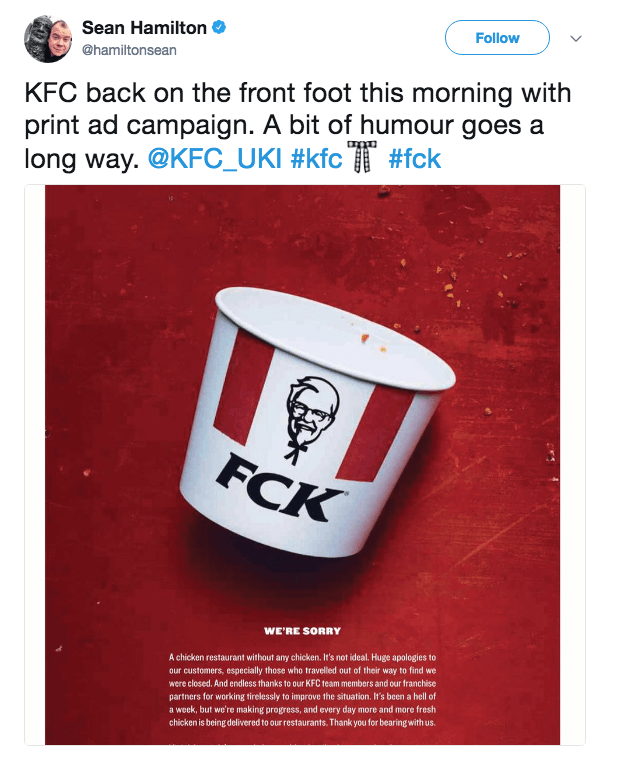 An apology is a work of both art and science,
with some very simple don'ts: if you give people free stuff, they'll love the free stuff and not you; if you say it's the customer's fault (online banks take note) they'll quit you as soon as the first category disruptor comes along; if you ignore it, people will resent you.
Try and avoid gimmicks. Share as much information and detail as you possibly can. Let the people have the power, just this once, and who knows, you may even win more than before you FCK'd up.
---
This article was taken from issue 2 of Marketing Society members-only publication EMPOWER. Find out more here and see past articles here.