Chief Digital Officer, The Hershey Company
A relentless builder and scaler, Doug has held several high-level global and regional general management, strategy, innovation and transformation roles both in start-up and large-scale companies such as Unilever and LVMH, with deep expertise in building Digital businesses and driving Digital Transformations, most recently as the Chief Digital Officer for The Hershey Company. He has deep experience in the commercial application of Digital in the Marketing, Sales, Insights, and Analytics areas and the impact of Digital on Data Privacy and Security, leading to an unbroken 20 year run of market-exceeding growth and marketing innovation across multiple companies, categories, geographies and business models. In his roles, he also has had experience in scouting and vetting venture investments and brand acquisitions in the Digital space, including Instacart and Dollar Shave Club.
Doug currently serves as an advisor to multiple companies in the MarTech, AdTech and Robotics fields and is a board member of the Mobile Marketing Association (MMA). He's also a sought-after speaker in academia (Wharton, NYU, Penn State), trade and industry events and is a frequent contributor to Business Insider, USA Today, Marketwatch and other publications.
---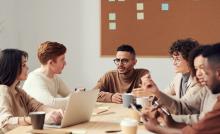 Right now, there is a battle for talent – a fierce competition to attract the right talent with the important