'The best way to know God is to love many things.'
Vincent Van Gogh in a letter to his brother Theo, 1880
I recently attended an exhibition exploring Vincent Van Gogh's relationship with Britain ('Van Gogh and Britain,' at Tate Britain until 11 August). 
In the spring of 1873, aged 20, Van Gogh travelled to London to work in the Covent Garden branch of the art dealers Goupil et Fils, and he stayed in England until the winter of 1876. He was not yet an artist at that time and he didn't paint any pictures here. So the exhibition is really an exploration of the impact his British experiences had on him, and the impact he had on subsequent British artists.
'Always continue walking a lot and loving nature, for that's the real way to learn to understand art better and better.'
Van Gogh loved strolling around London. He took a daily walk from his lodgings in Brixton, across Westminster Bridge, to his office in Covent Garden. He visited museums, art dealers and the National Gallery. He rowed on the Thames and tried out the new underground railways. He also fell in love with his landlady's daughter. He was dismissed from his job, briefly taught at a school in Ramsgate, and then served as a Methodist preacher in Richmond. 
'My whole life is aimed at making the things from everyday life that Dickens describes.'
What makes a real impression is how much Van Gogh was soaking up stimulus during his time in England. English was one of his four languages and he loved reading Victorian novels. He admired the wood engravings of modern urban scenes that he found in journals like The Graphic. He was swept up by the growing enthusiasm for social reform. In later life he explored themes he had first encountered in the works of Dickens or in paintings at the National Gallery: lonely figures walk along a road through an autumn landscape; prison inmates troop around a high-walled yard; a man sits in despair, resting his face in his hands; an empty chair suggests a deceased former occupant. 
'Admire as much as you can. Most people do not admire enough.'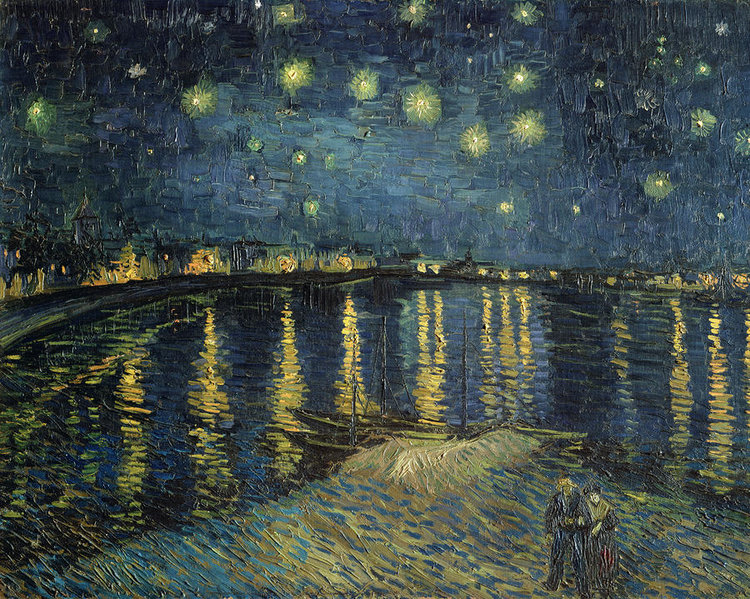 I had always imagined Van Gogh as the epitome of the artistic loner, ploughing his own furrow, blinkered to outside perspectives, rebelling against everything that has gone before. But in fact he was an avid consumer of culture, alert to fresh ideas, always out to learn and understand.
'I am always doing what I cannot do yet, in order to learn how to do it.'
Van Gogh had catholic tastes. Indeed he developed the view that a plurality of interests and affections creates strength of character, contentedness and a reservoir of inspiration.
'It is good to love many things, for therein lies true strength. And whoever loves much performs much, and can accomplish much, and what is done in love is well done!'
Professionally many of us are cautious about external influences, concerned that we will be tempted to reproduce and replicate, copy and counterfeit. But Van Gogh was so confident in his own unique perspective that he didn't worry about drawing on other artists' work.
'It is not copying… It is rather translating into another language, one of colours.'
So perhaps we should all take a tip from Van Gogh. Pop out for a walk, visit a gallery, collect images, read. Go to the movies, listen to a lecture, take in a podcast on the way. Open yourself up to stimulus, inspiration, learning. Discuss your response, debate your reaction, write down what you think. Embrace a love of many things.
And whatever your current status, be determined to pursue your own path.
'What am I in the eyes of most people? A nonentity, an eccentric, or an unpleasant person - somebody who has no position in society and will never have. In short, the lowest of the low. All right, then - even if that were absolutely true, then I should one day like to show by my work what such an eccentric, such a nobody, has in his heart.'
'Now I understand
What you tried to say to me,
How you suffered for your sanity,
How you tried to set them free.
They would not listen, they did not know how.
Perhaps they'll listen now.'
Don McLean, 'Vincent (Starry, Starry Night)'
---
This piece first appeared on Jim Carroll's blog here.