Today is October 30 2020, and as we reach the close of Black History Month, the question I ask myself is are black people still going to be seen in November, December, January and so on?
Something black people often challenge around Black History Month is the fact that being awarded this one month to be acknowledged, seen and celebrated suggests that for the remaining eleven months of the year we are invisible. Not black.
It's an interesting thought if we provoke it for a minute. Black people are one of the many communities whose self-expression is stifled, oppressed, and policed. Therefore, code-switching is our DNA. We navigate white spaces in order to survive, rarely thriving. So it's a slightly confusing feeling to do that dance for 11 months of the year, and be given just one month of "freedom", visibility and space. 
There have been amazing messages, actions of support and progress that I have observed and partaken in this month in celebration of the black community. But my challenge is why does it have to stop on the 31 October? The pure fact that black people need a month of history highlights how easily we are forgotten. Are our stories, culture and identity just for a season? Not worthy of permanency despite the Western world being built by black labour?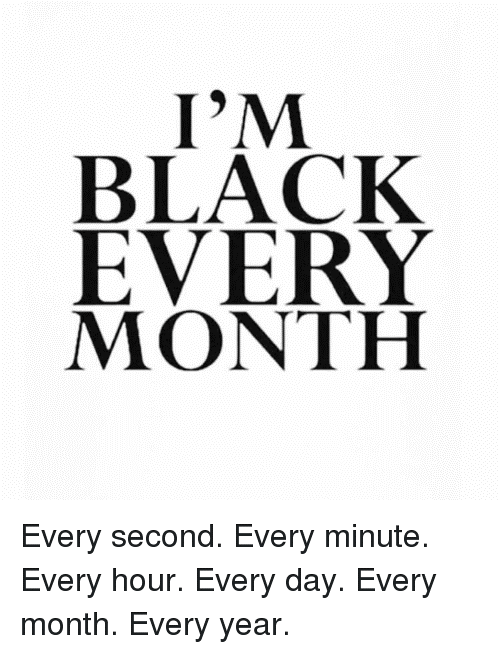 Which brings me to brands
For the majority of them BHM has become a seasonal calendar moment, pinned in the marketing road map or content calendar as an opportunity to promote something, make noise, and give the brand a diversity angle. 
If BHM is the only moment brands take time to care, acknowledge black people and culture, then there needs to be an understanding that by doing so those brands are feeding into a system that profits from black experiences, and devalues black lives further. It's just not sustainable. 
Instead, we should consider giving black people consistency. Consistent representation,visibility, time, space, respect, love and honour. The continuation of all those things every day, every month, every year so they can thrive, instead of just survive. A great example is Black Pound Day, an initiative founded by Swiss, So Solid Crew member and entrepreneur. Building a consistent moment every month to buy black allows habits to be developed and in turn increases the understanding of the value of black skills, talent and products. 

Launching Brand Share The Mic, the aim was to do exactly that - give young black voices the opportunity to takeover brands IG regularly so that their stories could be visible and better understood, while showcasing their skills in those respective sectors. All in all demonstrating the spectrum of black voices and talent that exists from tech experts, professional eaters to sexperts.
Imagine if these talents were nurtured everyday equally to their white counterparts - not only would the black community be wealthy in so many ways, but so would the world. Moving into November we at Brand Share The Mic are branding it #BlackFuturesMonth in line with our focus of making the industry a better place for the next generation of creators. We want to play an active role in consistently shining a light on black talent and empowering them. We can't underestimate the power of black talent when it has come to creating so much within popular culture from fashion trends, innovation to music and entertainment .
---
The last two Brand Share The Mic coalitions amplified 40 voices across 36 brands, reaching 2.5 mil. November 20 Brand Share The Mic will be facilitating the third coalition of UK brand takeovers as part of #BlackFuturesMonth. To take part in Black Future's Month and amplify a black voice email [email protected]