For over 20 years, Aaron has defined omni retailing futures for a range of brands including LEGO, adidas, Walmart, bp, Hamley's, Lynk & Co and many more.  
Based in London, he shapes the Landor & Fitch retail strategy offer across EMEA; encouraging teams to create new tools and improve practice while also developing core strategic frameworks behind the brand and experience pillars of the business - including DEL (Dreaming Exploring Locating) shopper missions and the PHD (Physical Human Digital) retail experience design lens. 
An avid spokesperson, Aaron contributes to a range of national, trade and broadcast media and wider industry thought leadership - appearing on the BBC and at trade events in the EMEA region regularly.
---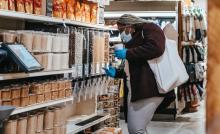 What are the new faultlines of retail, and how can brands navigate them to drive growth?