As we start to lace up our trainers for this years Sprintathon, we interviewed Mark Evans, NED and Former Managing Director – Marketing & Digital, Direct Line about the Sprintathon event that he organises in support of Stand Up To Cancer.

What inspired you to create the Sprintathon?
In truth, it was borne out of an idle thought "how fast do world-class marathon runners actually run?". It obviously went down very well as an idea in the pub but it found its purpose after cancer hit two close family members.

What actually is the Sprintathon?
You can find out more and donate here but essentially, bonkers as it is, 422 people will run 100m legs in a giant sprint relay to cover 26.2 miles around a 400m athletics track. We will need to average about 17 seconds per 100m in order to run a sub 2 hour marathon. To do this we have an eclectic mix of participants from really fast sprinters to recovering cancer patients. 

Why did you choose to work with Stand Up To Cancer?
Stand Up To Cancer are a brilliant charity that are committed to beating cancer faster! They do amazing leading-edge research that will massively improve the effectiveness of both diagnosis and treatment in the next 5 years. Moreover, their philosophy is one of acceleration which is a perfect fit for what the Sprintathon is.
Can you give an example of where they are making a difference?
One of the many clinical trials that they are doing is with a non-toxic drug that makes brain cancer cells fluoresce pink. In many cases surgery to remove a brain tumour is unsuccessful in removing every last trace because obviously, you don't want to take out a buffer of tissue for fear of doing necessary damage. With the cancer cells glowing bright pink, the surgeon can be more precise and get every last cell.

How did you go about making the Sprintathon a reality?
It has been a genuine team effort involving Stand Up To Cancer, Direct Line Group and many other companies and people. It has been incredibly galvanising to see the generosity of human spirit along the way whereby problems seemed to melt away almost as soon as they presented themselves.

How have you benefited from the experience?
I have learnt a huge amount from the Sprintathon including how anything is possible if you are determined enough. Ultimately it's been incredibly rewarding to take a seed of an idea and turn it into something that looks set to raise over £1m​​​​​​​.

What would you say to other marketers considering getting involved?
I would quote the father of my university mate who on the evening of our graduation raised a glass to us and said:
"As I look around I'm jealous of you because from this position you can achieve almost anything in the world. But at the same time, I pity you because you will spend the next 20 years seeking success only to realise that it is not about success but about significance. But the really smart people figure out how to achieve success and significance simultaneously."
Obviously, everyone will define 'success' and 'significance' in very different ways but from my perspective giving back is a pretty surefire way to achieve both and feel really good about it.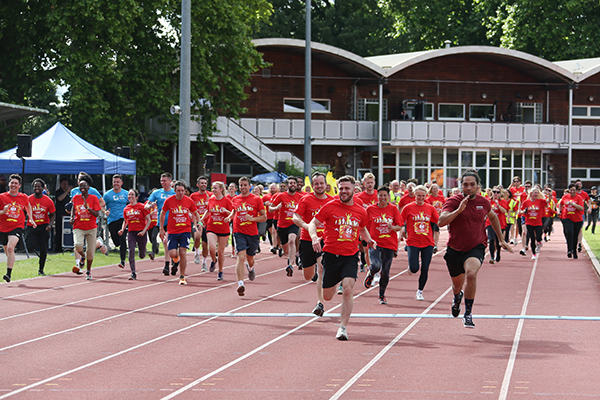 SIGN UP TO THIS YEAR'S SPRINTATHON HERE