Brands have been using their advertisements as ammunition for years.
Brands that offer similar products are constantly at war to win over the public – remember Bic and Stabilo's social media battle in South Africa that we showed you back in
February
? This time, Creative Culture takes a look at some more international brand battles.   
One for the road
In 2016, McDonald's erected a large billboard in France showing how far away the closest Burger King was in comparison to the nearest McDonald's. Burger King quickly responded with a clever TV advert.
Giving the impression that it is actually a McDonald's ad, it shows the ad board being set up and a couple going to order coffee at the chain. The twist comes at the end as the couple eat their Burger King meals; the McDonald's coffee was just to keep them going on their way to Burger King! The ad went viral with 1.3 million views within a week. 
 

It's not you, it's me
In 2011, National Australia Bank "broke up" with the other three major Australian banks in an ingenious campaign to show customers how different they are from the others. It started on Valentine's with a tweet that appeared to be a mistake, but everything soon became clear as the campaign got into full swing. Over the next 24 hours, it escalated to an unprecedented level. A break-up letter appeared in the major newspapers, helicopter banners flew over major cities and 60 "couples" appeared to break up in locations around the country, all representing NAB's break up from the other banks. The competitors couldn't help but respond, but NAB's campaign itself went on win PR awards, setting an incredible example of how to run a marketing campaign.  
 

A tweet-off
In 2012, US travel companies Priceline and Orbitz entered into a Twitter battle about who offered the best travel deals. Their two campaigns, 'Negotiator for President' and 'Vacation Party' each mocked the other using an election style setup, and Orbitz concluded the battle by encouraging people to vote in the 2012 Presidential elections.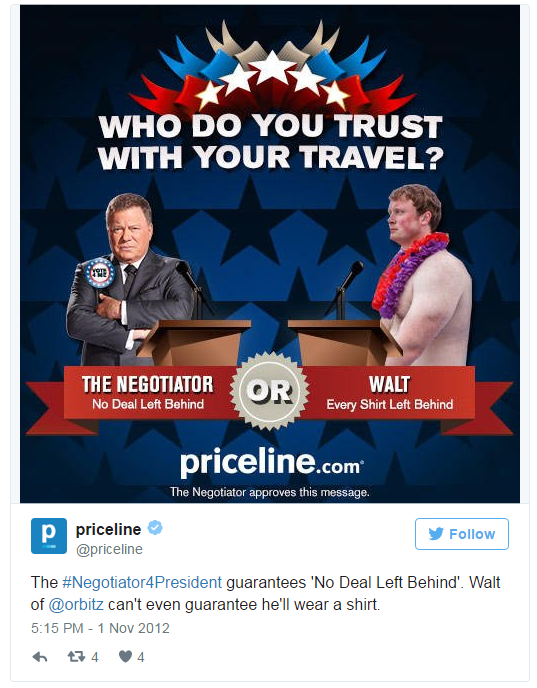 Is no news really good news?
Times of India and The Hindu are India's top newspapers, so naturally they battle for readers. In 2011, Times of India released an advert showing people in Chennai falling asleep holding a newspaper. Although it didn't explicitly say that readers were being put to sleep by their competitor, it was implied, as The Hindu is known to be a popular newspaper in Chennai.
The Hindu responded with a campaign asking people questions about the news, showing that those who read The Times of India only knew about popular culture. The Hindu's ad received 100 million hits on YouTube within a few days of being posted, and the official Facebook pages of both grew in number of 'likes', showing how both benefited from the battle.
 
Brands have been fighting against their competitors for years and show no signs of slowing down. With the rising popularity in social media platforms, they are showing creativity that's going through the roof. What tactics will they come up with to win the next round? 
Read more from Creative Culture in our 
Clubhouse
.