An initiative designed to empower our influential and talented network of marketers to give something back. Together our marketing expertise can make a genuine difference and, as big believers in collaboration, we wanted to team up with some smart organisations to make this happen.

In partnership with Pimp My Cause, this collaboration offers tangible opportunities for members to get involved and make a difference. We're especially excited about our initiative because it's not about reinventing the wheel, it's about what we as a network do best – collaborate, share ideas and learn and inspire one another.
Let's give something back.

Get involved
Our most popular method is via Pimp My Cause, where they match you up to a good cause of your choice. Simply register interest and we'll be in touch.
And before your project starts, why not watch our launch video and join the conversation #marketing4good.
Success stories
Since launch in 2013 we've had over 200 pledges with a substantial number of members having completed their chosen project. Browse success stories below by clicking on the names of members.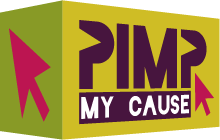 PIMP MY CAUSE is a web platform that connects the world of marketing with the world of good causes and which, in only two years, has already generated well over £1M pounds of pro bono marketing support for around 700 charities and social enterprises.
Their matching platform works rather like online dating, but connecting marketers to causes they can fall in love with rather than people - if the two parties decide they are compatible - it is up to them to take their pro bono marketing relationship as far as they want to go. Register as a cause or a marketer.