"Be bold, be you", that was the take-home message from Caroline Taylor OBE, VP and CMO of IBM Global Markets last week, in an hour-long talk that had the audience engrossed.
An amazing storyteller, Caroline covered topics as varied as diversity and how to stay authentic in a corporate world.
For those making their way in the world of marketing, there were many reasons to be making furious notes. Caroline began her talk by noting the way in which many of those working in the field don't recognise their own talents and are held back as a consequence, explaining "we have people who are so talented, and have great skills but don't always have the confidence to apply them. They'll sit quietly in meetings even when they have absolute clarity on what needs to be done."
For Caroline, drawing out the confidence of your team is paramount and one way to do this is to impress upon them the importance of "being you".
Staying authentic not only stops marketers "getting to Band C executive level, having their personality removed and becoming an automaton", it can also help shape people who have the confidence to make bold marketing decisions. Indeed, Caroline noted that "if you change who you are, you may not be worthy of that promotion, and you won't be adding value to your team."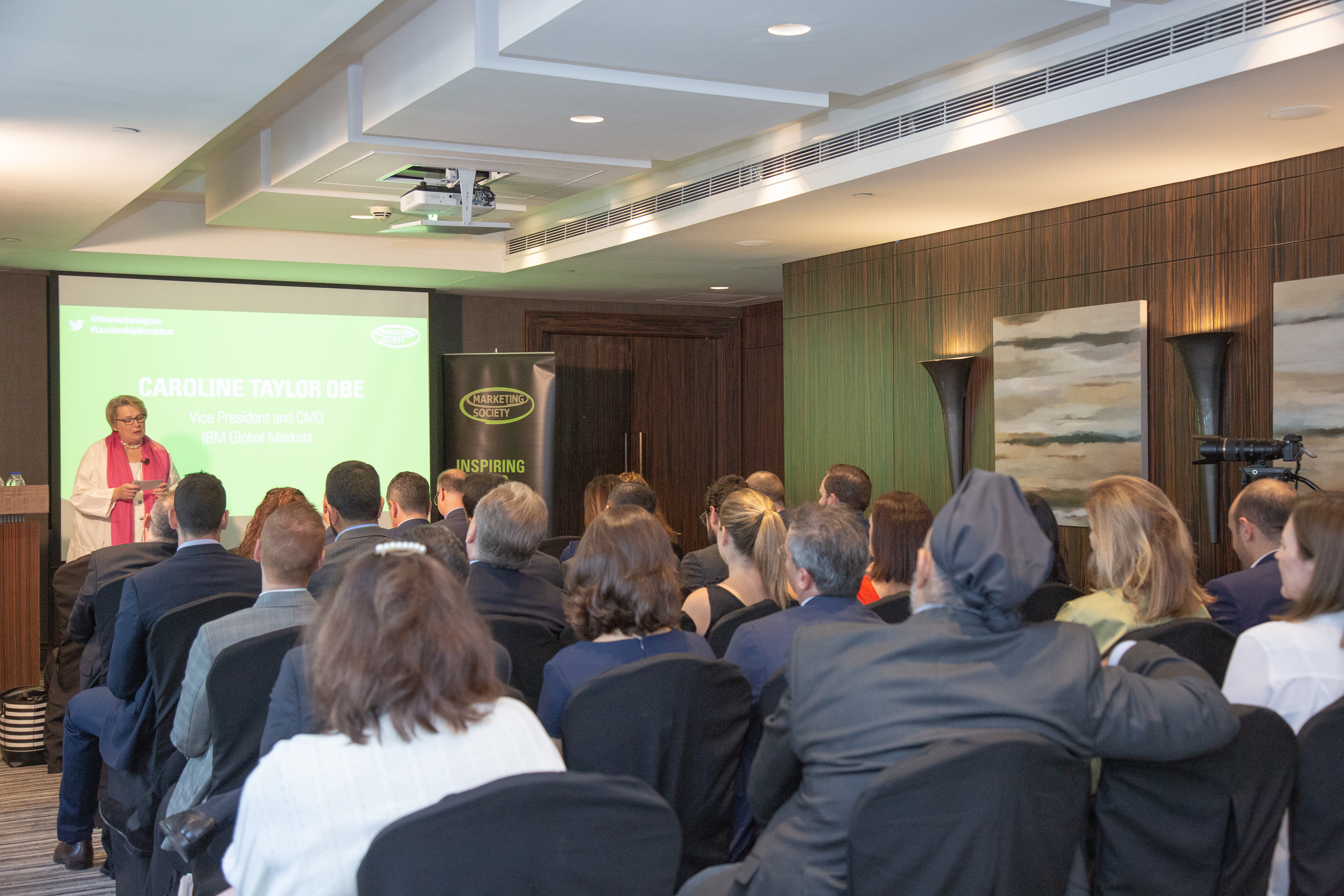 And this ability to be bold, even in the face of opposition, is something that has reaped rewards for Caroline herself. She recalled that in 2009, when IBM was approached by the Prince of Wales' office to sponsor a sustainability-themed event, Caroline decided they should sponsor all 10 days of the event rather than just one "in order to stop anyone else getting a look-in".
And although she maxed out her budgets, and colleagues said she was crazy, it worked. The cache of working with the Palace drew in new audiences and the event enabled IBM to deepen its relationships with many key CEOs and build its business pipeline. 
It was a risk, but it paid off. "There's a place for instinct and experience, and I instinctively knew this would be a good thing to do," she explained.
Another good thing to do, said Caroline, is focus on diversity. But the reason to do this isn't because it's the right thing to do, but because it's good for business. In her view, enabling a diverse workforce is essentially a type of "enlightened self-interest".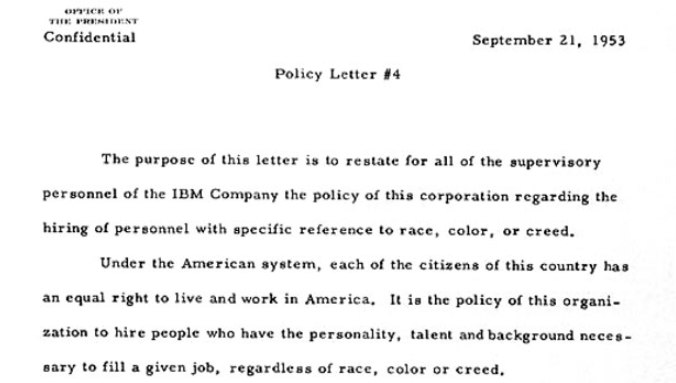 And at IBM, it's something that has been practiced for a long time. She quoted from what is now known as 'Policy Letter #4', a letter written by the then IBM CEO Thomas Watson in 1953. In a letter written to the supervisory personnel of the business he noted that "Under the American system, each of the citizens of this country has an equal right to live and work in America. It is the policy of this organisation to hire people who have the personality, talent and background necessary to fill a given job, regardless of race, colour or creed."
Noting how IBM was ahead of the curve even back then in understanding the importance of personality in business, she explained that for IBM, diversity has always been about being the best business it can be first and foremost. "It just makes business sense to have access to the best possible talent," she said.
But no matter how talented you are, it's important to be realistic, said Caroline. "Nobody is brilliant at everything. Give yourself permission to be imperfect – because we all are."
Recalling some earlier points she had made about the benefits of agile working, she noted that it "isn't about perfection, it's about producing the minimum viable product."
Joking that that she herself is a minimum viable product, she said that she was going to add 'MVP' to the letters behind her name. But after listening to this brilliant talk, I think the audience would agree that Caroline Taylor is anything but an MVP – quite the opposite in fact!
---
By Nikki Samson, Associate Director, Hanson Search
Enjoy this? Get more.
Our monthly newsletter, The Edit, curates the very best of our latest content including articles, podcasts, video.
Not a member yet?
Now it's time for you and your team to get involved. Get access to world-class events, exclusive publications, professional development, partner discounts and the chance to grow your network.