"The remarkable story of Mui Thomas might bring a tear to your eye." The Guardian newspaper.

Two decades and a thousand years ago Tina Thomas fell in love with an abandoned baby girl born with an appearance altering skin disease who was hidden away on the fringes of Hong Kong society. Tina was twenty-six years old. 

Doctors said Mui would not survive infancy. Resilience, courage, determination and opportunity… one person can make a difference.

Twenty-five not entirely uneventful years later, Mui is the world's first rugby referee and yoga teacher with Harlequin Ichthyosis!

She is the fourth oldest survivor with her disease in the world; a contagious smile lights up her face. Mui is twenty-six years old.
---
Read more on their story here
---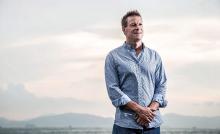 We are back in Hong Kong for a second year in a row for our bravest conference yet