It is time to reveal the shortlist of the 12 nominees who are in the running to be crowned Inspirational Marketing Leader for 2023. The Inspirational Marketing Leader Award 2023 is run in partnership with MediaLink and association with Campaign.
Leaders from organisations including ITV, McDonald's, Diageo and Boots have made the shortlist, alongside other nominees covering sectors that range from financial and professional services to ecommerce and retail.
The winner will be announced at The Marketing Society Annual Dinner in London on 28 November 2023.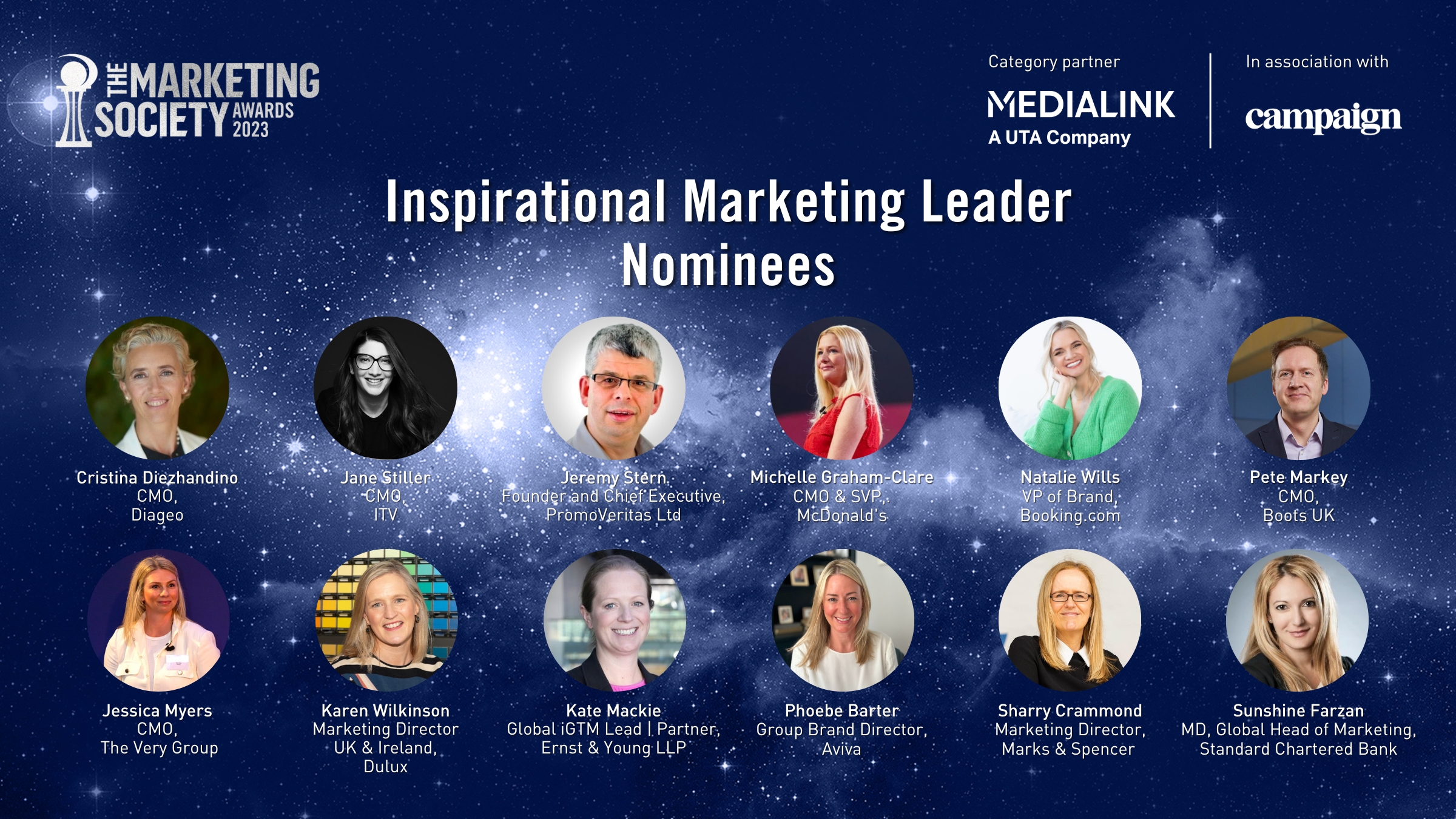 Syl Saller, executive coach and president of The Marketing Society said: "The Marketing Society's mission is to drive the marketing function forward, helping our members 'do well and do good' and showcase that marketing is a vital tool in ensuring business success now and in the future.  
"This is only possible with great people at the helm and this award recognises those who are leading the way.  Every single one of this year's nominees should be very proud of their achievements."
David Muldoon, vice-president, strategic advisory at MediaLink, said: "MediaLink champions the voice of the chief marketing officer as a guiding force for businesses to deliver sustainable growth. 
"With the strong headwinds we've seen in 2023, this year's nominees are an excellent reminder that marketing leaders remain a rare breed of innovators, problem solvers, and creators. Their stories are an inspiration to me, the people they work with, and our industry."
The shortlist :
Jessica Myers, chief marketing officer, The Very Group
Myers brings 17 years of marketing experience to her role as marketing director at Very, which she took up just over a year ago. Under her leadership she has inspired and motivated her team to deliver strong results through initiatives including brand repositioning, a progressive marketing strategy, and setting up Very Media Group. Jessica champions marketing internally and raises the industry profile externally, speaking at events and supporting bodies like the Marketing Academy and MGGB. Myers describes the last year as an extraordinary experience requiring resilience and getting comfortable feeling uncomfortable, which has clearly driven this change-making leader.
Jeremy Stern, founder and chief executive, PromoVeritas 
Stern founded PromoVeritas 21 years ago from his bedroom using his extensive marketing experience from Sega, Coca-Cola and Tesco. With an adaptable leadership style Jeremy leads with energy and passion focusing on the company's mission of promotional compliance. He sets his team big goals, giving them the freedom to deliver in their own ways. With repeat business from many loyal big brand clients including Amazon, Kellogg and Cadbury, and over 16,000 compliant projects delivered, Stern believes PromoVeritas has helped keep the industry on the straight and narrow. As a member of Founders4Schools, and through careers fairs, he promotes marketing as a rewarding career choice to young people.
Pete Markey, chief marketing officer, Boots
With nearly 25 years in marketing Markey has brought a wealth of experience to his role as Boots' CMO. His people-first leadership approach has energised the marketing team, driving the business forward through initiatives including reinvigorating the Advantage Card, using the power of its customer data to deliver impressive uplifts in active users and sign-ups. A mentor for The Marketing Academy and The School of Marketing, Markey's real passion is in the DE&I space which he actively drives forward. As chair of the Boots LGBT+ network and a reverse mentoring pioneer, he has helped the company win honours including Company of the Year at the British Diversity Awards 2022. 
Karen Wilkinson, marketing director, UK & Ireland, AkzoNobel 
With 25 years in marketing Wilkinson has amassed plenty of industry knowledge. Under her leadership she strives to create a culture of adventure, equality, collaboration and bravery. Her Unleashing Potential programme builds marketing capability, champions individual growth and transformational leadership enabling AkzoNobel's marketing team to generate brilliant, impactful work while nurturing great talent. Under Wilkinson's watch, Dulux's partnership with Channels 4's Changing Rooms delivered the strongest brand metrics of any of their campaigns in the past three years and as a sponsor of Dulux's Business for Good strategy she ensures marketing contributes positively to society and our planet.  
Cristina Diezhandino, chief marketing officer, Diageo 
Another industry veteran, Diageo CMO Diezhandino leads by creating a "possibility" mindset. Her Marketing Legacy initiative ensures her teams meet the changing needs of communities and customers by focussing on next generation experiences, inclusive marketing and digital transformation. Successful marketing initiatives have included the Johnnie Walker "Bold steps" campaign, the Baileys X Eurovision partnership and Guinness 0.0 at the Six Nations. Communicating the vital business role of marketing internally has also led to increased organic marketing investment. Diezhandino was named 2022 WFA's Global Marketer of the Year; an organisation she works with to support and improve the industry. 
Natalie Wills, vice-president of brand, Booking.com
Wills brings 20 years of marketing experience to her role at Booking.com. By sharing her motivations and passions and being honest when she doesn't have all the answers, she has created an empowered team that collaborates and seeks out innovative solutions. The company's "Brand Promise", which defines Booking.com, has given clarity on how to communicate the brand across the whole business and this alongside a digital-first approach has resulted in highly successful campaigns including the "Somewhere, anywhere" Super Bowl ad and the MLB USA summer campaign. Wills champions marketing's transformative business role by speaking at industry events and as a keynote speaker for Google she's able to set and share industry standards which shape the future of marketing.
Jane Stiller, chief marketing officer, ITV
Stiller believes a true marketing leader is someone who can inspire an entire organisation, which was something she needed to achieve when launching ITVX. Investing heavily in training and upskilling everyone in her department while building a comprehensive launch strategy for everyone to get behind, her fired-up team got buy-in from the whole business, resulting the workforce feeling prouder than ever to work for ITV. The ground-breaking launch is one of her career highlights and delivered excellent business results which marketing made a huge demonstrable contribution towards. While under her leadership, "Britain get talking" became the UK's most recognised mental health campaign sparking more than 100 million conversations.
Sunshine Farzan, global head of marketing and communications, corporate commercial and institutional banking, Standard Chartered 
Farzan has been the major driving force behind transforming Standard Chartered's marketing function's traditional, event-driven B2B marketing and client engagement strategies into a digital-first approach. This shift resulted in the organisation being seen as an industry leader and has been pivotal in enhancing marketing-driven ROI and delivering positive outcomes across brand, client, and commercial aspects. Under her leadership Standard Chartered's commitment to sustainability and responsible financing has been transformative and as part of her commitment to nurture the next generation of marketers, Farzan is active within The Marketing Academy's fellowship programme and often speaks at marketing events and contributes articles to industry publications.
Phoebe Barter, group brand director, Aviva
Barter has been responsible for a brand revolution within Aviva, reshaping her team and the role it plays, transforming it from a previously isolated voice to a connected, influential, cohesive group at the heart of business performance. She led the creation and delivery of Aviva's new brand campaign, bringing to life what Aviva can do for customers, which resulted in a doubling of ROI on brand spend within 12 months. Alongside this, Barter is a committed and enthusiastic brand and corporate affairs sponsor for DEI and with her team has taken on a whole new approach to corporate sponsorship moving to a place-based activity such as the partnership between Aviva, Manchester City Council and Factory International, providing investment into a new arts and culture venue for the area, Aviva Studios.
Michelle Graham-Clare, chief marketing officer and senior vice-president, McDonald's UK and Ireland
Describing herself as relentlessly focused on developing a high performing team who can deliver customer-centric plans on a daily basis, Graham-Clare has built a highly capable team united behind McDonald's core values. Challenging times for customers has seen a series of new promotions and campaigns using marketing channels to support and deliver feel-good moments. As part of the brand's global marketing leadership team, Graham-Clare has been instrumental in creating a new marketing talent pathway and was co-creator of a global marketing leadership curriculum for McDonald's most talented marketers. A long-term supporter of community and environmental causes, McDonald's book option with Happy Meals and the removal of plastic toys are positive marketing initiatives to promote literacy and help the environment.
Sharry Cramond, marketing director, Marks & Spencer
Cramond is a passionate leader who takes the time to listen to every idea, opinion and voice in her team and never asks colleagues to do anything she wouldn't herself. Always looking for innovative ways to reach new customers, Cramond's oversight of The Collective, a customer-listening tool with 42,000 participants which pushes new lines, is just one example of a marketing initiative that has brought M&S closer to its customers. She also uses social media to give the brand a voice, which includes TikTok as a way to "bring joy to customers in a creative and authentic way".
Kate Mackie Global iGTM Lead | Partner EY, Global 
Kate is a leader who is determined to demonstrate the true value of marketing by ensuring all marketing activities are connected to sales. She leads a high performing team who are united behind the single goal of connecting marketing with revenue.  Kate was instrumental in the development of a new B2B Customer Data Platform which revolutionises market engagement and insight. Passionate about using her experience to help others, Kate mentors future female leaders and emerging Gen Z professionals. She is an alumni of the Institute for Real Growth100 program and an active member behind the London network which brings together global CMOs focused on humanized, sustainable growth.
 
---
Article first published in Campaign, October 2023. Permission given to reproduce 
Enjoy this? Get more.
Our monthly newsletter, The Edit, curates the very best of our latest content including articles, podcasts, video.
Not a member yet?
Now it's time for you and your team to get involved. Get access to world-class events, exclusive publications, professional development, partner discounts and the chance to grow your network.