We are pleased to announce the shortlist for our Brand of The Year 2023
The Marketing Society Brand of the Year award in association with Campaign, celebrates the brands that have innovated and adapted well to social and economic changes in another turbulent year.
Last year's winner Dove will go up against brands ranging from Gymshark to British Airways. Past winners have included Sainsbury's, John Lewis, The Guardian, Cancer Research, Channel 4 and O2. 
We launched the Award in 2009 and 2023's celebration will be held at our Annual Dinner on 28 November at City Central at The HAC where our audience will have the chance to vote and crown the winner via a live vote.
To celebrate 15 years of this prestigious awards, this year you can add your vote NOW - cast your vote here to get ahead and then join us on the night to see who wins! Voting online closes 24 November at 9am with the live vote being the casting vote.
Judging for the award took into account factors including brands' ability to adapt to changing consumer needs, the creativity and originality of campaigns, commercial impact, and the brand's wider impact on the planet.
Here's what Chairman of The Marketing Society Craig Inglis has to say, "Winning Brand of the Year is just about the most prestigious accolade for any team, so I'm delighted that for the fifteenth year running, members of The Marketing Society get the opportunity to vote for who they think is the most deserving winner of this year's award. You can vote online now and please join us at our Annual Dinner on 28th November for an uplifting evening of celebrations and connections and to see the winner revealed."
---
THE SHORTLIST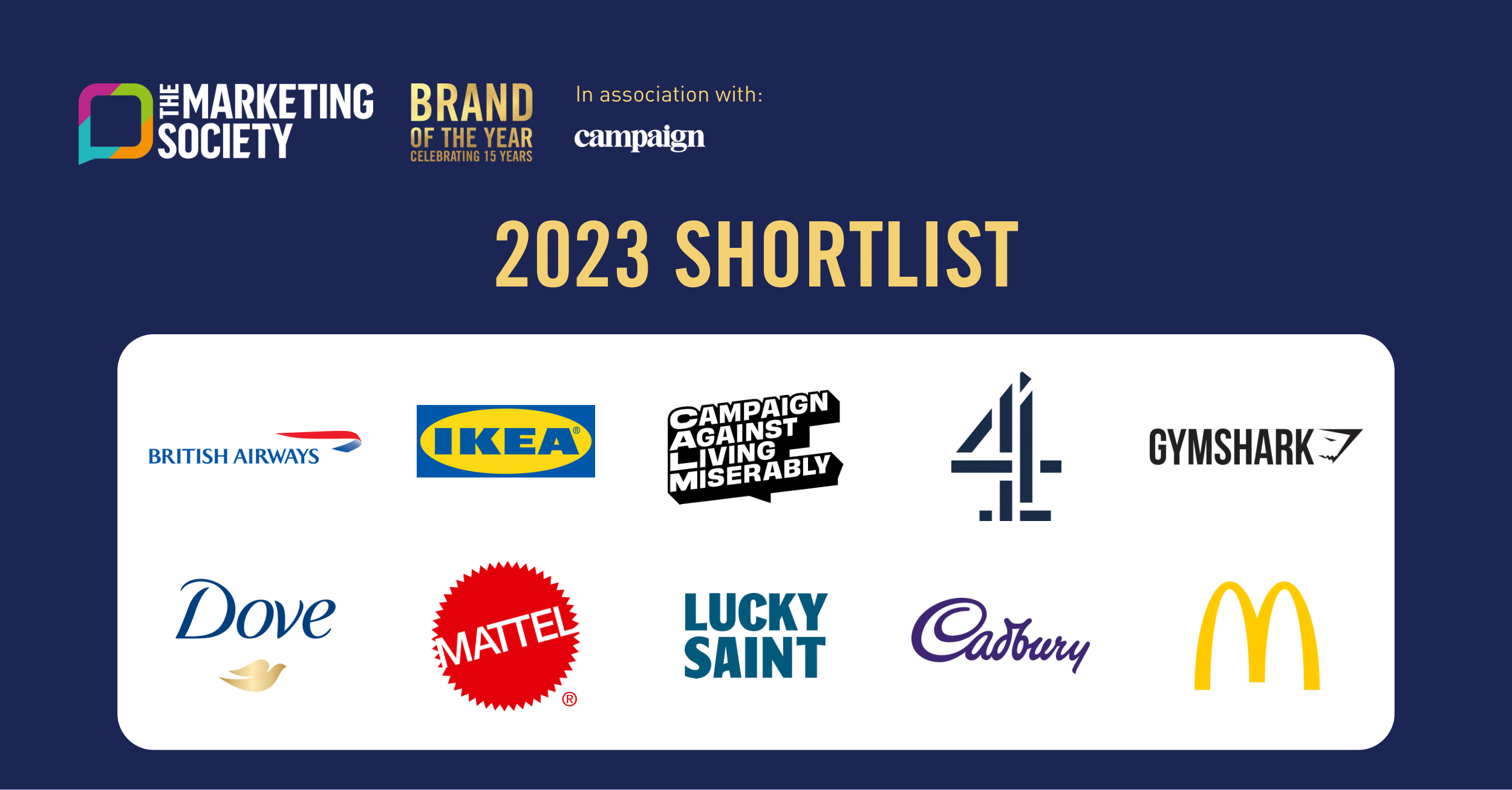 ---
British Airways
This is an airline that is fighting back after a challenging period during the pandemic. Last year British Airways launched its "A British original" work as part of a fresh brand positioning, followed up by a summer version in 2023. The original campaign won the Outdoor Grand Prix at the Cannes Lions International Festival of Creativity 2023. An onboard safety video featuring celebrities was also released – plus an outdoor and digital campaign called "Cityflyer", using distorted passport photos to show the speed of travelling through London City Airport – and the brand made its debut on TikTok too. It all seems to be working; revenues are up in the first half of 2023 and the company agreed a 13% pay rise for staff too.
IKEA
Tapping into cost-of-living and environmental concerns, Ikea's focus on producing products that can be adapted and re-used is particularly important for customers who want to sell and buy second-hand. In London its ubiquitous blue bag has taken centre stage on Oxford Street, covering the entire front of its new store, to mark its upcoming opening next year. Its recent campaign, "Show off your savvy", neatly showcases the joys of interior design while also using a dash of humour – with the blue bag once again being used as a reference point, this time with the brand gently poking fun at itself as it refers to its "designer" piece. 
CALM
A deeply affecting campaign from CALM last year showed images of people just before they took their own life. The aim of "The last photo" was to highlight how it's possible for someone to hide their true feelings when they are suicidal. Launched as a TV ad and also an exhibition on London's Southbank with 50 six-and-a-half-feet-high smiling portraits, the work gave visitors to the site the opportunity to scan QR codes which took them to the charity's website and toolkits, helping them to start a conversation that might save someone's life. The campaign received a Film Lions Grand Prix at Cannes this year.
Channel 4
The power of Channel 4 and its ability to demand attention was never more evident than when its Dispatches programme aired last month revealing allegations against comedian Russell Brand. Aside from bringing out new content to target younger viewers, the broadcaster has been evolving to meet the needs of audiences by offering more in the way of digital viewing. The result has been a 14% increase in digital on-demand advertising in 2022. The release of its revamped idents earlier this year embrace the diversity, and gritty nature, of people's lives across the UK.
Gymshark
Gymshark is on an upward trajectory, with its Regent Street store opening in London last October and the launch of its first US ad campaign earlier in the year. It's an impressive ascent for a brand founded in 2012 by Ben Francis from his parent's home and is now valued at over $1.3 billion. A brand tie-up with dating app Bumble earlier in 2023 saw the "For dates that workout" campaign hit billboards across the UK, highlighting the importance of compatibility – something that the brand itself understands instinctively from its use of influencers.  
Dove was named The Marketing Society's Brand of the Year in 2022 and is back to defend the title. In the past 12 months it has continued to raise awareness about the damage to women and girls' mental health – this time through work including its "#TurnYourBack" campaign. The social media work encouraged people to post online and take a stand against an online beauty filter called "Bold Glamour", which airbrushes and distorts users' faces. The brand's "Cost of beauty" film was a hard-hitting look at a young girl's upsetting experience of an eating disorder as she grows up and the impact of toxic online content. Commercially, at parent company Unilever, despite volume being slightly down in 2022, sales were up 9%.
The marketing juggernaut surrounding the launch of this year's Barbie film was impossible to ignore – and for good reason. From out-of-home ads to brand partnerships, the colour pink and the nostalgia surrounding the franchise was expertly used to entice fans. But there was also a commercial impact beyond the film; sales of Mattel's toy Barbie rose by 16% between July and September. It was not just the planned campaigns that were a hit; the buzz on social media – including the "Barbenheimer" phenomenon – and brands that unofficially jumped on board by using the colour pink all helped create a cultural moment.
Lucky Saint
Lucky Saint is a fast-growing beer brand that is becoming a significant player in the low and no alcohol market. Founded in 2018, it has grown its distribution channels remarkably and is now available in around 5,000 pubs, bars and restaurants in the UK, as well as major supermarkets. The premium product has focussed on quality, while its ad campaigns have played on the saintly behaviour of abstinence; nuns featuring on billboards during Dry January this year included such proclamations as "lead me not into temptation".
Cadbury
The confectionary brand continues to use its successful "There's a glass and a half in every one" brand platform to produce moving work about people's generosity. The most recent iterations include "Speakerphone" for Dairy Milk, centring on a father and son. The distinctive ads are accompanied by activations including the brand's digital Easter egg hunt, now in its third year, in which people can send a real egg to the home of a friend or family member once they have sourced the virtual version. The brand also makes it possible to send free chocolate at Christmas; its "Secret Santa postal service" ad highlighted the service Cadbury provides, with the work deemed the most effective festive campaign for 2022 by Kantar.
McDonald's
There are not many brands that are able to release an ad campaign with no dialogue or products and be lauded for the results. McDonald's managed it with its "Raise your arches" campaign, launched earlier this year – later winning silver and bronze Lions at Cannes – and followed up with a summer version too. The eyebrow raises alluding to the brand's famous golden arches are not the only parts doing the work; so too is the use of song. McDonald's approach to smart advertising is paying off; net sales were up 14% in the latest financial quarter. The company is also pushing forward with its plans to reduce single-use plastics by offering reusable packaging in some countries and is phasing out plastic toys from its Happy Meals.
---
Join us at our Annual Dinner on 28 November to crown the winner via live vote and to celebrate the ingenuity, passion and drive of our industry.
Don't forget you can vote now >>> VOTE ONLINE NOW Brand of the Year 2023 - open until 24 November at 9am
Shortlist announced first in Campaign, permission to share content.
Enjoy this? Get more.
Our monthly newsletter, The Edit, curates the very best of our latest content including articles, podcasts, video.
Not a member yet?
Now it's time for you and your team to get involved. Get access to world-class events, exclusive publications, professional development, partner discounts and the chance to grow your network.