We are pleased to announce the shortlist for our Brand of The Year 2022.
The Marketing Society Brand of the Year award, in partnership with MediaLink and in association with Campaign, celebrates the brands that have innovated and adapted well to social and economic changes in another turbulent year.
Last year's winner Channel 4 will go up against brands ranging from Tony's Chocolonely to Virgin Atlantic. Past winners have included Sainsbury's, John Lewis, The Guardian, Cancer Research, and O2. 
We launched the Award in 2009 and 2022's celebration will be held at our Annual Dinner on 23 November at The Londoner, where our audience will have the chance to vote and crown the winner via a live vote. 
Judging for the award took into account factors including brands' ability to adapt to changing consumer needs, the creativity and originality of campaigns, commercial impact, and the brand's wider impact on the planet.
---
THE SHORTLIST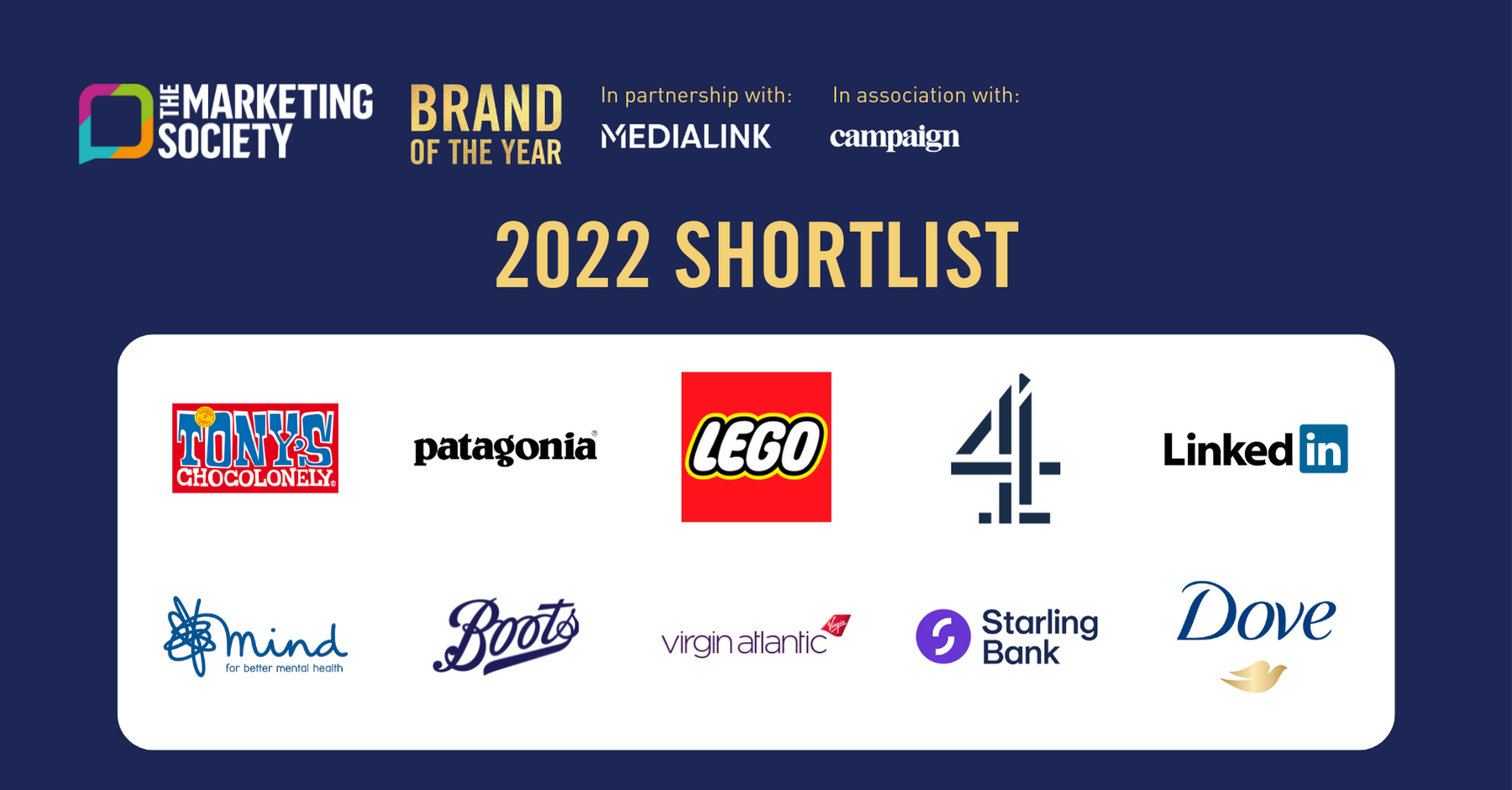 ---
Tony's Chocolonely 
The Dutch confectionery company's headline pledge is to 'make chocolate 100% slave free' and its strong brand values are embedded right across its DNA. This year the brand has worked hard to raise awareness of child labour within the chocolate industry's supply chain. It has done this through clever innovations such as a limited edition product that incorporated a QR code that encouraged customers to sign a petition against the use of child labour. Tony's Chocolonely, a company with annual revenues of around £100m, does not spend a penny on above the line marketing but punches significantly above its weight due to its extremely effective use of social media. 
Dove
Dove has shown the power of consistent messaging as its 18 year mission to foster body positivity goes from strength to strength. Its recent Dove Self Esteem campaign empowers young people to be their most confident self. The campaign has introduced a #DetoxYourFeed message that tears down toxic beauty advice on social media. Depressingly 85% of girls in the United Kingdom distort the way they look online by the age of 13, a situation Dove is attempting to reverse. As part of this, the beauty brand has created a confidence kit with a workbook and a parent guide to help families navigate difficult conversations. 
Patagonia
Patagonia's sustainable credentials and responsible business practices have established it as a powerhouse brand. Founder Yvon Chouinard, a former rock climber, has become a billionaire as a result, and in September he announced he was forfeiting ownership to divert company profits into the fight against climate change. The move underlined Patagonia's brand purpose, which is "we're in business to save our home planet". It recently launched a documentary called 'They/them', which follows Lor Sabourin, an Arizona-based climber who identifies as trans. The film is a recognition that there is still a long way to go with inclusivity within the climbing community. 
Lego
The Danish toy company has justifiably made it onto the shortlist for the second year running as it continues to broaden the appeal of its brand. Lego was a sponsor of this summer's hugely successful Women's Euros competition as part of its "Play Makes Anything Possible" mission. Lego's ambition is to make sure any child, regardless of their gender, can let loose their creativity using its toys. Lego's universal appeal shined through to its commercial performance as its revenues jumped a whopping 27%-year-on-year. Meanwhile, Lego has continued to innovate with its marketing including initiatives such as a Snapchat collaboration that allowed users to build their own virtual Lego worlds around London's landmarks.
Channel 4 
Channel 4 won Brand of the Year last year after an outpouring of affection from the industry in response to the Government threatening to take the broadcaster private. It is once again shortlisted for this year's award after another uncertain 12 months, but the outlook may be a little rosier as the new Culture Secretary hints there may be a row back on the privatisation decision. In the meantime, Channel 4 has pushed on with things that have made it famous, including being a champion for minorities that would not necessarily be featured as prominently elsewhere. Channel 4 is also heavily investing in its on-demand platforms as it seeks to take on the might of the likes of Netflix. 
LinkedIn
The professional networking platform has dominated the B2B space and is now leaning into consumer marketing since launching its first UK TV ad campaign in 2019. LinkedIn does not pretend to be anything it is not and has owned the fact it is the place where you can find a decent career. Well-executed marketing campaigns have championed a healthier future of work and focused on community and diversity, cleverly highlighting how LinkedIn can be a force for good. LinkedIn is also seeking to innovate through the launch of the B2B Institute, a think tank that supports the future of B2B marketing. 
Mind
The mental health charity has been a leading light in the ongoing review of the discriminatory Mental Health Act. Rather than showboating, the charity has been actively negotiating with the government to change the Act for the better by introducing measures that will improve race equity and the rights of children. At the same time it has launched a creative advertising campaign that uses spoken word poetry to change the way people talk about mental health. Mind has taken a more bold approach to its marketing strategy following the coronavirus pandemic, and the new strategy has clearly had an immediate impact. 
Boots
Boots has effectively moved with the times by reflecting the mood of the nation with a raft of marketing initiatives across the year. This has ranged from a Love Island themed summer campaign promoting its beauty products to the launch of a new budget product range to help customers with the cost of living crisis. Boots also launched its first ever dedicated TV campaign for its Advantage Card, which had the twin aim of recruiting new members and raising awareness of its 'price advantage' scheme. The marketing blitz has clearly paid off after it was credited with boosting sales at the beauty retailer. 
Virgin Atlantic 
The travel sector has experienced an extremely turbulent couple of years, and is still trying to find its feet as people's appetite for holidaying abroad returns with a vengeance. Virgin Atlantic has capitalised by focusing on its strengths and reminding people of the unique experience that Virgin offers. The airline brand has put diversity and inclusion at the front and centre of its marketing strategy, which has included some industry leading initiatives, such as a relaxation of policies around tattoos and the introduction of a gender neutral uniform. This means crew members are no longer required to dress in traditionally gendered uniforms and can choose between wearing a skirt or trousers no matter their sex. 
Starling Bank
The UK's fintech sector is genuinely world-leading and the rising star is Starling bank, whose chief executive and founder has a crystal clear vision. Anne Boden wants to not only create a great brand, but also build a brilliant experience for customers. This strategy has translated through to extremely strong net promoter scores. Starling has positioned itself as a champion of small business with a 'set your business free' marketing campaign promoting the sense of freedom its services offer. The bank has bona fide sustainable credentials with recyclable credit cards and it is also no slouch commercially. This summer it became the first standalone digital bank to enter into profitability. 
---
Join us at our Annual Dinner on 23 November to crown the winner via live vote and to celebrate the ingenuity, passion and drive of our industry.
Enjoy this? Get more.
Our monthly newsletter, The Edit, curates the very best of our latest content including articles, podcasts, video.
Not a member yet?
Now it's time for you and your team to get involved. Get access to world-class events, exclusive publications, professional development, partner discounts and the chance to grow your network.