CO CEO, Brand Learning & Manging Director Accenture UKI & Europe
Nevine is the co-CEO of Brand Learning, now part of Accenture, which builds the marketing and sales capabilities of companies across the world including ABI, HSBC, Pfizer and Unilever. Whether helping companies develop their portfolio and marketing strategies, shape their operating model, build new ways of working, or create new skills, Nevine brings a passion for new thinking which will genuinely drive growth. Before joining Brand Learning in 2003, Nevine's extensive marketing experience spanned brands, categories and countries at Unilever, Reckitt Benckiser and Added Value, all of which has informed Nevine's philosophy, best expressed by Bill Nye, as "everyone you will ever meet knows something you don't".
---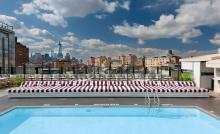 We'll be revealing exclusive new research from Accenture...