Meredith Carson founded Bravo Romeo by AJ, a company that's focused on driving marketing and communications efficiency and effectiveness for modern businesses through integrated strategy, tactical roll-out and measurement.  
She's also a passionate advocate for mental health awareness in the region, advising professional and community based mental health startups.
Meredith has held roles within multinational media, creative and PR agencies, such as Omnicom, Lowe, Wunderman and Action, throughout the APAC and MENA regions. She has planned and guided new media initiatives since 1999. She also possesses considerable experience as a magazine editor, radio producer/presenter/music director and social media lead for luminary international broadcasters, governments and brands, such as beIN Sports, Freemantle Media, The Executive Council (Dubai) and PepsiCo. 
Meredith's known within the industry for her ability to set the agenda and advance global best practice in digital analytics, content marketing, social media and digital PR. Today, she is regarded as the go-to person in the region for online communications strategy and digital/social media crisis management. Creative by nature and focused on discipline effectiveness, Meredith's efforts are recognized by the Worldwide Media Cristals, M&M Global Awards, as well as regional Effie and Lynx Awards, amongst others. She is a judge of the International Webby Awards and a member of the International Academy of Digital Arts and Science and a founding member of the International Advertising Bureau's MENA chapter.
---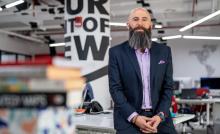 We are back in Dubai for a third year in a row for our bravest conference yet