This week we spoke to Nick Elliott about what being a member of The Marketing Society means to him. Here's what he had to say...
---
I have been a member of the Marketing Society for a few years now and have enjoyed the talks, events and networking. I thought this was the extent of the Marketing Society, but I now realise how much more it is than that. The true value and depth of what it means to be a member really came home to me when the pandemic began. I know that these elements were always there, but it was only my experience from March 2020 that it really hit home, when the team at the Marketing Society and the members rallied in a way that I thought was truly impressive...and really helpful for me as a member. 
 
It began with a WhatsApp group that quickly became a form of support group, including general news, marketing news, points of view, helpful info and of course cheesy memes. From then the webinars quickly started and covered all relevant topics about coping, managing, surviving and thriving as a brand in the crisis. Importantly at the time, there was a focus on the surviving aspect and the talks from the like of Chris Barez-Brown from Upping Your Elvis and Jaz Ampaw-Farr were truly uplifting in troubling times. Also being covered were webinars from brands who were doing well in the crisis, but also from Marketing Directors from brands that weren't, such as in the travel industry. Understanding their challenges, attitudes and approaches was frequently inspiring. 
 
I won't catalogue every 'wave' that hit during the 15 months since the pandemic but the other 'tsunami' was obviously the George Floyd tragedy. The repercussions and global increased awareness and action over diversity and inclusion which the Marketing Society again has been part of, again helped to raise awareness, to educate and to inform. 
 
Combine all of this with the positivity of the team and all the members and contributors and I feel that the Marketing Society has real importance. The Marketing Society as a whole is helping to make positive change by bringing everyone on the journey of education and action. So...thank you. I'm glad to be a member. 
- Nick Elliot, Director & Founder, Booster Consulting Ltd
---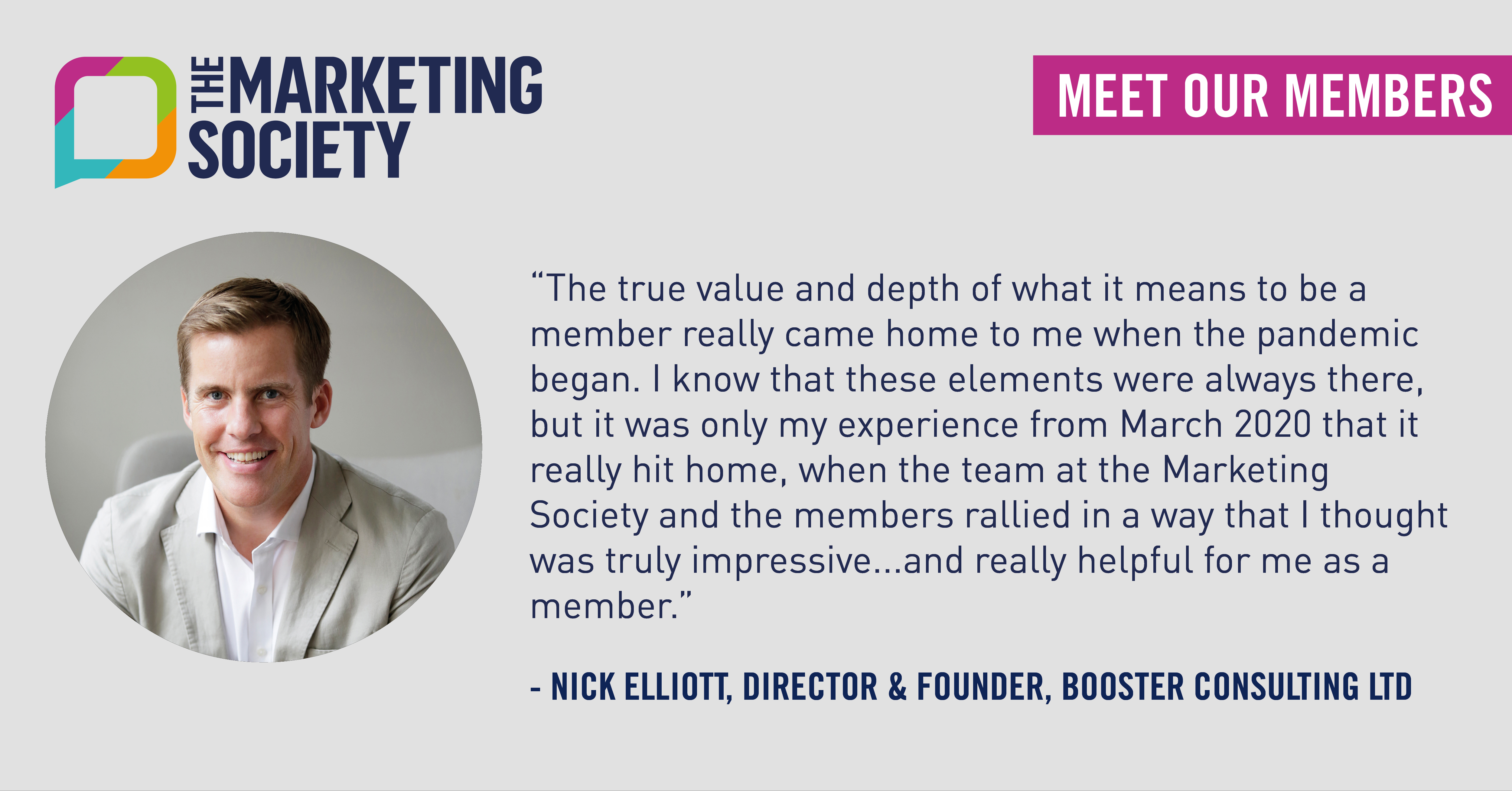 You can find out more about Nick and his membership with The Marketing Society from his previous interview.
---
Enjoy this? Get more.
Our monthly newsletter, The Edit, curates the very best of our latest content including articles, podcasts, video.
Not a member yet?
Now it's time for you and your team to get involved. Get access to world-class events, exclusive publications, professional development, partner discounts and the chance to grow your network.