Author & Managing Director, ARTHQ / Group
In 2017 Renfrew founded the ARTHQ / Group, a leading service provider for the art world. ARTHQ / Group provides Strategic Consultancy and Executive Search solutions for the art world as well as investing in, and creating, landmark events and digital platforms to expand audiences.
Renfrew served as founding director of Art Basel in Hong Kong from 2012-2014 following the acquisition of ART HK by MCH Group. From 2007-2012 Renfrew was the founding fair director of ART HK: Hong Kong International Art Fair. ART HK is widely credited with repositioning Hong Kong as the center of the art market in Asia and as having a transformative impact on the cultural landscape of the city and its perception globally. In 2018 Renfrew announced the launch of TAIPEI DANGDAI, a new art fair for Taipei, the first edition of which took place in January 2019, and the inaugural edition of Art SG will be in November 2020.  Renfrew serves as co-founder.  
Renfrew has been recognized for his contribution by industry media and has regularly appeared in the Power 100 lists of ART + AUCTION, ART REVIEW and Le Journal des Arts as one of the 100 most influential figures in the art world. In 2013 he was honoured by the World Economic Forum as a Young Global Leader. In 2017, Renfrew's book Uncharted Territory: Culture & Commerce in Hong Kong's Art World was published by Penguin.
Born in 1975, Renfrew was brought up in Cambridge, UK, and educated at The Leys School, Cambridge and the University of St Andrews where he gained a 1st Class MA (Hons) and the OE Saunders Prize for Art History. In Hong Kong Renfrew served as a member of the Hong Kong Arts Development Council from 2014-2016, and is currently Chair of the Advisory Council for Para Site Art Space.
 
---
---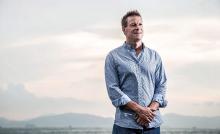 We are back in Hong Kong for a second year in a row for our bravest conference yet