Leonie Valentine is currently Managing Director, Sales & Operations of Google Hong Kong, joining Google in 2014 as APAC Director of Customer Experience. She has over 20 years of experience in sales, marketing and operations.
Prior to joining Google, Leonie was Executive Vice President, Customer Service & Operations at CSL Limited. Earlier, she held the position of Chief of Staff for Telstra International Group, and was a member of the Executive Leadership Team charged with managing Telstra Corp's business growth and assets outside of Australia and New Zealand.
Leonie holds an Executive Certificate in Business Administration from the Australian Graduate School of Entrepreneurship of Swinburne University, a Master's Degree in Communication Management from the University of Technology, Sydney, and a Bachelor of Science from Melbourne University. Since moving to Hong Kong six years ago, her studies have focused on mastering the basics of Cantonese and Mandarin.
Leonie actively supports The Women's Foundation in Hong Kong, and is a member of the Women on Boards Advisory Panel (30% Club) and the Girls Go Tech Advisory Committee. She co-chairs the American Chamber's (AmCham) Technology and Innovation Committee, is a board member for Save The Children HK, and an advisor to CUHK's 2017-18 EMBA Program. Previously she was a board member for HandsOn Hong Kong from 2014-16.
---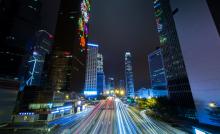 We're partnering with our friends at Google to discuss Digital Transformation in Hong Kong