I'm going to start with an apology.  Having gone back through this lecture a few times now, I can only say that this review will not do justice to the incredible content and thought provoking concepts in here.  Would strongly recommend taking the time to go through and watch and re-watch the lecture.
Sophie Devonshire's introduction summed up a lot of important points. This was the first virtual Amplify Marketing Festival, and going back to the roots of amplify it was created to help progressive marketing leaders and encourage brave and progressive thinking. The two speakers Rory Sutherland and Mark Ritson certainly embody the spirit of amplify.
Billed as two of the most interesting and impressive minds in marketing industry and two of the most passionate and sweary speakers, Rory and Mark certainly lived up to the introduction!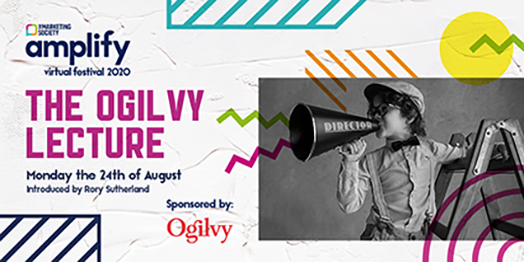 Rory Sutherland started with some thoughts on lockdown and the new situation that we all find ourselves in and rightly brought up the idea that we can use this to focus on the "what" of marketing rather than the "how" and the "where" encouraging people to appreciate the value exchange between employer and employee in delivering value to brands and organisations, particularly in the ever increasingly complex marketplace that we all work in. This set up the introduction for Mark's lecture – the complexity of the marketplace that we operate in, doesn't necessarily allow us to use universal "laws" when it comes to marketing. Rory explains that in the effort to make marketing look and feel more scientific, we have become eternally searching for universal, generalisable laws, which do not necessarily ring true in the backdrop of an ever increasing complexity in the market place.
We get hung up on the highlander solution - "there can be only one", and we get obsessed with there being one killer metric or scientific answer.
And it's not specific to marketing – it's present in the field of economics and other disciplines. Just because one answer is deemed to be true doesn't mean that the obverse is false. Rory's ultimate and very salient point before introducing Mark was this: The biggest obstacles to economic and brand growth are now no longer issues of supply, they are issues of demand. Essentially – devote more senior and board time to discussing marketing and consumer demand rather than small commercial gains from operational efficiency. Is there a market for a £700 vacuum cleaner? Before Dyson, most people would say no, yet it's a billion dollar company. They found an insight on consumer demand and broke that psychological barrier to behaviour change. True marketing.
Mark described as marketing provocateur. With a PHD in marketing and having taught all across the world, he is no stranger to stimulating debate and being provocative and this came across loud and clear in the opening few minutes.  Using Binet & Fields "The Long and the short of it" – which word is the most important – is it long or short? Its neither – its "and".  Most companies look at either one or the other, and it really must be a balance – an equilibrium. Shorterm-ism typically creates wonderful performance marketing and conversion, but without demand the base is too small. If you are too long term, the demand (awareness and consideration) but performance conversion suffers. Either way – its tough to create sustainable growth.
You need to acknowledge both sides to create successful brands.  As coined by Dave Thomas on a Linkedin post on this subject – "Bothism".
Actively co-opt the value of both sides of a story. Illustrated perfectly by the qual vs. quant debate.  Both are useful, but combined is where the power lies. Same with Strategy and creative. Objectives, architecture, targeting are all great, however unlocking the power of strategy requires ideas, creative – all part of the "Bothist" philosophy.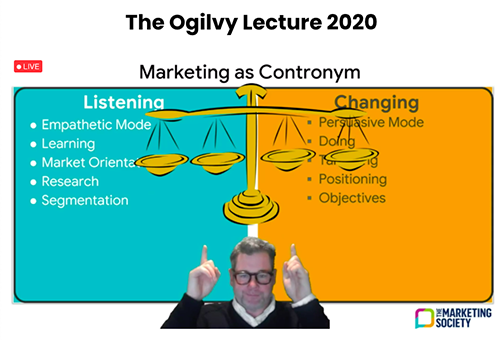 Perhaps these examples are relatively straightforward to consider. They make good sense, but interestingly when Mark talked about targeting – segmented vs mass market, the outcome is less intuitive. Our muscle memory in marketing focusses on targeting and going after specific consumer groups, but what is clear is that there is a role for both which can help deliver both short and long term growth. Bothism at work again. The final point from mark is that Marketing embodies "bothism", we take our cues from the market whilst simultaneously trying to change and build the markets.  The skill of the marketeer embracing Bothism is about looking at being distinctly two things at the same time.  Be both distinctly long term and distinctly short term, rather than perpetually medium term. 
This point was illustrated brilliantly by Rory in the questions using big vs. small and demonstrating how its important to look not only at the big challenges but also the small ones that can make a difference. 
There is really is so much packed into this hour and a half and would strongly recommend watching it, and I think I may rewatch this many times.  Partly because of the energy and inspiration of Mark and Rory, but there is more take-outs than I could possibly cover here.  For me, there were some concepts here that I will be embracing – trying to avoid the "pornography of change" – sometimes doing nothing can be the right answer rather than continually changing for the sake of it.  The opposite of a good idea can in fact be another very good idea and adopting the Bothism thinking into more decisions. Thinking about these concepts there are half a dozen occasions in the last 6 weeks where this kind of thinking would have been appropriate and useful in making the right decisions.
Not quite "Bothism" but this lecture is both conceptual & pragmatic, entertaining & serious but fundamentally a very, very valuable hour and half!
---
Andy Jack - Global Marketing Manager Laphroaig, Beam Suntory
You can watch the 2020 Oglivy Lecture below.
 
Enjoy this? Get more.
Our monthly newsletter, The Edit, curates the very best of our latest content including articles, podcasts, video.
Not a member yet?
Now it's time for you and your team to get involved. Get access to world-class events, exclusive publications, professional development, partner discounts and the chance to grow your network.