This year's Amplify might not have had the usual venue or live atmosphere – but it did offer up chicken baths, year-old pizza and plenty of potty-mouthed princesses. And thank f*ck for that.
Because the annual Client v Agency challenge has always been a favourite of mine. Not just because I captained an agency team win a few years ago (against a client of ours, no less – I celebrated more tactfully than I might have otherwise)  but because it's normally the time of the day that things get a little rowdier.
The crowd sit forward in their seats, ready to participate as well as listen. The room shifts in energy, helped by a strict two-minute debating limit but no doubt hastened by the promise of a G&T at the bar afterwards. Friendly heckling begins across the battle lines. Client or agency – who are you rooting for?
Banter aside though, point-scoring isn't really the aim of the competition (although maybe I would say that given clients levelled things with agencies this year). It offers an opportunity to explore some of the best marketing work from around the world. That's why I love it. The interrogation of campaigns – why the best ones work, the impact they have and what we can all learn from them.
So, although the situation was changed this year, the heart of what makes this event great, wasn't. Both sides argued fiercely for work that we should all aspire to. Watching from home, it struck me that this is something we should all be doing more of, regardless of whether we're in-house or not.
Over the coming months, the real winners in marketing will be those who take examples of integrated thinking, focused planning and proper investment to the powers that be. They'll show how creativity, applied right, isn't a vanity project – it's an essential driver of success. The thing that helps audiences make sense of brands; that super-charges sales and growth.
From the iconic Old Spice ad, which revitalised a dying brand, to a car burial which drove record organ donations, the campaigns debated this year were all strong examples of what our industry can do at its best. Of the value we add when commit to what we frequently promise - but don't always follow through on. That ubiquitous word. Brave.
Ultimately, we all need to be ready to fight for our own campaigns as passionately. Maybe now more than ever.
Well done team Clients for reminding us of that. See you next year at the bar – to toast an agency win 😉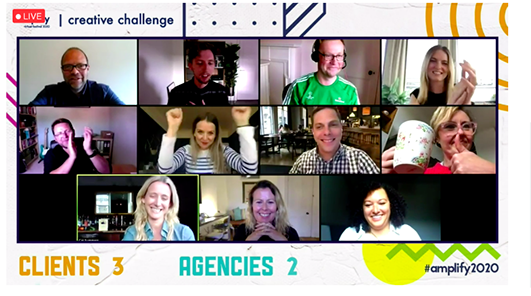 Pam Scobbie - Director at Wire
---
You can watch the 2020 Clients v Agencies Creative Challenge here.
Enjoy this? Get more.
Our monthly newsletter, The Edit, curates the very best of our latest content including articles, podcasts, video.
Not a member yet?
Now it's time for you and your team to get involved. Get access to world-class events, exclusive publications, professional development, partner discounts and the chance to grow your network.