Mom, millennial, Instagram-er, Spotify-er, runner, folk dancer, passionate for life, lives happily, loves travelling, laughs often, interested in wine & food, strong supporter of workforce equality! Born and raised in Turkey. After graduating from Middle East Technical University with Business major, she worked in a global Corporate bank, followed by two years of consultancy experience in E&Y.
She has been in Shell for 15 years working in various roles ranging from Customer Relationship Management, Loyalty Marketing & Operation, Pipeline Business Development, Global Marketing and Business Consultancy. She has been driving customer-centric initiatives such as Loyalty restructuring, award-winning Shell Club Smart Extra Card Launch, the replacement of loyalty terminals and establishing a powerful CRM Programme with her team. As part of her passion for diversity and inclusion, she is taking roles in different community organizations and describes her purpose as 'giving back to society',
She lived in Ankara, Istanbul, Houston and Izmir for work and education, now lastly landed back in Houston with her 10 years old son. Favourite quote: Be the change you wish to see in the world!
---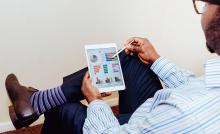 Are you tired of hearing the same cliché as me: The world is changing; customer needs are changing … this