Craig Leeson is an award-winning filmmaker, television presenter, news correspondent and entrepreneur. He is the director, explorer/narrator, writer and executive producer of the multi-award winning documentary feature films "A Plastic Ocean" (released 2017) and The Last Glaciers (due for release 2020). "A Plastic Ocean" was ranked the number one documentary on iTunes in the U.S., the U.K., and Canada and has been translated to more than 25 languages. It was released on Netflix by Leonardo di Caprio and simultaneously screened on Amazon. "A Plastic Ocean" has won more than 20 film festival awards and has been publicly screened in cinemas and at public events in over 70 countries on 6 continents. There have been over 2000 screenings globally hosted by government agencies, non-profits, schools, universities, individuals, multilateral institutions, corporations, aquariums and others, including the Smithsonian Institute and the Australian and UK Parliaments. The film was only the second chosen to be screened in the US Senate (An Inconvenient Truth the first) and was selected by the Senate as one of 50 showcase films to be screened in 55 US embassies around the world. A shorter 22-minute version of the film was premiered at the UN General Assembly, in conjunction with the Permanent Mission of Colombia, on June 6 in New York City, to more than 500 people. The film counts among its patrons UNESCO.
Craig is the CEO of Leeson Media International, Leeson Global Media and Ocean Vista Films and founder of the I Shot Hong Kong Film Festival. He is an advisor to The Klosters Forum, is the Global Sustainability Partner to BNP Paribas and was Cathay Pacific's first Change-maker Award recipient. He advises Colombia's Inspector Attorney General's office on environmental issues and has been instrumental in helping frame and introduce legislation banning single use plastics to the Colombian and Mexican congresses. He has also advised and worked with the Asian Development Bank on oceans and single-use plastics-related issues and helped ADB launch its US$5billion healthy oceans initiative. He has worked with the world's major broadcasters as a producer and foreign correspondent, including BBC, CNN, Bloomberg, PBS, National Geographic Channel, Discovery Channel, Bio Channel, Universal, Al Jazeera and the Seven Network. He began his career as a newspaper journalist before moving to radio and television as a news correspondent and anchor for ABC TV Australia and later for ATV, RTHK and Star News (Hong Kong).
Craig is a renowned public speaker, moderator and emcee and has been the keynote at major corporate, conference and film festival events globally, including the Royal Geographic Society, Tedx, Forbes, Fortune Magazine, International Congress on Conservation Biology, FilmAid Asia, EarthX, The Klosters Forum, BNP Paribas Sustainability Future Forum, Academia Film Olomouc, Ocean Geograhic, Wonderfruit and many more. He has moderated or been the keynote speaker for clients such as BNP Paribas, HSBC, Goldman Sachs, Credit Suisse, JP Morgan, European Shipping Owners, Cathay Pacific, to name a few.
Craig is a passionate oceans and mountain explorer, adventurer, surfer and diver. He is a qualified bronze medal certified surf lifesaver having represented his home state Tasmania at the Australian titles, and holds medical, CPR and surf rescue crew certification as well as a surf rescue boat license. He is also a qualified advanced SCUBA diver and holds an FAA-rated private pilot's license and a UK paragliding pilot's certificate. Craig plays guitar in a published rock band. He is the fourth generation media entrepreneur in his family.
---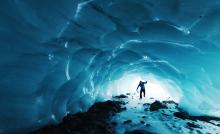 Join us for an exclusive look at The Last Glaciers - a story of climate change and its imminent impact