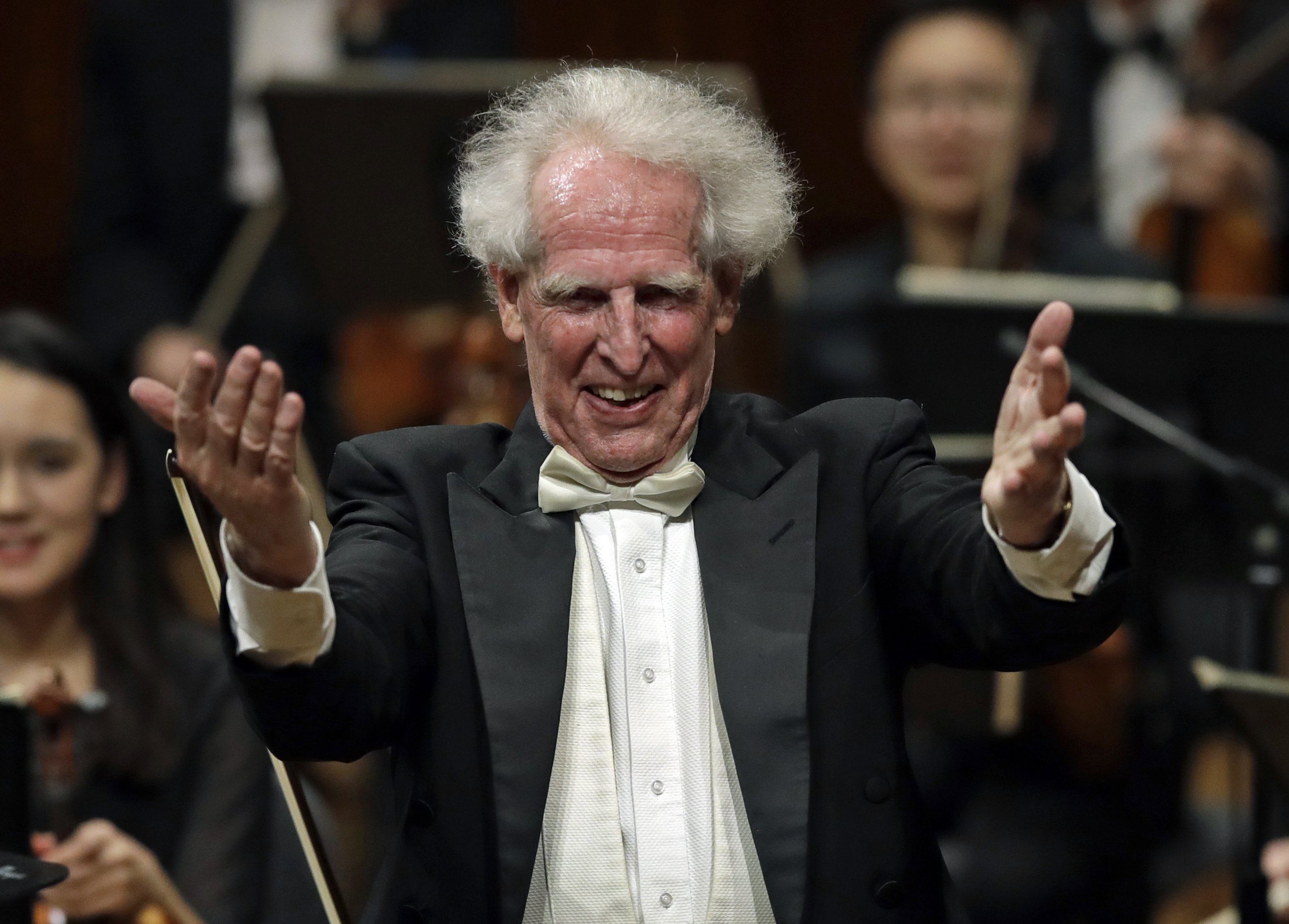 Conductor, Boston Philharmonic Orchestra
Benjamin Zander is one of those rare musicians who gained celebrity only in the later stages of their careers. A virtual unknown, Zander began to receive considerable critical attention in the mid-'90s, mainly for his recordings with the then-obscure Boston Philharmonic Orchestra; this led to great interest from concert promoters and impresarios. On the merits of his imaginative interpretive ideas and solid podium technique, he became practically an overnight sensation -- as he was nearing the age of 60!
Benjamin Zander was born on March 9, 1939, in Gerrards Cross, Buckinghampshire, England. He demonstrated remarkable musical talent in his early childhood and even began composing at the age of nine; his burgeoning artistry on the cello was also of a rare caliber. Eventually he attracted the notice of Benjamin Britten and Imogen Holst, daughter of composer Gustav Holst, both of whom began teaching young Benjamin. At the age of fifteen, Zander left England, eventually to take up studies on the cello with Gaspar Cassado. He then toured Europe giving many highly successful concerts before finally deciding to return to England to enroll at the University College London. After graduation, he traveled to the U.S. for post-graduate studies at Harvard University.
Zander has lived in Boston since the mid-'60s and he began teaching there at the New England Conservatory in 1967. Five years later, he became conductor of the NEC Youth Philharmonic Orchestra. In 1979 the Boston Philharmonic Orchestra was founded and Zander appointed its music director, a post he still holds in the 2000-2001 season. While both he and the orchestra remained in relative obscurity for their first 15 or so years, together they began to garner considerable recognition in the 1990s, both in the concert hall and on recordings. Their account of the massive Mahler Eighth Symphony, performed in the 1998-99 season and repeated in 2000 at Symphony Hall in Boston and at Carnegie Hall in New York, received much critical acclaim.
Because of his successes in the recording venue, Zander has moved near to superstar status, owing mostly to his recordings of several Mahler symphonies with the Boston Philharmonic and the Philharmonia Orchestra. He has established a relationship with this latter group, and in 1998 began a cycle of Beethoven symphonies with them for Telarc Records that will reach completion in the early 2000s.
In 2000, Zander was nominated for a Grammy Award in the "Best Orchestral Performance" category for his recording of the Mahler Ninth Symphony with the Philharmonia Orchestra. Zander is unusual in that he also has a career as a motivational speaker in management development. He appears regularly before groups from various corporations and organizations, and works in this endeavor with his wife Rosamund Stone Zander, a noted psychotherapist. Together they wrote the book The Art of Possibility, published in September 2000 by Harvard Business School Press.
In January 2000, Zander was featured on a 60 Minutes segment, which dealt with both his musical and speaking careers. He has also appeared on the ABC News program Nightline, on BBC television, and on PBS television with a program entitled Living on One Buttock. Zander has recorded for several labels including Telarc, Carlton Classics, and CPI. Besides his continuing involvement with the New England Conservatory of Music, he also teaches gifted students at the well known Walnut Hill School. Zander has his own website, accessible at www.benjaminzander.com.
---
Our 2020 annual conference will be a Global virtual experience and we're calling it our Brave Get Together.