Abdulwahed leads EITC's Brand & Communications team. In line with his position, he provides strategic direction for commercial, corporate and channel communications, communications planning and performance, brand development and corporate sustainability.
Abdulwahed Juma has played an instrumental role in taking the company's dynamic visions and digital transformation to new heights. Since joining EITC, he has won prestigious accolades such as 'Telecom Company of the Year' at the Filipino Times Awards 2018, 'Advertiser of the Year' at Dubai Lynx 2018, a Telecommunications/Mobiles and Internet award for the #PostWisely campaign at the Mena Effie Awards 2018, and the 'People of Determination' award at the 2018 Gulf Sustainability & CSR Awards among others.
Prior to joining EITC, Abdulwahed was the Executive Director at the Abu Dhabi Media Company where he headed the commercial and marketing teams. He has also held prominent roles at First Gulf Bank, Dubai Media Incorporated, Emirates International Telecom, and the Thuraya Satellite Telecommunication Company in Abu Dhabi.
Abdulwahed graduated obtaining his Master of Business Administration from the American University of Dubai.
---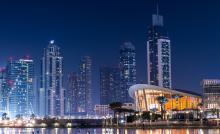 As part of our partnership, we'll to be hosting a breakfast session during the event