Jo Whitfield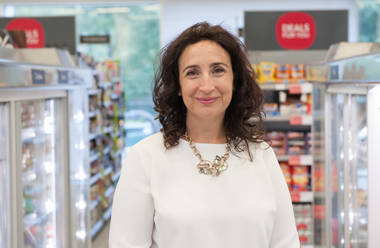 Chief Executive of food, Co-op
Jo is Chief Executive of Food for The Co-operative Group (Co-op). She was promoted to the role after less than a year with the organisation, and has devised and led a strategy that is delivering rapid, radical transformation of the business. Her innovation, drive and brave new vision for what the Co-op can be are yielding exceptionally strong results and a newly motivated, highly engaged colleague group.
A qualified accountant, Jo's career began with Ernst & Young, before broadening her experience in finance with companies such as Northern Foods, Matalan and George. She strengthened her knowledge of retail at Asda, taking on a key role spanning Operations, e-Commerce & Strategy across the International business. Latterly, she led the commercial, buying and merchandising teams for Asda Money, Asda Mobile and General Merchandise. She is experienced in all aspects of commercial and operational activities, has deep understanding of e-Commerce and use of digital technology, and is accomplished in start-ups and major business transactions including M&A.
Jo's impact as a senior executive has been reflected in successive improvements in financial performance. At the Co-op, the most recent results reflect excellent growth, with an increase in profit of 12% and like-for-like of 4.4%; the business is ahead of market growth by 3%. The Food division now contributes 85% of the Co-op's profits. Jo has also widened its scale and reach with the strategic acquisition of UK wholesaler Nisa in a £143m deal.
Jo has led a re-imagining of the Co-op that has seen the company's presence and partnerships extend to festivals including Glastonbury and events such as Parkrun, as well as a brand frontage on the ubiquitous Coronation Street. She is a modern, positive leader who spends proper time with people, listening to and understanding their perspectives. She puts tremendous value on employee job satisfaction and has instigated numerous changes to promote professional development, well-being, safety and support for colleagues. This has led to her campaign to promote store colleague safety, going to the heart of Government to meet ministers and press the case for greater protection for shop workers. In addition, Jo and her team have brought pace and innovation to commitments around sustainability - Co-op is the lowest producer of plastic out of all of the retailers, and Jo's focus is to move away from plastic through technology and new ways of doing business.
Outside of her executive role, Jo's activities are mainly focused around inclusivity, mentoring and networking. She is an Ambassador for Girls Out Loud, a not-for-profit focusing on developing young female talent, and also for the networking programme, Women of the Future. Jo has recently pioneered a new network for the grocery industry, and in February of this year launched Grocery Girls, a trailblazing initiative that has drawn support from major retailers and suppliers, bringing women together to share experiences, career journeys and inspiration.